Battle of Waterloo
Poll Results
How Should Napoleon's Waterloo map be represented?
A. Standard Risk Style Territory Map like Classic 30% [ 8 ]
B. Standard Risk Style Using Different Shapes for Artillery, Cavalry, & Infantry 57% [ 15 ]
C. An Attack line map like Pearl Harbor with icons 11% [ 3 ]
D. Another Option - please explain in thread. 0% [ 0 ]
Total Votes : 26
Current Version 30
Total territories - 104
Small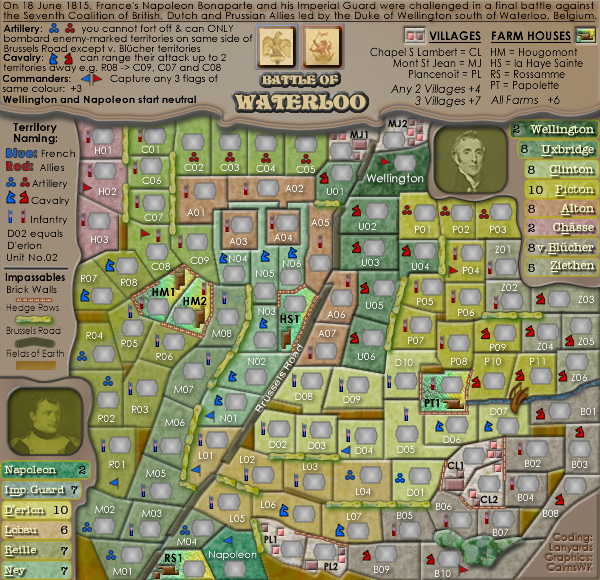 Large
Original Map and Concept
There has been some call for a while for someone to do the Napoleoonic wars in some form or another.
Below is a battle map that i want to use, but because of the complications of this battle, and the fact that it was staged over several hours on this day June 18, I want to know from the Foundry how this map should best be dramatised.
Therefore the poll above has been devised to determine some direction for this map.
Link below:
http://i155.photobucket.com/albums/s282 ... oo_map.png