I'm tired of this game. I don't have the stamina of the professional trolls it seems, so I'll try to keep this short.
Funkyterrance wrote:I sure would like to see some evidence of this "mental breakdown" of which you speak...

How about the fact that you think I trolled you in a thread what? a week ago? And you're still following me around the forums throwing random insults my way, hoping something will stick.
Funkyterrance wrote:Well once someone trolls me out of the blue I tend to consider it all fair game.
The fact that you haven't gotten anything vaguely resembling an emotional reaction out of me isn't dettering you I see.
It's more like you're trolling yourself at this point. You seem to be the only one who gives a shit about this interaction at this point.
Haggis_McMutton wrote:Not perceived, no. Also, a patronizing tone is no substitute for reason.
I'm not sure how your initial decision to troll me originated but it appeared to be an attempt to either do so on behalf of someone else who you felt compelled to defend or an attempt to impress and gain some head patting from your peers here on CC. Maybe you can clarify the origins of this behavior?
There wasn't an initial decision to troll you. Look at my initial post in the convo, it was serious. Your reply was along the lines of "read the previous 5 pages cause I can't be bothered to clarify my point". I obviously responded facetiously to this. If you can't be bothered to clarify your point in 2 sentences why the f*ck should I care enough to read 50 replies. My response was pretty standard stuff, you see replies like that pretty often.
Now instead of brushing this off or giving a similar joking reply and moving on you seemed to take it personally and start calling me names, to which I obviously continued to respond facetiously. Next thing I know you have some kind of personal vendetta against me as if I have soiled your family's honour for the next 3 generations.
Anyway here's the final points.
1. You cannot troll me. Especially now that I know you want to troll me. Call me whatever the f*ck you want, I don't give a shit, it won't work and I'll be ignoring such replies from you from now on (unless I feel like having some fun again, I guess )
2. Grow some thicker skin. Is this your first week on the internet or something? If that's all it took to get to you, you better pray really hard that none of the actually good trolls decide to pick on you. f*ck, I dunno what you would have done if you were here in the days of Flame Wars.
Damn, that was longer than I hoped. Anyway, if you want to debate something, cool I'll debate stuff with anyone. If however you just want to continue playing this little game, adios, I'm done.
Edit:
Oh, and: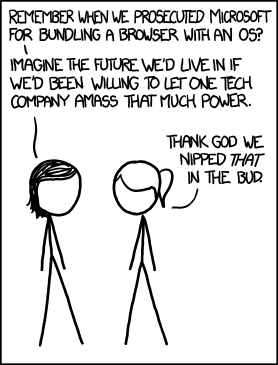 I think natty would have liked this one. Where the hell is that guy anyway? He was supposed to keep this thread alive in my absence. Lazy finnish bastard.