edit: mc29. This Tournament has been rescued by Dukasaur
Scores and updates can be found here:
Scores and Updates
Dissolution of the Soviet Union
The Union of Soviet Socialist Republics (USSR) was formally dissolved on

26 December 1991

by declaration № 142-H of the Soviet of the Republics of the Supreme Soviet of the Soviet Union.[1] This declaration acknowledged the independence of all fifteen republics of the Soviet Union following the creation of the Commonwealth of Independent States. On the previous day, 25 December 1991, Soviet President Mikhail Gorbachev had resigned, declaring his office extinct, and handed over the Soviet nuclear missile launching codes to Russian President Boris Yeltsin. That same evening at 7:32 P.M. the Soviet flag was lowered from the Kremlin and replaced with the Russian tricolor.[2] The dissolution of the world's first and largest Communist state also marked an end to the Cold War.
Post-Soviet states in alphabetical order:
1. Armenia, 2. Azerbaijan, 3. Belarus, 4. Estonia,
5. Georgia, 6. Kazakhstan, 7. Kyrgyzstan, 8. Latvia,
9. Lithuania, 10. Moldova, 11. Russia, 12. Tajikistan,
13. Turkmenistan, 14. Ukraine, 15. Uzbekistan
Maps: Soviet Union, Duck n' Cover, Classic
Format: 24p "Double Qualifier" <See Below>
24 Players, 3 Reserves
Double Qualifier Format Chart: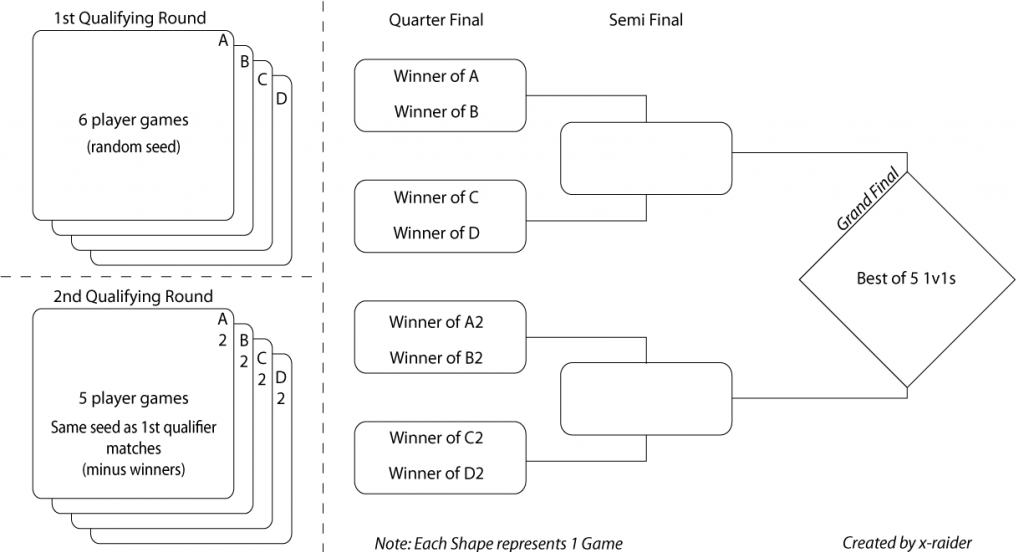 Thanks to Dukasaur for help and advice with the format and settings.
Thanks to Wikipedia contributors for information about the
Dissolution of the Soviet Union
.
Thanks to CC for... CC

.