Rescued by DJENRE

Five ruthless gangs vie for domination over a prison, your job is to join a gang and fight your way to it's leadership, if you can achieve control over your gang you willl then square off against the other four gang leaders and fight for your gangs honour. In the end only one gang can emerge victorious, will you be it's leader?
Settings:
As you might've been able to tell from the introduction there are two stages of this tournament, a group stage and a final stage. Both stages will be played with the same settings and number of players in each game but you need to win the first stage in order to advance to the second. The settings are as follows:
5 Players
Terminator
Map: Supermax: Prison Riot!
Automatic
Sequential
Escalating
Chained
No Fog
No Trench
20 Round Limit
Joining the Tournament:
Before you can join the tournament you will need to join one of five prison gangs, the prison gangs you can choose from are the prison gangs present on the map "Supermax: Prison Riot!". They are;
Aryan Brotherhood
,
Black Guerilla Family
,
La Cosa Nostra
,
Latin Kings
and
Triad Dynasty
.
Only five players can join any given gang so if the gang you want to join is full you will have to pick another.
Here's how to properly join:
"I'm in! Triad Dynasty please."
Anyone can join but freemiums have to maintain one game slot for the tournament at all times.
Scoring and Advancement:
You will only play one game at a time but each round (group stage and final stage) contains 4 games each, the player from each gang who
terminates the most players
over the course of four games in the group stage will advance to the final. Note that the primary goal is therefore not to win as many games as possible but to rack up as many kills as possible. The same system applies in the final where the score is reset,
so it doesn't matter how many kills you got during the group stage so long as you got enough to win your group
.
If at any point during the tournament there's a draw, the first tie breaker will be the player with the most games won in the round, if no one has more wins the players concerned will play a standard game with otherwise identical settings to determine who goes through, or if it happens in the final, who wins. Let us hope it does not come to that.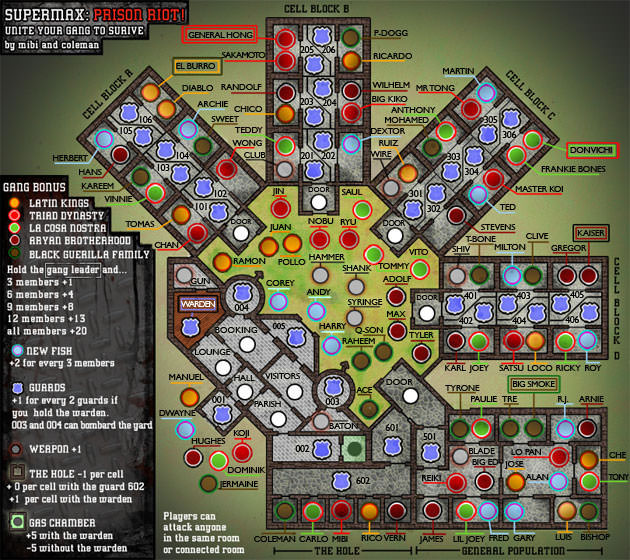 Prison Gangs:
Aryan Brotherhood
:
1.MrBellyBangBang
2.remy1309
3.molespe
4.adam666
5.lt.pie
Winner:
Black Guerilla Family
1.Shiz
2.1/2nuts1/2genius
3.downfall
4.smwhitey
5.GreenBaize
Winner:
La Cosa Nostra
1.Gawddog
2.morleyjoe
3.DJENRE
4.badmoon
5.dragon dor
Winner:
Latin Kings
1.iAmCaffeine
2.2007spaceodyssey
3.PROFITS
4.buster582
5.Jeux
Winner:
Triad Dynasty
1.GOPRedemption
2.Dukasaur
3.Soldier4Christ
4.b00060
5.AdamKeelan
Winner:
Reserves:
1.
2.