Welcome to the Next-Gen's Thread of reviews! All of these reviews were written from members of the Next-Gen Gamers. We will continually update this thread with new reviews. To get more involved with the making of the issue you can join the Next-Gen Gamers. We would always be happy to make you part of our family. All reviews will be based off a 10 point scale. 10 being the best. All reviews contains are the reviewers own personal feelings about the game, and not the entire Next-Gen gamers clan.
Any non members of Next-Gen Gamers can post their own reviews in this thread and the best of them will be posted in the first thread alongside the reviews from the Next-Gen Gamers. I myself and Soundout9, who is the leader of Next-Gen Gamers, will decide what reviews are good enough for the first post.
The second post in this thread will contain a list of all the people who have written a review that is posted in
this
(the first) post.
Naruto: Rise of a Ninja.
Naruto Rise of a Ninja is the latest game based on the popular anime/manga Naruto, but can this game break out of the sad tradition of bad anime games?
Naruto: Rise of a Ninja starts out from the very beginning of the anime and end right after the Chunin exam. It follows the event of the anime with almost embarrassing precision; you get the stealing of the forbidden scrowl, the fight against Zabuza every single event from beginning to the end of the Chunin exam is there. This is a huge plus for fans of the series and that makes sure that no one walks away from the game wondering were their favourite part was.
That being said there is a story telling problem in Rise of a Ninja.
The game uses written dialogue and cut scenes from the anime to drive the story forward, this is a welcome addition to the usual all dialogue story you usually encounter in Anime games. There are however not enough cut scenes or dialogue in the game, to tell the story to someone who have no knowledge of the anime beforehand. If you are unfamiliar with the anime or manga you will end up confused, but if you are not a fan of the anime then why would you buy this game anyway?
Another wierd thing in the cut scenes is how awfully bad they have been put together, anyone who have even a remote interest in the anime will spot dozens of cut scenes that makes no sense what so ever. Things like completly skipping half a scene resulting in a guy suddenly going from aiming a puch at some guys face to trying to stap the guy with a knife, even though you are thought to believe that no time had passed since the last clip. This might be a problem that is most irritating for the hardcore naruto fans, but the naruto fans is this games main target group so the developers have really shot themselves in the foot by slacking off in the story department.
The most important part of a game is of course the gameplay and in that department Naruto: Rise of a Ninja is miles beyond the normal anime game, there are two main gameplay parts of Rise of a Ninja is: combat and exploration.
The combat part is mostly standard stuff, two opponents in front of each other and then the battle is on with all the weapons and magic that a Ninja has to offer. The basic controls are spot on, and by holding down the left trigger and creating hand signs with the analog sticks. Knocking your opponent back and unleashing a jutsu (magic attack) with the correct hand signs is the name of the game. Making these signs with the analog sticks feels great, and hardcore fans will take delight in seeing that it is the correct hand signs that correspond to the specific jutsus.
While these jutsus seems awesome in the beginning it does become boring seeing the same jutsu cut scene after seeing it plus 20 times. The gameplay is built so it demands you to knock back the opponent and fire up that jutsu again to win the fight. Also at certain points doing the story line, you are asked to defeat a boss like zabuza ore a similar key character. This is offcourse a good thing but then the game gives you a brief cut scene and asks you to kill the exact same guy again. This makes no since what so ever and all it really does is making you feel like they are forcing the game to take a longer time to beat. While we are on the subject let me just say that the game is criminally short you can run through it in seven hours or so, and still taking time to do a bit of side questing. The combat mode is also the multiplayer mode where you can fight against your friends both online and off. The multyplayers characters are unlocked in the story mode and you will find alot of your favourite ninja in that mode. Zabuza, Neji, gaara and many more can be unlocked in the story mode but sadly you will be fighting generic bad guys 90% of the whole game.
The other part of Rise of a ninja, is the exploration and this is likely to end up as the place you will find most enjoyment. What exploration mode really is, is a big map of Narutos village that is more or less perfectly recreated from the anime, and running up walls and jumping around on the rooftops is great fun. Sadly there is a lot of times were you have to leave the city and that sends you down a linear path filled with robbers and the like, all just waiting for a little boy in an orange jumpsuit to come walking by. This leads to many a meaningless fight against generic bad guys, only to be followed by another bad guy, and another.
Running down a predetermined path is simple not as fun as jumping around in the city, and the places you travel to is not any fun either. Also in later parts of the game you will be asked to run to a faraway place finish a small race, return to the city to declare that you have succeeded and then you get send running straight back to the place from which you just came, fighting all the bandits all over again. It is simply a pain in a certain body part to do this and it adds nothing but repetition to the game.
The games visuals are great and the cartoonish graphical style used gives you the impression that you are actually in the cartoon, and that is just great news for all naruto fans. The audio is not bad but it is not great either, it is the American cast that voices naruto and his friend but it would be nice if you could chose the voices from the original Japanese production.
All in all Naruto: Rise of a Ninja is a good game, it is by no means perfect but it is one of the best anime games ever created, if you own a 360 and like naruto then this game is a must own. If you are not a Naruto fan then you can do a lot better than this game.
Score: 8/10
Written by: Greven
lost planet: extreme condition
In this 3rd person shooter you play, on a distant planet, Wayne who has suffered from amnesia after battling an Akrid called Green-eye with his father, who died in the event, and a small band of Snow Pirates.
You awake to find you have been taken under the care of 3 people enhabiting the snow. Your aim is to avenge your father's death by killing Green-eye while on the way fighting Akrid (the original enhabitants of this planet), rival snow pirates and Novak, an organisation trying to eradicate groups of snow pirates and unify the planet while making Akrid extinct.
Your life hangs on thermal energy which you lose by the second or by getting hurt and gain by killing humans/Akrid and stealing their energy, blowing up stuff etc.
There are lots of strategies you can use to kill your enemies using a variety of weapons and grenades and a very cool thing called a Vital Suit (VS). VS are machines you operate that have stronger weapons and that can run faster than you. There are a few variations of VS, each with different abilities: smoke screen, double jump, long jump, hover, glide etc. This is what make this game very unique.
This game has great graphics which blows the shit out of many games I have played. The controls are also unique with a capability I haven't seen before which is a button that makes you turn 90 degrees. In 3 pushes of a button you make a 360 degree turn. This is very useful in tight situations. Also there is a Grappling Hook, which helps you get places faster and can be used with other things to create special attacks.
Lost Planet has a fairly interesting storyline and a storyline that is very easily understood. If I can compare it to Halo again, I have only played Halo 3 and couldn't understand it one bit. I ran around and fought aliens and then found cortana twice?
The online play consists of:
Team elimination
Elimination
Post Grab
Fugitive: the host is the fugitive who has to evade the hunters and get his battle gauge full. The hunters have to get his battle gauge down to zero.
Overall, this game is a unique game with a ton of strategies, weapons and fun. It has great graphics and an understandable storyline. It is let down by some of its boss levels which were irrelevant to the storyline and sometimes timeconsuming and tedious. Also the navigation was sometimes quite hard. However, the fact that you could walk on buildings and pretty much everywhere was very cool. The VS made it very unique and the levels were always much different to each other, like being chased by a giant worm. I enjoyed this game very much. With a few more improvements this would be a ten.
9.5/10
Written by: bellaraphon
Orange Box:
I started off by playing Portal. It was slightly amusing at first, but quickly lost its charm. You play the role of a guinea pig for a newly discovered portal technology. The first hour of game play, features incredibly simple yet drawn out puzzles. The game play quickly flairs up however, when the company you're 'working' for tries to kill you and the game takes on an actual plot.
5/10
I then moved onto the Half Life 2 series. You play the role of Gordon Freeman, a scientist who's motives are obscure. The first 6 hours of game play leave you wondering what the heck the objective of the game is and if you somehow missed some crucial bit of information. Upon completing the game, you realise that the first 6 hours were pointless to the overall plot. The game play was alright, however it was more of a puzzle game then a FPS, as the combat was lacking. Re-spawning enemies, really obvious, yet stupid plot devices and a very simple combat system leaves this game lacking. The music was great though.
8/10
Team Fortress Two was the last game I tried playing, and I never played it for more then 20 minutes. Boring, mindless fighting pretty much sums this up.
3/10
Written by: dinobot
Devil May Cry 4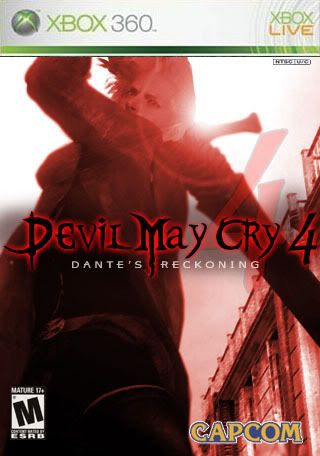 Sometimes it seems as if developers don't know what's fun and what's not. That's about the only conclusion that can be drawn from Devil May Cry 4, a game that hits some amazing highs and some absolutely criminal lows. It's as if the team behind the game lost the plot, mucking up pulse-pounding combat with some of the most tedious moments imaginable. If there's one thing that Devil May Cry 4 delivers – and it's something that's in short supply on 360, really – it's high quality hack and slash action combat, the likes of which Ninja Gaiden got so right. There was a time not too long ago when the phrase "Devil May Cry" was synonymous with the very idea of running around and chopping up enemies with a giant sword and all of these years of polish have made the fighting in DMC4 brutally engaging. Combat looks, feels, and sounds just right, with useful, balanced combos resulting in meaty crunches and sprays of gore. The lead character of DMC4 is newcomer Nero. Like Dante who was the lead character in the last three he's a cocky demi-demon with white hair and a big sword. So why the switch? The difference is his demonic arm, which gives Nero the power of the Devil Bringer: you can grab and wallop enemies, and even use their bodies as shields. Using it makes a for a lot of fun, adding some much-needed variety to the fighting. This, however, is the games sole innovation. Otherwise, it's more of the same for the series, just much, much prettier. Even loyal Xbox fans who've never played a DMC game before will be able to tell that the formula has grown musty. Not only does the dearth of progressive game play ideas fail to push the franchise forward from its 2001 debut, but the most basic ones strike the same poses they have since the dawn of action gaming. Even some new features can be pretty terrible: there's a board-game section where you roll a die to progress through the level. Talk about destroying momentum. Fans will be happy to hear that yes, you can play as cocky gunslinger Dante. Sure it's fun to play as Dante, and to explore his various fighting styles, but it's not
that
fun. The graphics are worth discussing: pristine and gorgeous, with a tremendous level of detail. But graphics are only a small slice of the pie. The whole of DMC4 rings much too hollow, let down by arbitrary puzzles and an endless succession of lows between infrequent fist pumping highs. But again, the fighting particularly against some of the bosses provides an absolute adrenalin rush. Righting hard and barely winning is one of the most exhilarating feelings a game can offer you, and despite the cloudier aspects of Dante and Nero's debut on the 360, that's what DMC4 delivers at its best. Unfortunately there's a tragic amount of recycling here. You spend too much time in levels with not much to do: too much time slicing through obvious padding to reach a climax that I can promise won't satisfy you.
SCORE: 7/10
Written by: soundout9
Burnout Paradise
out on: ps3, 360 Publisher: EA developer: criterion games
burnout starts out as one of the greatest driving games of all time, with a seemingly expansive map, free-roaming gameplay and AS FEW MENUS AND LOADING TIMES AS POSSIBLE! Seriously, it's incredibly easy to get from one type of race to another, and going online is as simple as pressing right on the d-pad!
unfortunately, after the first few races, when you realise you can cruise from one end of paradise city to the other in about 3 minutes, you've found pretty much every event it's possible to find, and fount out that the races you've completed reset themselves every time you upgrade your license, the whole thing starts to get a little repetitive.
not to say the game ever fails. some parts, such as the songlist (killswitch engage, guns 'n' roses and twisted sisters being just a few) and the takedowns are pure brilliance, and others are dismally average. the races and road rages are just the same as in any other burnout (which, again, isn't a bad thing at all) and showtime (delibarately crash your car, then send it bouncing down the road in an attempt to cause as much damage as possible) gets very boring after about 5 attempts.
all in all, burnout paradise is a beautiful game, with a bit of a short lifetime, and could have used a little more variety.
Best bit: hurtling down the road at enormous speeds, then slamming your enemies into the walls.
worst bit: avril lavigne's "girlfriend"? how the hell did that make the soundtrack?
Rating: 7.5/10
Written by: mr. incrediball