in the next newsletter.........

In attempt to drive readership up and the clan content, the Season 3 All-Stars and the top player will be announced in the next issue of the newsletter due out any week now.
Clan League: MVPs announced
by laughingcavalier (TSM)
What you've all been waiting for: Head Clan Director
jpcloet
has run the regular season results through his high-powered number cruncher and given us the Most Valuable Players of Clan League Season 3.
First up come the divisional all-stars, the best players by game type in their division. No surprise to see some well-known names from division winning clans KORT, TOFU, Empire and IA, and strong performances from LoW, AoC and (no bias, guys) TSM. Special congrats to the players from clans who show up in these lists less often, notably
Theldin
of The Last Warriors and
Gambler2120
of Angels of Death.
Division MVPS: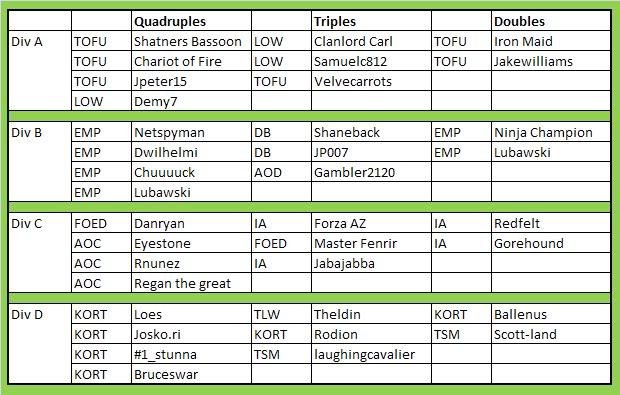 Who were the all-star teams across the divisions? These players pretty much all won at least 6 games in their position and scored an 80% win rate. Two players each for TOFU and IA, representatives of Empire and KORT. Specially good performances from relative newcomers - two FOED players
danryan
and
Master Fenrir
made it in, and Devil's Brigade are represented by
Shaneback
.

But there can be only one player who takes the general achievement medal for best performance in the league.
jpcloet wrote:The top player award started with all players above 70% and then I do a further data dive. I've been working on a Clan Rating (somewhat similar to QB ratings) and the criteria for the league was 5 components although the expectations for each category did vary based on the results in each group. I found myself consistently having to raise the bar as there were some really strong performances.

The 5 Categories were: Quads Win %, Triples Win %, Doubles Win %, Unique Maps %, and Kills Ratio %. Along with a minimum of 10 games.

Most of the top players had perfect scores in 3 or 4 of the categories. The Quads scores were very close as well. The biggest difference was kill score. There were some players who won a lot of games but were not active participants in some games. The best player for kill ratio in the top group was actually

4red

and the 5 players mentioned below combined were an astounding 83-12 for 87.3% win rate. Another interesting note was that the top player did not qualify for a positional spot since he was 4-0, 4-0, and 4-0.
Big congratulations to all the winners, and especially to
steve066
, CL3 MVP.
These are the players we all want to beat if we can only figure out how to do it. And to help us figure that out, we asked a few of the contenders to give us their teamgame tips. This is what they said:
dwilhelmi (Empire) wrote:It is important to be on the same page with the rest of your team, and that means constant communication. Even when everybody knows everybody else, and you all have a comfortable style, communication is still important. Even the most experienced players can miss something, but if you have three or four people looking at every move, you are a lot less likely to goof up. Along with that is keeping up on your chats, even when it isn't your turn. Asking for input doesn't do a lot of good if your teammates are not checking games when it isn't their turn.
danryan (FOED) wrote:My general tip would be that communication trumps skill for the larger team games. Although a plan may fall apart due to dice or opponents' play, if the team is communicating, formulating a new plan can bring the battle back with a good result. Knowledge of specialist maps is very helpful as well - there are a number of maps where standard gameplay will get you a loss in team games, including Feudal & Epic, Lunar War, Middle Ages, etc. My last tip is pick good teammates, inevitably they will raise the quality of your game as you don't want to let them down.
josko.ri (KORT) wrote:Clearing regions around a bonus is often more important than taking the bonus.
steve066 (KORT) wrote:My only skill is in picking genius teammates