RAIL SOUTH AMERICA
Supersize Approval
5/1/13
Draft Stamped 16.1.13
1. Map developer
- Cairnswk
2. Software:
PS5 and Illustrator CS5
3. The number of territories currently on the map
- 109 territories less 5 starting neutrals = 104 (golden number)
Neutral Starts: PAN Panama H; QTO Quito D; MAN Manaus M; STG Santiago N; PGA Puerto Alegre G and Z
4. The number of continents/bonus zones
22 continents
5. Descriptions of any unique features or areas.
- Straight play railway map (but if someone has good suggestion it might be implemented)
6. Fonts use:
Arial on stations, Hobo Std in legend and title.
7. Why
- This is the last map in the Railway series - it appears there is some support for this map, and it would be good to advance the series - possible Battle Royal contender.
Map Size:
Small: 800 x 850
Larage: 1040 x 1105
Version 10 - small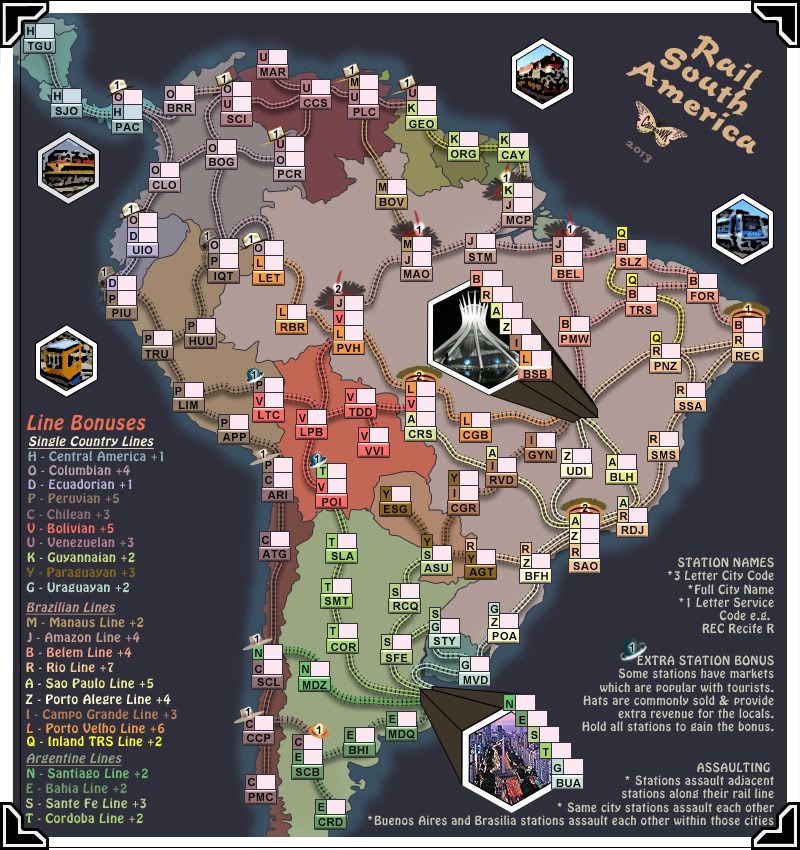 The Drop:
2P: 34 + 41N
3P: 34 + 7N
4P: 26 + 5N
5P: 20 + 9N
6P: 17 + 7N
7P: 14 + 11N
8P: 13 + 5N
Continents and Territories Listed Below
Code: Select all

<continent>
<name>Central America - H</name>
<bonus>1</bonus>
<components>
<territory>TGU Tegucigalpa H</territory>
<territory>SJO San Jose H</territory>
<territory>PAC Panama City H</territory>
</components>
</continent>
<continent>
<name>Columbian - O</name>
<bonus>4</bonus>
<components>
<territory>PAC Panama City O</territory>
<territory>BRR Barranquilla O</territory>
<territory>SCT San Cristobal O</territory>
<territory>PCR Puerto Carreño O</territory>
<territory>BOG Bogota O</territory>
<territory>CLO Cali O</territory>
<territory>UIO Quito O</territory>
<territory>IQT Iquitos O</territory>
<territory>LET Leticia O</territory>
</components>
</continent>
<continent>
<name>Ecuadorian - D</name>
<bonus>1</bonus>
<components>
<territory>PIU Piura D</territory>
<territory>UIO Quito D</territory>
</components>
</continent>
<continent>
<name>Peruvian - P</name>
<bonus>5</bonus>
<components>
<territory>PIU Piura P</territory>
<territory>TRU Trujillo P</territory>
<territory>IQT Iquitos P</territory>
<territory>HUU Huánuco P</territory>
<territory>LIM Lima P</territory>
<territory>LTC Lake Titicaca P</territory>
<territory>AQP Arequipa P</territory>
<territory>ARI Arica P</territory>
</components>
</continent>
<continent>
<name>Chilean - C</name>
<bonus>2</bonus>
<components>
<territory>ARI Arica C</territory>
<territory>ATG Antofagasta C</territory>
<territory>SCL Santiago C</territory>
<territory>CCP Concepción C</territory>
<territory>PMC Puerto Montt C</territory>
</components>
</continent>
<continent>
<name>Bolivean - V</name>
<bonus>5</bonus>
<components>
<territory>LTC Lake Titicaca V</territory>
<territory>PVH Porto Velho V</territory>
<territory>LPB La Paz V</territory>
<territory>TDD Trinidad V</territory>
<territory>SLA Salta V</territory>
<territory>POI Potosi V</territory>
<territory>VVI Santa Cruz de la Sierra V</territory>
<territory>CRS Cáceres V</territory>
</components>
</continent>
<continent>
<name>Venezuelan - U</name>
<bonus>3</bonus>
<components>
<territory>SCI San Cristobal U</territory>
<territory>MAR Maracaibo U</territory>
<territory>CCS Caracas U</territory>
<territory>PCR Puerto Carreño U</territory>
<territory>PLC Puerto la Cruz U</territory>
<territory>GEO Georgetown U</territory>
</components>
</continent>
<continent>
<name>Guyannaian - K</name>
<bonus>2</bonus>
<components>
<territory>GEO Georgetown K</territory>
<territory>ORG Paramaribo K</territory>
<territory>CAY Cayenne K</territory>
<territory>MCP Macapá K</territory>
<territory>BEL Belém K</territory>
</components>
</continent>
<continent>
<name>Paraguayan - Y </name>
<bonus>3</bonus>
<components>
<territory>ESG Mariscal Estigarribia Y</territory>
<territory>ASU Ascuncion Y and S</territory>
<territory>AGT Cuidad del Este R and Y</territory>
<territory>CGR Campo Grande Y</territory>
</components>
</continent>
<continent>
<name>Uraguayan - G</name>
<bonus>2</bonus>
<components>
<territory>EZE Buenos Aires G</territory>
<territory>SLY Salto G</territory>
<territory>MVD Montevideo G</territory>
<territory>POA Porto Alegre Z and G</territory>
</components>
</continent>
<continent>
<name>Belem Line - B</name>
<bonus>4</bonus>
<components>
<territory>BSB Brasilia B</territory>
<territory>PMW Palmas B</territory>
<territory>BEL Belem B</territory>
<territory>SLZ São Luis B</territory>
<territory>TRS Teresina B</territory>
<territory>FOR Fortaleza B</territory>
<territory>REC Recife B</territory>
</components>
</continent>
<continent>
<name>Rio Line - R</name>
<bonus>7</bonus>
<components>
<territory>BSB Brasilia R</territory>
<territory>PNZ Petrolina R</territory>
<territory>REC Recife R</territory>
<territory>SSA Salvador R</territory>
<territory>SMS São Mateus R</territory>
<territory>RDJ Rio de Janeiro A and R</territory>
<territory>SAO Sao Paulo R</territory>
<territory>AGT Cuidad del Este R and Y</territory>
<territory>BFH Curitiba R and Z</territory>
</components>
</continent>
<continent>
<name>Sao Paulo Line - A</name>
<bonus>5</bonus>
<components>
<territory>BSB Brasilia A</territory>
<territory>PLU Belo Horizonte A</territory>
<territory>RDJ Rio de Janeiro A and R</territory>
<territory>SAO Sao Paulo A</territory>
<territory>RVD Rio Verde A and I</territory>
<territory>CRS Cáceres A</territory>
</components>
</continent>
<continent>
<name>Puerto Alegre Line - Z</name>
<bonus>4</bonus>
<components>
<territory>BSB Brasilia Z</territory>
<territory>UDI Uberlândia Z</territory>
<territory>CGH Sao Paulo Z</territory>
<territory>BFH Curitiba R and Z</territory>
<territory>POA Porto Alegre Z and G</territory>
</components>
</continent>
<continent>
<name>Campo Grande Line - I</name>
<bonus>2</bonus>
<components>
<territory>BSB Brazilia I</territory>
<territory>GYN Goiânia I</territory>
<territory>RVD Rio Verde A and I</territory>
<territory>CGR Campo Grande I</territory>
</components>
</continent>
<continent>
<name>Porto Velho Line - L</name>
<bonus>6</bonus>
<components>
<territory>BSB Brasilia L</territory>
<territory>CGB Cuiabá L</territory>
<territory>CRS Cáceres L</territory>
<territory>PVH Porto Velho L</territory>
<territory>RBR Rio Branco L</territory>
<territory>LET Leticia L</territory>
</components>
</continent>
<continent>
<name>Amazon Line - J</name>
<bonus>4</bonus>
<components>
<territory>BEL Belem J</territory>
<territory>STM Santarém J</territory>
<territory>MAN Manaus J</territory>
<territory>PVH Porto Velho J</territory>
</components>
</continent>
<continent>
<name>Manaus Line - M</name>
<bonus>2</bonus>
<components>
<territory>PLC Puerto la Cruz M</territory>
<territory>BVB Boa Vista M</territory>
<territory>MAO Manaus M</territory>
</components>
</continent>
<continent>
<name>Western Line - N</name>
<bonus>2</bonus>
<components>
<territory>SCL Santiago N</territory>
<territory>MDZ Mendoza N</territory>
<territory>EZE Buenos Aires N</territory>
</components>
</continent>
<continent>
<name>Northern Line - S</name>
<bonus>2</bonus>
<components>
<territory>BUA Buenos Aires S</territory>
<territory>SFE Santa Fe S</territory>
<territory>RCQ Reconquita S</territory>
<territory>ASU Ascuncion Y and S</territory>
</components>
</continent>
<continent>
<name>Southern Line - E</name>
<bonus>2</bonus>
<components>
<territory>BUA Buenos Aires E</territory>
<territory>MDQ Mar del Plata E</territory>
<territory>BHI Bahia Blanca E</territory>
<territory>SCB San Carlos de Bariloche E</territory>
<territory>CRD Comodora Rividavia E</territory>
<territory>RGL Rio Gallegos E</territory>
</components>
</continent>
<continent>
<name>North-Western Line - T</name>
<bonus>2</bonus>
<components>
<territory>BUA Buenos Aires T</territory>
<territory>COR Córdoba T</territory>
<territory>SMT San Miguel de Tucuman T</territory>
<territory>SLA Salta T</territory>
</components>
</continent>


Previous Versions
http://i155.photobucket.com/albums/s282 ... a_V06S.jpg
http://i155.photobucket.com/albums/s282 ... V01Scd.jpg