Hey guys. Finally got a new update here, it's been long enough

:
Large: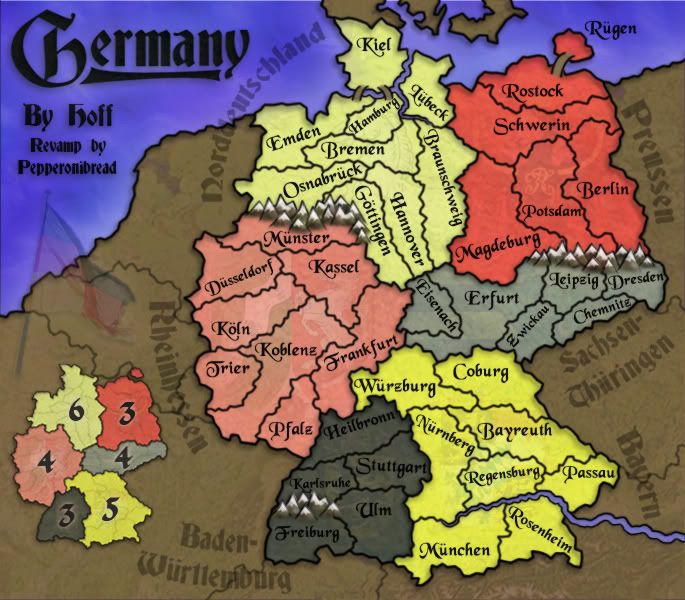 Large w/ #'s: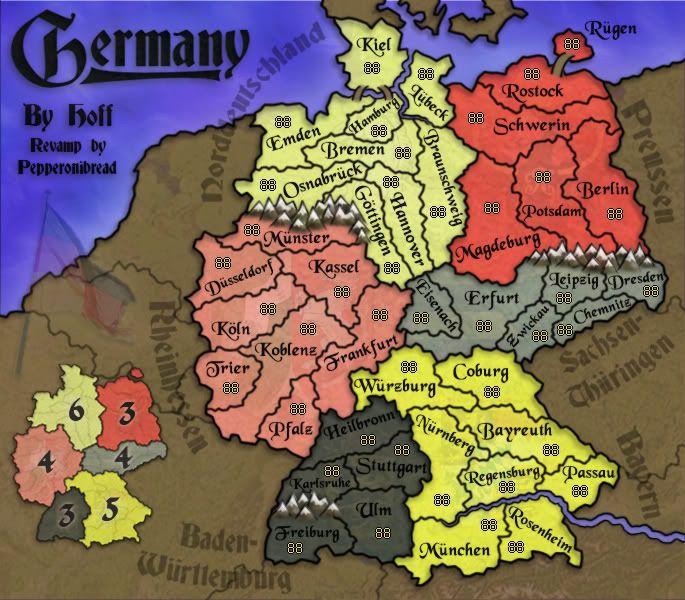 Ok, I basically redid the whole map from scratch, though it still looks pretty similar. Here's a list of all the changes:
-Shrunk map's width from 800 to 685 pixels.
-Made all the name/border changes needed to make the map more accurate (gameplay remains the same).
-Because of mibi's suggestion to reintroduce the German black, red, and gold, I recolored the continents as shown.
-Due to the color change, I replaced the legend with a mini-map, as some continents have similar colors. The continent names can still be seen around the map, as I thought they should still be viewable somewhere.
-Lowered the opacity or visibility of the coats of arms on the continents. This is still up for debate.
-With the island Rugen and the new river arrangement, I added some bridges.
-Names of countries in the dead land (Polen, Frankreich, Niederlande) crowded the map too much, so they were removed.
-All the borders are now more detailed, because I think it looks cooler.
-Some of the territory names were more tilted than they needed to be, I tried to lessen this in the new map.
-I made the background "pop" a little less.
To do:
-I'm not sure how much I like the new mini-map; I'd like some comments on this.
-I changed all the names to German and added umlauts, but I'm sure I missed at least one. Anyone see one I forgot?
-Do you guys like the bridges? Any comments on these are welcome.
-Any comments/suggestions on the continent names around the map?