***I took down the poll because there was good support for another map, but I want to focus on finishing this one and not get ahead of myself. I underestimated how long it would take to finish a map. Mahalo and Aloha****
Map Name: Hawaii
Design team:
Concept and design: esiemer and saberty
XML: stofer71
This map is built around traditional CC type strategy with territory and continental control. We chose Hawaii for love/knowledge of the islands and a lack of any Hawaiian maps. Before we found CC we had painted a version on this map on the back of a Risk game board and played it as a change of pace.
The design team including several other CC friends have been playing on that painted board to help flush out game play issues. We welcome suggestions and feedback, as this is our first crack at quenching a map and we have lots to learn.
Map Details:
Continents: 8
Territories: 42 + 6 outrigger canoes (start Neutral 3)
Continent Bonuses:
update coming soon
Kauai: ?
O'ahu: ?
Moloka'i: ?
Maui: ?
Lana'i: ?
Hawaii: ?
Ni'hau: ?
Kaho'olawe: ?
Outrigger Canoes: ?
Islands are interconnected via Rainbows/dotted lines as direct paths. Ports are symbolized by outrigger canoes and all can attack each other.
bigimg: temporarily unavailable
smaller version: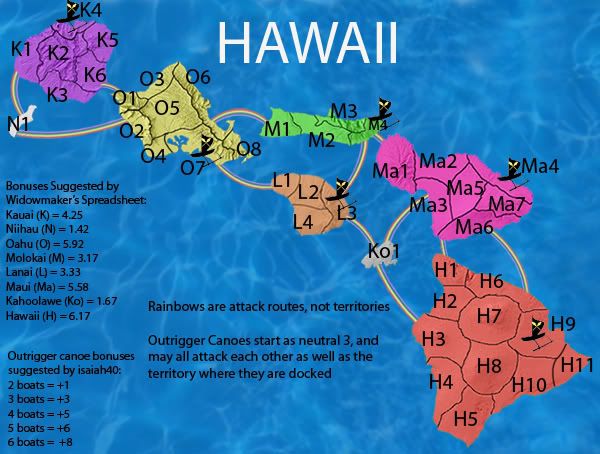 our original gamboard for nostalgia and inspiration reasons:
our original version submitted to CC:
http://i160.photobucket.com/albums/t173/ezerok/Hawaii_CC_1.jpg
version 2:
http://i160.photobucket.com/albums/t173/ezerok/HawaiiDraft2.jpg
version 3:
http://i160.photobucket.com/albums/t173/ezerok/HawaiiDraft3.jpg
version 4:
http://i160.photobucket.com/albums/t173/ezerok/HawaiiDraft4.jpg