You might be ready for war, but you are not ready for...
The Imperial Dragoons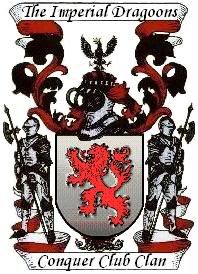 Founded by .SCuD. and Marvaddin, the true elite of Counquer Club have gathered together and are ready to take on all comers.
The following players are confirmed members:
.SCuD.
Marvaddin
hunting_high
vyvyan
kingwaffles
Eldangerouso
Belzbub
brunnings
Ereandil
Scorba
Paperplunger
PainBrain
John123
phishn80
pilate065
mjtrish
niMic
Augusta
fredheim
resitnecdan
We are open to new members, but you must satisfy the minimum requirements:
1. Minimum score of 1200 points (dropping below this does not mean you will be removed).
2. 20 games played here in Conquer Club.
3. Accept the clan rules.
The Imperial Dragoons rules:
1. No members of others clans can join, and if someone joins another clan will be kicked out of the Imperial Dragoons.
2. Any form of cheating is not allowed (including secret alliances).
3. Abandoning clan games is not allowed; any reason for abandonment or deadbeating of a clan game must be explained to the whole group. Persistent offending will result in the termination of the players membership at the discretion of .SCuD. and Marvaddin.
4. No offensive behaviour towards other members of Conquer Club (although of course some "needling" is acceptable).
5. You must of course be willing and available to play in clan games.
To our members, we offer the following advantages:
1. Good partners for team games, even triples games.
2. Standard private games with top players.
3. Games free of cheaters.
4. Regular events against other clans / challengers.
5. The respect and the fear of the other players.
If you want join and be among the best... pm us!!
We are The Imperial Dragoons, we are ready for war... are you ready for us?
Marvaddin