Files for beta:
XML
:
http://www.fileden.com/files/2010/2/7/2 ... arWar4.xml
Large image
:
http://a.imageshack.us/img827/7972/lunar36e.png
Small image
:
http://a.imageshack.us/img707/6391/lunar36esmall.png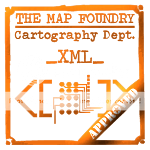 Lunar War
Gameplay:
isaiah40
Graphics:
natty_Dread
XML:
Gilligan
Latest XML
http://www.fileden.com/files/2010/2/7/2 ... arWar4.xml
Current Feedback Requests
- is there any reason for this map to not go in beta?
Introduction:
In the not so distant future, 8 superpowers of the Earth are waging a proxy war - a war for the moon. Each country wants to conquer moon for it's own purposes. USA, Russia, China, India, EU, South Africa, Brazil and Japan each have built rockets which they plan to launch at the moon, with 1 shuttle each - shuttles carrying armies of Space Marines. Which of the countries will be able to claim the moon and it's valuable Helium-3 resources in it's name?
Latest version:
36e
Gameplay:
updated after gameplay stamp
The map contains 75 territories, of which are:
8 shuttles (1 for each country)
16 landing sites (2 for each country)
27 craters
15 seas
6 Helium-3 mines
3 Missile bases
Shuttles

: Each of these is a starting point and starts with 3 troops. Leftovers start with 10 neutrals. Each receives a +2 autodeploy.

USA shuttle US
Russia shuttle RU
Japan shuttle JP
China shuttle CN
India shuttle IN
Europe shuttle EU
South Africa shuttle ZA
Brazil shuttle BR
Each Shuttle can one-way assault the same country's landing sites 1 & 2.
Landing sites

: Each starts with 3 neutrals. Holding both sites of the same country gives a +2 bonus, or +3 if you also hold the shuttle of the same country.

USA landing site US1
USA landing site US2
Russia landing site RU1
Russia landing site RU2
Japan landing site JP1
Japan landing site JP2
China landing site CN1
China landing site CN2
Europe landing site EU1
Europe landing site EU2
South Africa landing site ZA1
South Africa landing site ZA2
Brazil landing site BR1
Brazil landing site BR2
Landing sites cannot assault the rockets, only territories around them.
Craters

: Each crater starts with 2-4 neutrals.
There are 27 individually named craters.
Burg
Hercules
Aristoteles
Plato
Eudoxus
Macrobius
Cassini
Autocylus
Plinius
Firmicus
Eratosthenes
Triesnecker
Reinhold
Lansberg
Ptolemaeus
Theophilus
Arzachel
Catharine
Piccolomini
Grimaldi
Byrgius
Bullialdus
Tycho
Walter
Aliacensis
Magnus
Maunolycus
Craters give no bonus except for the regular territory bonus.
Helium-3 mines

: Each He-3 mine starts with 6 neutrals. Each gives +2 troops bonus.
Kepler mine
Copernicus mine
Stevinus mine
Albalegnius mine
Purbach mine
Franklin mine
There are 6 He-3 mines. They are craters that are being mined for the valuable Helium-3, an isotope of helium that is used for fuel in fusion reactors in the future.
Each Helium-3 mine gives a +2 bonus.
Marie

: Marie (singular Mare) or seas each start with 4-5 neutrals. Holding all gives a +18 bonus.
Mare Frigoris
Mare Imbrium North
Mare Imbrium South
Mare Serenitatis
Mare Tranquillitatis
Northern Oceanus Procellarum
Southern Oceanus Procellarum
Mare Vaporum
Mare Crisium
Mare Spumansis
Mare Nectaris
Mare Fecunditas
Mare Humorum
Mare Nubium
Sinus Medii
Holding 5 seas gives +5, holding 7 gives +8, holding 10 gives +11, holding 13 gives +16.
Holding all 15 gives +18.
Missile bases

: These start with 15 neutrals, and revert back to 15 neutrals at the beginning of the turn of the player who holds them, ie. they are killer neutrals.
Roris base
Fracastorius base
Longomontanus base
Missile bases are connected to territories around them in the same way as craters. Each base can one-way assault all shuttles, and are the only territories that can assault shuttles. They obviously give no bonus, being killer neutrals.
Objective
Hold any 1 of the 8 shuttles, and all 6 Helium-3 mines for one round and you will win automatically.
To-do list:
Nothing at the moment. Suggestions are welcome!