Finally, an update!
[url=http://grunk.org/risk/usa10-large.jpg]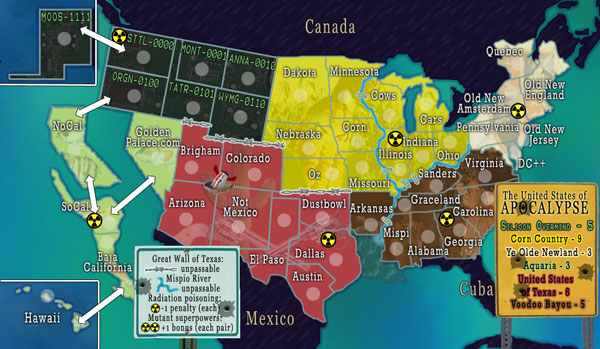 (Click for larger version.)[/url]
The rivers, they tell me to do things. I try to talk back, but who am I to refuse a river? The rivers insisted that Sanders be a part of the Voodoo Bayou. And in the long run, I think they were right. This means that those of you who are good at looking at bonuses should probably look at them again -- although I think there's a chance they might not actually have to change, since the effects sorta even out a bit.
I think that, unless people hate this ocean, I'm going to keep that as it is. But on the subject of aesthetic flourishes, is the rocket any clearer? How about in the large version? I'm considering reverting to the skull in the small map while keeping the rocket in the large one. Oh, and how about them quick-and-dirty bridges? I have this suspicion that they will be universally loathed. But if you
don't
loathe them, please, let me know!
(And of course, any other constructive comments are welcome.)