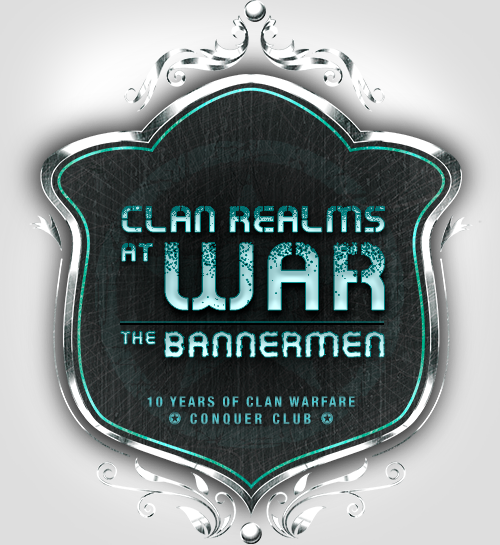 Introduction
It has been ten long years of war. The great Clans of the Realm have battled, clawed, and destroyed everything in their paths in the name of victory and honor. Ten years of heartache, ten years of struggle. 29 Clans remain.

The names of clans throughout the war have changed. Who lays claim to what lands have changed more often than the tides rise and fall. Clans have been vanquished, tattered, and torn.

The great war has started, no lord is satisfied any longer with single clan victories. The hordes have begun to gather, preparing to alight the entire world afire until just one clan, one lord, one final victor remains.

Clans will send their lords throughout the Realm. There, they will build cities, make alliances, non-aggression pacts, and declare fealty as bannermen, and turn on those they once called friends.

Now, the battles have become greater than any realm has ever seen. Now, the realm will be reborn.
General Concept
In celebration of 10 years of Clans on Conquer Club, the Clan Department brings to you - Clan Realms at War: the Bannermen!

Some of you maybe familiar with Sid Meiers "Civilization" game. CR@W is the Clan Worlds simplified version for your enjoyment & entertainment.

Clans will travel an unknown map away from their starting Castles, exploring, battling, and using diplomacy to learn about the world.
Clans and players will have a level of anonymity, when exploring Clans will be found under pseudonyms as well as their players (Lords). (I.E. You have found Castle Anthrax, instead of you have found Castle TOFU; or you have found Lord Eddard as opposed to Lord Josko.ri).

Clans will interact with others indirectly through IcePack, or directly. Clans may choose to identify themselves to others during diplomacy, whether being truthful or using trickery. Clans can use diplomacy to gain intel on other groups, declare themselves vassals of a parent Clan whether in exchange for gold, protection, or other arranged conditions at any point in the game.

Battle, diplomacy, intrigue, secrecy, and the unknown await you in...Clan Realms @ War!