Central America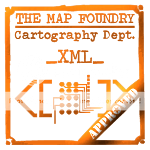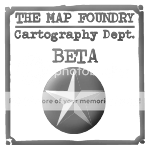 Version 14
:
-Moved a couple territory names around (Islas de la Bahia up, Chiriqui down a little bit, Puntarenas down a bit)
-Added the full name for RAAS (only changed on the large, it was there last small version)
-Fixed up the credits. I think the brighter green is much more readable
-Spaced out/tried to center the sea rout names. I think I accidentally bumped the font size of Atlantic up, something I'll fix next update.
Version 14
:
Large
Small
Thanks for all the positive comments everyone! Hopefully we can finish this one up soon

I'm going to look into moving the Canal bonus text next version, curious as to how it would look. I kind of like it where it is, but if it improves on things I won't mind moving it!
Territories
: 33
Continents
: 7
Gameplay
: Standard geographical game play with six sea routes.
Previous Versions:
Version One:
http://img254.imageshack.us/img254/8175/caflatfinal1er5.jpg
Version Two:
http://img258.imageshack.us/img258/5865/camapsmallerflat1dw1.jpg
Version Three:
http://img88.imageshack.us/img88/8871/camapsmallerflat1fx7.jpg
Version four:
http://img12.imageshack.us/img12/9899/camapsmallerflat1ss8.jpg
Version Five:
http://img25.imageshack.us/img25/8740/camapsmallerv5t.jpg
(Circles);
http://img19.imageshack.us/img19/7795/camapsmallerv5tnoc.jpg
(No Circles)
Version Six:
http://img148.imageshack.us/img148/5513/camapsmallerv6nocircles.jpg
Version Seven:
http://img117.imageshack.us/img117/7695/camapsmallerv7flat.jpg
Version Eight:
http://img18.imageshack.us/img18/8268/camapsmallerv8nocircles.jpg
Version Nine:
http://img682.imageshack.us/img682/4547/camapsmallerv9.jpg
Version Eleven (nope... I can't count):
http://img695.imageshack.us/img695/5792/camapsmallerv112grunge.jpg
version Twelve:
http://img708.imageshack.us/img708/9582/camapsmallerv12.png
Version Thirteen: [L]
http://img42.imageshack.us/img42/4456/camapv131large.jpg
; [S]
http://img683.imageshack.us/img683/6940/camapv131large88.jpg