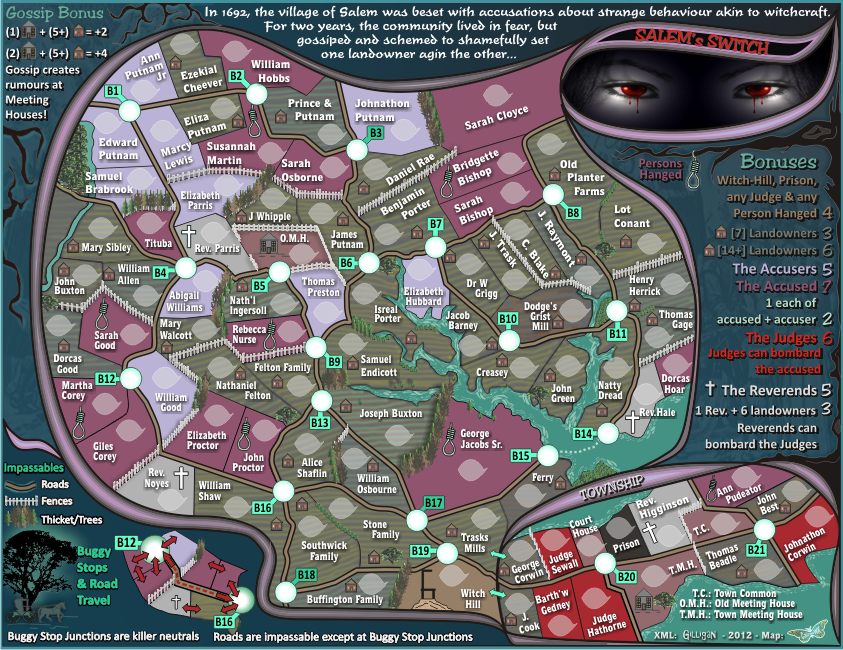 Hi everyone....
It has been said that some of my maps are nightmares to play on because they require too much thinking and initial learning to get anywhere on them besides they are intimidating.
So, i'm going to be a little more proactive with this map in giving some ideas of how
to start
some strategies to conquer this map.
1. Movement...
* you can assault your neighbours except where there are thicketts, trees, fences (and the sea) as impassables.
* the Roads...also act as an impassable between some territories, and you can only assault across them or across impassables by conquering
in one go
the buggy stop
killer neutral junctions
.
-
Killer Neutrals reset to 1 neutral at the end of each round
.
- Refer to the diagram bottom left of the map for how to achieve this movement as it shows the movement possible around B12 and B16.
*
Make sure you've got enough troops to move around
via the buggy stops, because you not only need enough troops to conquer the buggy stops, but also the targeted territory when you reach your goal at the adjacent buggy stop.
NOTE: If you don't conquer your targeted territory, then you've wasted some troops in moving around via the buggy stops since they reset at the end or your turn, and you might have to repeat the whole process again.
* in order to get to the Judges, you have to get to Township of course.
* in order to conquer the reverends, you will have to move via the road system. There are two reverends left and two right of the map.
2. Bonuses - Landowners
* Landowners are those who've got stripped landholdings with little houses on them
* There are (2) build bonuses for landowners: hold 7 of them and you receive +3, hold 14 of them and you receive +6
* These can be gained as you move around the map if you strategise to build up your bonuses.
3. Bonuses of higher calibre
* These are essentially all other bonuses apart from landowners in the legend e.g. Judges and Reverends. You'll notice that all judges (4) are located in the Township region, while Reverends (4) are located around the map.
* There are also two (2) meeting halls that combine with the landowners as Gossip Bonuses (top left)
* Of course in longer games with many players, you may be able to achieve the Witch Hill bonus which is not an objective bonus, but comes to the essence of the theme itself.
* There are also a combination bonuse for the Accussed and Accussers, meaning these are also accessable around the map but you may to move around the road system to get to them.
4. Strategies
So, i am not going to tell you what strategies to build up - that would defeat the purpose of learning and conquering, however, like all other maps out there, there is that element of:
1. kill your opponents off as quickly as possible, or
2. build your bonuses to gain extra troops to achieve dominaton
3. Other strategies you will work out for yourselves
5. Game length
You can expect that game will not be over quickly even in 1v1 games.
Good luck everyone in conquering this map and i hope you all enjoy your games.