Map Name: Ukraine
Mapmaker(s): Minister X
Number of Territories:25
Special Features: none
What Makes This Map Worthy of Being Made: Ukraine is the largest European country not yet mapped at CC. It's a world hotspot and I've referenced that by calling one bonus region "Occupied" and another "Contested". The bonus regions on this map run from 3 to 5 terts, none larger or smaller, and that's unusual. At 25 total terts only seven maps at CC would be smaller and small maps are quite popular, especially for newbies.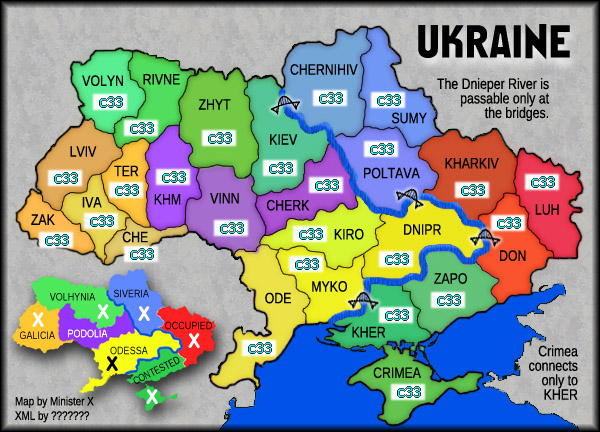 As shown here, the map is just 600 x 432 pixels... a small map for a small map. I've made few small versions of my maps but I know that's always a challenge so I wanted to start with the small one this time, thus allowing myself some freedom when making the large one instead of struggling to make a large one smaller.
The actual names of the terts run up to 14 letters long and a surprising number of them are unpronouncable without much practice, so to save space and make it easier on players I've employed many abbreviations. On the large map I'll do the same but provide a key to the full names. "Dnipropetrovsk" or "Khmelnytskyi" ain't fitting inside no tert no how.
Would it be possible for this map to start with just one neutral for a 2- 3- or 4-player game, none for a 5-player, and so on, keeping the number of neutrals to a minimum? Or should there always be at least one neutral in each bonus region?
When I first conceived of this map I got a brilliant idea: make Chernobyl a tert out of the north bit of Kiev, make holding it a requirement for getting that bonus region, but whoever is in there loses one troop per turn. I could decorate the tert with a skull-and-bones and/or a nuke symbol like this:
Wouldn't that be cool? But Ukraine offers something to the CC cartographer that almost no other country does: the 25 oblasts are all more or less the same size. I'm thus able to map them exactly. To ruin that by creating one artificial tert seemed like a desecration. Also, including Chernobyl, which was the fault of the USSR, not modern Ukraine, would be a bit insulting to a country that has enough problems. Also, subtracting one from that tert would be counteracted by getting the bonus. It would almost always be the last tert taken for that bonus. So it doesn't really work as a penalty. Alternately, it could always start out as a neutral with a larger-than-usual number of troops. That might work and I could still use the cool graphics. So, pluses and minuses. Still... that idea about Chernobyl as a death zone is pretty cool. So I ask you... should this map have 26 terts instead of 25? Let's take a vote.
The Oblasts are accurate but the path of the Dnieper River is only approximate. It runs through the insides of several oblasts. Darn those Ukrainians! Why couldn't they make the river always the border between Oblasts? I chose to do so. So the river's a bit different than reality, but not by all that much.
I also ask for input regarding bonus amounts. I've used X's in the inset at this point. Also bridge placement. Playtest would be the real test but any complaints about the number of bridges or where I've put them?
Except for Crimea, the "Contested" region isn't entirely contested -- at least not yet -- but I wanted to highlight the fact that Russia's annexation of Crimea isn't recognized by most other countries. The "Occupied" region comports surprising well with where Russia has advanced in their invasion.
Ukraine's flag is boring. I tried placing their coat of arms in the upper left corner but it just made things look cluttered. Here it is:
Finally: according to Wikipedia, "Kiev is the traditional and historically most commonly used English name for the city. Kyiv is used officially by the city, and it is gaining in frequency in English-language sources." I took all my Oblast names from a map that made them readable (no easy task) and they used "Kiev". I'm open to changing from Kiev to Kyiv is y'all think it would be more up-to-date.
This is a simple, small map - eminently readable. I'd be open to ideas about ways to spruce it up but I would not want to impair readability.