Pedronicus wrote:I mean, how hard can it be to keep a captains rank? It's not rocket science.
Here at CC, the median score is about 1250, which is Corporal 1st Class.
So this somewhat correlates with someone of average intelligence.
A typical Captain's score is 1850... which is roughly the 86th percentile of CC scores.
The 86th percentile of IQ scores is roughly 116.
I would wager to say that many a rocket scientist are roughly in that same percentile of intelligence.
So far so good...
The OP is a Major, with a current score of 2389... which puts him in the top 3 1/2% of CC scores.
Now an IQ at the 96.5th percentile would be roughly 129.
This is where it all goes wrong...
Pedronicous with an IQ of 129? Bollocks!

For fun, click the link below and see how you score on the impossible quiz...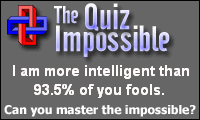 This quiz is impossible
.