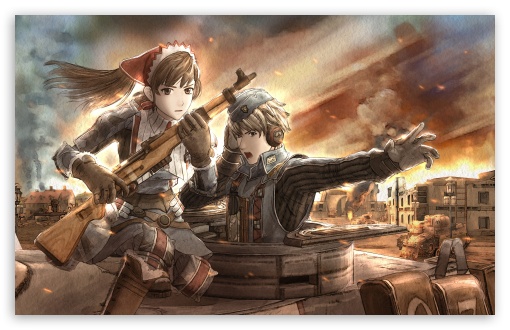 Active:
1) -
2) -
3) -
4) -
5) gregwolf121
6) -
7) -
8 ) Anarkistsdream
9) -
10) Commander9
11) -
12) kratos644
13) -
14) Strike Wolf (replaced ghostly447)
15) -
16) -
17) Iron Butterfly
18 ) -
19) ga7
20) nagerous (replaced epic pie)
Deceased:
edocsil - Wavy (

Recruit

, ???, ???) - Day 1 Lynch
Lootifer - Vyse Inglebard (

Recruit

, ???) - Night 1 Kill
jonty125 - Chancellor Borg (

Politician

, ???, ???) - Day 2 Lynch
The Forgiven One - Oscar Bielert (

Recruit, Watcher

, ???) - Night 2 Kill
FloresDelMal - Ambassador Townshend (

Survivor, Targeter)

- Day 3 Lynch
rishaed - Medic "Mina" -

Recruit, Doctor

, ??? - Night 3 Kill
HotShot53 - Crown Prince Maximillian (

Mafia Godfather, Mafia Enabler, Framer

, ???) - Shot Day 4
spiesr - General Selvaria Bles (

Commander, Valkyria, Final Flame

) - Lynched Day 4
Nebuchadnezer - Largo Potter (

Recruit, Roleblocker)

- Died Day 4
new guy1 - Isara Gunther (

Recruit, Darcsen Bond, Inventor)

- Died Day 4
virus90 - Cordelia gi Randgriz (

Beloved Princess, Priestess, Darcsen Bond, Bulletproof)

- Died Day 4
safaiguy5 - General Radi Jaeger (???, ???, ???) - Killed Night 5
Da Rules:



1. Whatever the mod says goes. I've

still

yet to make a complete hash of a mafia game, and I don't intent to start now.

2. All votes and unvotes must be in bold.

(Vote Candlejack)

They won't be counted any other way.

3. You may vote 'no lynch' to end the day without a lynch, but it's boring and hardly ever happens anyway.

4. This game is meant to be random and fun, purely for my own amusement, and hopefully yours.

5. There is to be no discussing the game outside this thread unless your role states otherwise. Doing so will have horrible consequences, probably involving you and a septic tank.

6. There is to be no editing of posts, and no posting words so small that they must be quoted to be read. Doing so may result in penalties and/or death.

7. A lynch needs a majority of the town's vote, once a lynch has been reached, no unvotes will be counted.

8. You are not allowed to quote any PM's given by the mod, until the game has ended. Loose paraphrasing is acceptable. Again, nasty things will happen if you do not comply.

9. Once you die, you're dead. Dead people can't reveal information, now can they? So no posting unless you are in the land of the living.

10. Appeasing/bribing the mod will do nothing to help you. There is no easy way you can win. Slackers.

11. Spam is just about tolerable, when it's humourous. Changing votes often is fine, but don't go over the top. It will stain the game for yourself and others.

12. Be active. Everyone is required to post each game day lest they suffer consequences such as modkill or replacement. If you will be gone at any stage it would be best to let me know.

13. Night will last about 48 hours, if you do not send an action within the time-limit you will miss your action that night, you pleb.

14. Always remember that I hate you all. I especially hate people who copy/plagiarize me. You have been warned.

15. If you have any questions, don't panic! Just PM me
The Road to War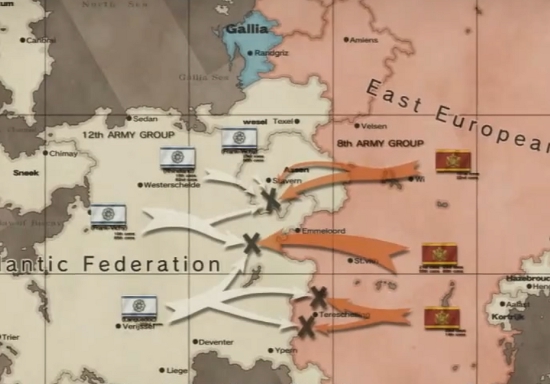 Europa. A continent that has seen more than it's fair share of warfare and destruction.
After the first Europan War (EW1) ended in stalemate, only 20 years of peace followed. In that time, both the Europan Imperial Alliance - known as the Empire - in the east, and the Atlantic Federation in the west both grew in strength, setting the stage for more hostilities.
The Empire struck first, taking numerous small nations in the process. EW2 had begun.
Far to the north, the small nation of Gallia - for so long a peaceful and neutral nation that had until then successfully defended its borders, came under overwhelming attack by the Empire.
What followed would mark one of the greatest chapters in all of Europan history, and would help settle a centuries old mystery.