As the year draws to a close, the Christmas map is open for play and of course there is an Event!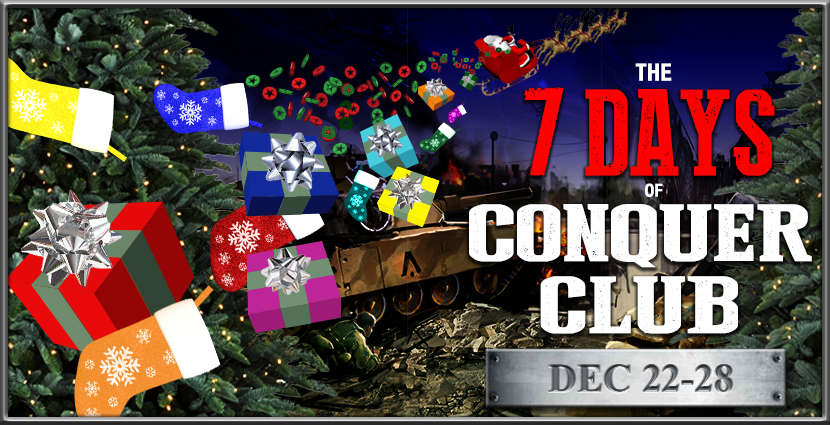 bigWham wrote:On the 7 days of Christmas, your Conquer Club brings to you... The 7 Days of Conquer Club!

From Dec 22 - Dec 28 start or win any game for a chance to score Stockings and Gifts. Chances of all item drops increase with number of players. Speed and assassin games have a lower chance of winning. Bot games have a very low chance of winning. Your best chance, naturally, will come from the Christmas Map.

Stuff your Stockings with Gifts to score points: To score a point for a Gift you must have a corresponding color of Stocking to stuff it in. Each Stocking only fits 5 Gifts, so for each 5 Gifts you will need to have another Stocking of that color for them to count.

Ties will be broken by the total count of gifts, then stockings, then the timing of your first stocking - the sooner the merrier.

Bonus: Playing on the Christmas map can also win CC10 Tokens for the upcoming CC10 Mega-Event!

Merry Christmas, Happy Conquering and raucous seasonal cheer to all!
You might think of it as the end of the year drawing nigh. Then again, you might think of it as the opening salvo of the Tenth Anniversary celebrations! Or, you might just welcome the chance to play on the Christmas tree map again. Think of it what you will, I hope you have a great time!
--