DAS SCHLOß
THE ONLY MAP TO BE QUENCHED TWICE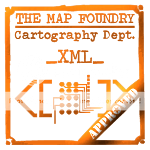 NEW CURRENT
Small map with neutral starts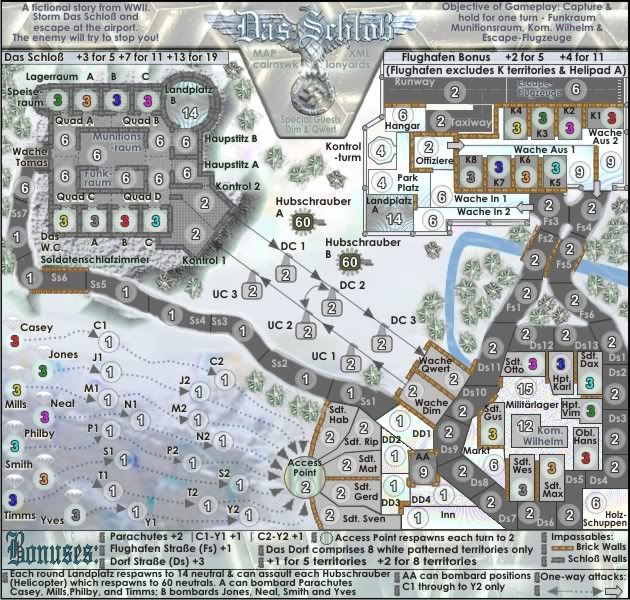 QUENCHED MAP BUT HAS INADEQUATE GAMEPLAY
http://i155.photobucket.com/albums/s282 ... s_v24S.jpg
ORIGINAL CONCEPT
Map - Clicky Here
Why?
Andy asked for some more objective games.
Gazala will be developed as a concept game (if it continues and there is enough interest)....and so will this, even more so
No of territories
(Revised Gameplay)
Total - 129 Terts
* Starters - 32 (8 Starting postiions, 8 Dorf, 8 Schloß, 8 Flughafen)
* Checkpoint - 1 neutral
* Town - 24 (14 neutral)
* Cablecars - 6 neutral
* Castle - 20 (12 neutral)
* Roads - 26 neutral
* Airport - 20 (12 neutrals)
Number of terts in play at start - 32
Gameplay
This is an objective game.
Everyone gets a chance to start at the starting position.
The starting positions create continuing bonuses.
Also everyone can decide to play the enemy Germans in either the town, or at the airport, since the whole area is heavily fortified with Germans.
In the town, and the airport, you will have to fight each other for control of those territories.
1. From your starting position, up to an 8 player game, you must conquer two neutral terts on your way to the Checkpoint. These will bring bonuses to strengthen your attack.
2. From there, you must conquer some neutral terts in the town and there is a group of germans there to fight you off.
This also brings bonuses.
3. Then you have to ascend to the castle via the 3 Up Cars which bring no bonuses, but there is also a road to use which does have bonus.
4. At the castle, you must conquer the neutral holders of those terts and gain control of the Funkraum (Radio Room), and Munitionsraum (Ammunition Room). Bonuses are attached here.
If you kill all the enemy in the castle, more bonuses.
5. then make your way back down via the down cars, to the town and take the road to the airport to capture the waiting aircraft on the airfield.
This will have to be fought over.
6. So as to not allow the Germans at the airport to capture the aircraft and win the game, the airport crew will also be required to battle their way to town and up to the castle to gain control of the Munitionsraum.
7. Objective...first player to hold the Munitionsraum, Funkraum, and Kom. Wilhelm und Escape-Flugzeuge wins.