As a rookie head coach, Coach VOL took the world by storm. His Gonzaga Bulldogs spent more weeks at number one than any other team. And despite some late season bumps, he was able to lead his team win the WCC regular season title and then win the WCC Tournament Championship. Those accomplishments and 25 victories were enough to convince the selection committee that they were worthy of the number one seed in The West Bracket.
The Bulldogs were on top of the world. And after they handily won their first two NCAA Tournament games to reach the Sweet Sixteen, it seemed as though the Zags were back on a magic carpet ride that would end in glory. But Coach VOL would have to wait a year to earn that glory. And he would have to earn it with other Bulldogs.
Only one year after Coach VOL watched his highly touted Gonzaga Bulldogs disappear into the night, his 'dark horse' Butler Bulldogs have won the 2010-2011 NCAA Men's Basketball Championship.
It's a strange set of circumstances that saw Coach VOL's number one seeded Zags go down in flames, while his five seeded Bulldogs won it all. One team that had seemed destined for greatness crumbled while another team that few people knew about, has earned the ultimate glory. "I believe in destiny," Coach VOL stated. "But we never know really know what the destiny will be. That's what makes the ride so great."
Destiny Lost
Only one season earlier, when the last horn sounded, Gonzaga Head Coach VOL helplessly watched as the Fordham Rams celebrated. He had little time to sulk as he would have to peel his sobbing star player off of the floor to console him. Still, it was a tough time for the coach too. "I couldn't believe it," he said. "I never imagined that we would lose the way we did and when we did. I really saw that team reaching The Final Four, at least."
The Fordham game was close, on paper. But Coach VOL knows better. "We were never in that game. It was brutal."
The reality was especially brutal for Zag fans. That would be the last Zags game the Coach VOL would ever coach. His impressive 27 victories were but a house of cards. And with Coach VOL gone, his Gonzaga tenure became something more of a footnote in Gonzaga history. It fell way short of the dynasty that fans and experts envisioned.
Coach VOL has never definitively said why he left Gonzaga. But one year later, as he held the NABC Trophy up into the air it was hard to question his decision. "I wanted to stay at Gonzaga, but my gut was telling me it was time to leave," the coach once explained.
Asked if the Butler victory erased the agony of defeat at Gonzaga, Coach VOL waxed poetic. "Is it more satisfying to be the best looking guy in the room and get the girl or be the everyday guy and get the girl? At the end of the day, if you don't get the girl, you're still a little sad. But hey, I got the girl this time. I just don't have my looks do I?" The room full of reporters roared with laughter upon hearing his analogy.
Butler Bust: A rough start
Butler fans eagerly gathered at local Indianapolis sports bars to watch Coach VOL make his coaching debut on the road against Louisville. If the noise at the KFC Center was deafening, you could hear a pin drop among in the bars.
The Butler Bulldogs were torn to shreds, 92-52. Anything that could go wrong went wrong. How apropos that Coach VOL came to Hoosier country, because his teams look like Ollies dribbling the basketball off of their legs. It was the worst defeat of his career and immediately fans wondered if he was merely a one hit wonder sent to tease them with dreams of greatness.
After coming home to Hinkle Fieldhouse and winning his home coaching debut, Coach VOL's Bulldogs went back on the road to New Mexico. With Butler ahead and the game seemingly in control, they made several careless plays and fans helplessly watched as they lost the lead and the game in the closing minutes.
The Bulldogs were only three games into their season and already has posted an embarrassing blowout loss to the Wildcats and a loss to an against the less than stellar Lobos.
'Will this team even make the NCAA Tournament?'
After starting the season 1-2, the Bulldogs went on a four game winning streak to improve to 5-2 while winning road games against Central Michigan and Duke and winning at home against Evansville and Mississippi State.
Then they went on the road to face their first Top 40 opponent, Maine. They lost 75-70. "We could just fill it slipping through our fingers," Coach VOL told reporters after the game. Suddenly a 6-2 overall record and 1-0 record versus the Top 40 was instead a pedestrian 5-3 and 0-1 clip. Radio pundits hammered the coach. 'Over-rated!' That was the continuous chant.
Coach VOL won the next game against Stanford, improving to 4-0 at home. But if he was going to shut up his critics, he would need to win against the number five Utah Utes on a neutral court in the DIA Tournament opening game. The Utes were 9-0 but Coach VOL was not intimidated. "I relish the opportunity to play them," Coach VOL told reporters. "In one game we can show the world that Butler basketball is for real."
Butler would lose the game 69-57. Again, Butler had missed the chance to turn around their season. Instead of being 7-3 and having a Top 5 victory on their resume (not to mention being one win away from having a tournament championship on their resume), they were 6-4 with a 40 point loss to an unranked team.
After bouncing back to beat Florida State, the Bulldogs were handed their first home loss of the season by the mediocre Akron Zips. The loss left the Bulldogs with a mediocre 7-5 non-conference record. It was a far cry from the 11-3 non conference record that Coach VOL had posted during his rookie campaign. 'Will this team even make it to the NCAA Tournament?' That was the question one Indianapolis Star columnist asked in his column.
'People wanted to believe Coach VOL was the man for the job'
Butler won their conference opener on the road against La Salle. They then posted victories against Xavier, UMASS and a Duquesne team that had went to the NCAA Championship game during the prior season. The victory put the Bulldogs in first place and the fans were beginning to believe.
"Despite all of the bad breaks, people wanted to believe that Coach VOL was the man for the job" Butler radio play by play man Brandon Gaudin told Sports Illustrated.
'The third time is not a charm'
Things were slowly falling into place for Butler. Their second four game winning streak had brought their overall record to 11-5 and conference record to 4-0. Also, despite their early season 40 point blowout, their points differential margin was nearing positive double digits (they would end the season with an positive 11.3 points per game differential).
The Bulldogs would get their third chance to beat a Top 40 team. Or at least they had a chance on paper. Butler lost 86-57 to Number 34 Temple. "I felt like I was reliving the Louisville game," Coach VOL told reporters. "The only difference is that I was more prepared to keep the blowout under 30 this time."
Avoiding embarrassment but proving very little
Following the Temple loss, Butler rattled off a third four game winning streak. One of the wins came against Charlotte, who were ranked 28th. With that victory, the Bulldogs avoided the embarrassment of going 0-4 against Top 40 teams.
"The Charlotte win was important," Gaudin remarked. "However, local media did not think the Charlotte win was bigger or more impressive than many of the other victories. It's just that we knew that the national media would have a field day if Butler went to zero and four against ranked teams."
'We're just the only big dog with a steak in its mouth'
Following Butler's second home loss of the year, a loss to George Washington, Butler won two more games. And for the second time in the season they beat Charlotte, adding their second victory versus a Top 40 team (even if it was the same team).
But insiders were still unimpressed by the second Charlotte victory. "It was a home game," Gaudin passionately told his listeners. "We were supposed to win that game. It wasn't a statement game. It was merely a ledger game. Now we're 2-3 against The Top 40 is all."
Butler had improved to 17-7 overall, and 10-2 in conference play. Additionally, they were in first place by two games. And although they had garnered almost no national media attention, they definitely were on their Atlantic 10 foes radars.
Coach VOL wisely did not become too confident about the two game lead. "We're not the only big dog in the yard," he would tell reporters. "We're just the only big dog with steak in its mouth. And believe me, those other big dogs want the steak."
The Make Or Break Game
For the first time, Butler (17-7) entered the Top 40 achieving the rank of 30. But they were now a marked team. That ranking combined with a two game conference lead put a big bulls-eye on their backs. They were consequently hit hard right away.
For the first time all season, Butler lost two games in a row, losing road games to UMASS and Richmond. "The UMASS game really could have went either way," Gaudin explained. "And we just missed some good looks against Richmond too."
Butler remained composed, winning their next game on the road against Number 34 Eastern Michigan. "That was a make or break game," Gaudin opined. "We had lost our first place lead and many teams were in the race. And in the end, we only beat out Duquesne by a game. I have no idea how the season would have ended up if we didn't win that game. Things would have probably been different."
Superficial Vindication
In their next game, Butler beat Fordham, going 2-0 against them on the year. It was the same Fordham squad that had ended Coach VOL's Gonzaga run. Coach VOL insisted, "There was no revenge factor. I actually love playing against Coach Dean's teams. He is one of my favorite coaches to play against."
With the Fordham victory, the Bulldogs pulled to 12-4 in conference play (19-9 overall)
Winning the Atlantic 10 Regular Season Title
In the next game, the Bulldogs avenged their 29 point road loss to Temple, winning 89-57.
The following game, they went on the road and beat George Washington. he Bulldogs jumped up and down as they celebrated the Atlantic 10 regular season title. The victory took the edge off what would have been a do-or-die season finale at home against against second place Duguesne. Butler would end up losing that game.
Two amazing: Two years, two conferences, two regular season titles, two conference tournament titles
Having won the regular season Atlantic 10 Title, Butler earned the top seed, a first round bye and home court advantage in the Atlantic 10 Tournament. They would be playing their games at the historic Hinkle Fieldhouse where they were 11-3.
"Beating us at home is always going to be a tough task. I make sure of that," Coach VOL told the tournament media. "People make a big deal out of our high profile losses. But I'll tell you right now, the times my guys have been running extra lines are the practices after home losses. We lost three times at home this year. And as far as I'm concerned that's three times too many."
In their first conference tournament game, Butler beat Fordham by the economical score of 77-69. The game effectively dashed the Rams NCAA Tournament dreams. Again, Coach VOL was insistent that he did not take an extra measure of satisfaction from eliminating the team that eliminated his Zags the previous season. "We have one mission; to win it all," he explained. "Everybody's the enemy, not just Fordham."
In their semifinal game, Butler faced Richmond, a bubble team that would likely enter the tournament with a win against a high profile team like Butler. The Bulldogs took a bite out of that dream, squashing the Spiders 91-54.
Butler then met Charlotte in the championship game. Charlotte played well until the final buzzer. In the end, star player Jimmy Chitwood was able to hit the
game winning shot on an ISO play
and Butler won by a point. Their third victory in three tries against Charlotte gave them an automatic birth into the NCAA Tournament (not that they needed it).
In two years, Coach VOL had won the regular season conference title and the conference tournament with two different teams in two different conferences. "People are going to think I'm crazy, but to me that was the more difficult feat (more difficult than winning the NCAA Tournament)," the coach explained to the Championship Game media. "A lot of teams can catch lightning in a bottle and win the NCAA Tournament. But there are only so many teams that can grind it out over so many games against tough competition and then also win so many do or die games. If anything I'm glad that we won the NCAA Tournament so that that feat will not be forgotten. In a way, this tournament was for both the Gonzaga and Butler fans that were part of that."
Selection Madness and Cosmic Justice
When Butler finally heard the NCAA President read their name, they had been given a five seed in the North East Bracket. The Bulldogs now had a chip on their shoulder. They thought they had been slighted. They had won the Atlantic 10 Regular Season Title and the Atlantic 10 Tournament. Experts generally believed the A-10 was the fourth best conference. But somehow winning it only translated to the five seed.
Critics pointed to the lack of Top 40 wins. Still, Butler knew deserved better. "Some teams will use the lack of respect card to artificially pump themselves up," Gaudin told S.I. "That is not what Butler was doing. With a lower seed, they knew that their mission was going to be tougher. They were venting."
Gaudin laughed and then added, "the way some of those higher seeds fell before Butler could play them, it didn't matter. I don't know if that was some sort of cosmic justice or what."
'They can't win the big game'
In the days leading up to the tournament, Butler heard the whispers. The wrap on them was that they could not win the big game. Butler had a sub-par year against Top 40 teams, going 3-4. The attention was on teams like Iowa State (7-0 vs. Top 40) Oregon (9-2 vs. Top 40), Toledo (6-0 vs. Top 40), Columbia (8-2 vs. Top 40).
"None of that mattered to Butler," Gaudin relayed. "This was a team that had the talent and just needed to hit their stride."
"We didn't feel like we could beat anyone," Coach VOL told reporters. "We felt like we were as good as anyone. There's a huge difference in those outlooks. That was the real key to our success. In the end, it did not matter who said we could not win what, where."
A Tough Bracket
Most experts believed that the North East was the toughest bracket. College basketball expert Flex M stated that any of nine teams could win the bracket. The bracket featured the likes of Ivy League champ Columbia (25-8) who had the top seed. The Cal Bears (28-7), a perennial power in the Pac 10, held the two seed. The Utah Utes (26-7), a team that the Bulldogs had lost to by 12 held the three seed.
Possibly the biggest development was that Northern Iowa (24-8) held the fourth seed. "I was excited and annoyed by that," Coach VOL told reporters. "There's four teams that I've seen as fixtures in the Top Ten for the last two years. Two of them (Northern Iowa and Iowa State) are from Iowa and two of them (Oregon and Cal) are from the Pac Ten. I figured if I ever matched up against any of those teams it would be the ultimate yard stick for my team. So naturally I look forward to playing a Northern Iowa. But playing them in the second round of the Big Dance? That is not at all what we wanted."
Other potential later round North East match-ups included the power conference battle hardened teams like UCLA (21-13), Clemson (22-11), Michigan State (21-11), Georgia Tech (21-14).
But perhaps more significant than the power conference teams, two other Atlantic 10 Teams were in their bracket. "I don't know that you want to play teams that are overly familiar with your game plan," Coach VOL told reporters. Fortunately, if Butler did play an Atlantic 10 team it would not happen before the Elite Eight.
The underachieving Duquesne had the fifteen seed. The Dukes had reached the Championship game the final season. Still they were facing the vaunted Cal Bears in their opening round. "Yea I don't think anyone was going to mind if the Dukes knocked off the Bears," Gaudin laughed.
Perhaps more significantly, Charlotte was in the bracket. "Aye," Coach VOL sighed at the time. "Beating the same team four times in the same season? Has that ever happened? I don't think Charlotte wants to lose to us four times in the same season."
Starting off with a bang
Coach V of the Minnesota Golden Gophers (19-12) told the media, "Let Coach VOL complain about their seeding. Hopefully he'll be too wrapped up in that stuff and overlook us."
Unfortunately for the Gophers, the Butler Bulldogs (24-10) came to play, winning their opening round game 87-62. "I didn't like having to beat a team from my former state residence," Coach VOL remarked. "Better them than us I guess though."
Surviving The Red Scare
Thirteen seeded, Marist pulled away in the closing seconds of their opening round match-up against fourth seeded Northern Iowa, winning 74-71. The highly anticipated match-up between Northern Iowa and Butler would not happen!
The Butler Bulldogs faced off against Marist Red in the second round. From the opening tip, the game was exceedingly tough. "It was probably the toughest game we've played all year," Coach VOL told reporters. "It was even tougher than the Atlantic 10 Championship Game that we won by a point."
Butler won 77-71, but the game was especially tight the whole way through. "Yea, we knew that it only took a turnover here and a missed shot there and we were done," Gaudin recalled. "It was easily the toughest game for me to call this year. I just wanted to get up and say, someone call me when it's over!"
The Sweet Sixteen buzz saw
When Coach VOL saw that he had earned a Sweet Sixteen appearance against play-in winner, Virginia Tech he had an uneasy feeling. His Zags had lost their Sweet Sixteen to a hot Cinderella the previous season. This year, the Cinderella was especially talented. At 20-19, Coach Paisano's Hogies were likely the biggest underachievers to make the tournament, but they were playing well now.
"I just wondered if I was going to hit the Sweet Sixteen buzz saw," Coach VOL explained. "Last year, we lost it all when a team came out of the blue. Facing Virginia Tech seemed like a bad omen."
Butler stayed focused and ultimately it was Virginia Tech that hit the buzz saw, losing to Butler 92-59.
Clemson's shots were not falling
In the Elite Eight, Butler would not face the feared California squad, or any Atlantic 10 team, or play a rematch against Utah. All of those teams had fallen. The very capable Clemson stood in their way of Final Four dreams.
The battle hardened Butler played their game and won 82-62. "Despite the margin, Clemson played them tough," Gaudin told S.I. "It just happens that Butler did not make many mistakes and some of Clemson's shots were not falling. But both teams had sound game plans and executed. We were lucky because Clemson missed some shots they were capable of making."
Making a statement, reaching the final
Butler's Final Four opponent was Big East powerhouse Marquette. En route to the Final Four, the Golden Eagles beat last year's champion VIllanova in the Big East Championship Game and ACC powerhouse, Miami in the Elite Eight. They had also beat Nebraska by a tournament record 97 points (123-26) in the opening round game.
It was exactly the type of game that critics said Butler could not win. This would be the game that either validated the critics or Butler.In the end, Butler was validated as they blew out Marquette 94-60.
"We showed the world what we're capable of when we play the full forty minutes," Coach VOL proudly remarked.
Hoosier Dreams: An all Indiana Final
It was the match-up that dreams were made of. Two underrated, under-appreciated five seeds from Indiana would do battle for the ultimate prize. It was Butler versus Perdue, a match-up that nobody expected. Nobody except for maybe fans from Indiana.
En route to the championship game, Perdue had beat tough teams. In the second round they had beat Louisville, the same team that blew Butler out by 40 in the opening game of the season. In the Sweet Sixteen, they beat the high powered Oregon Ducks by 27. And in the Final Four, they beat the number one overall Iowa State Cyclones.
"We didn't worry about all of their impressive victories," Coach VOL remarked. "It was out of sight, out of mind. We knew that if we played our game then we could cut down the nets."
The glorious three oh
In the first half of the big game, the pace seemed to favor Perdue. "We'd make a shot to get close and then they would just make another three to extend the lead, "Coach VOL remarked. "I can't say how proud I am of my team. A lot of teams might have started throwing up some desperation shots. We stayed within ourselves."
In the second half, it was small forward, Jimmy Chitwood's play that finally got the Bulldogs the lead. "Chitwood was not the leading scorer," Gaudin told S.I. "But had he not hit those key shots at the beginning of the second half, we would have had little chance of winning that game."
When the final horn sounded, Butler (30-10) fans stormed the court. They had done it! With a 77-72 win against in state rival, Perdue, they had won it all!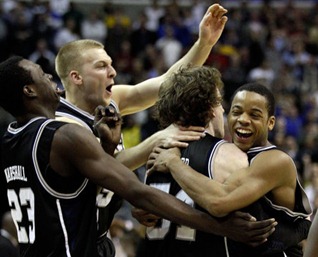 Butler's 30th win was the sweetest of of all. Adding to the sweetness, the Bulldogs average tournament game margin of victory was a record 20.33 points. "To win so convincingly against that quality of competition," Gaudin marveled. "I just wonder if it'll ever be done again."
This time, the magic carpet ride did not end. One would have to think that Coach VOL will be back next year at Butler to try and repeat the championship feat. Such opportunities rarely come.