Welcome to the second season of the OHL! In the first season, the Saginaw Spirit, led by BaldAdonis, defeated the Mississauga St. Micheal's Majors, led by Kinnison, to win the J. Ross Robertson Cup!!!
A few of the original players wanted back in. The rest of the spots are open to
premium
players. To join, you must post in this thread, pm's will not be honored.
This is a 1 v 1 tourney. For the schedule I'm going to use the full 2007-2008 OHL season. Each player must pick a team to represent and a home map that uses standard gameplay only. No maps with gimmicks or complex/confusing gameplay will be allowed. I reserve the right to veto any map choices.



All games will be sequential, flat rate cards, adjacent forts, and no fog.
The season will be 68 games long, followed by a playoffs. Each regular season win is worth 2 points. The league is divided into two conferences, which are divided into 2 divisions.
The top eight teams in each conference qualify for the OHL playoffs with the division leaders ranked one-two in each Conference.

In the first round of the playoffs, first place plays eighth, second plays seventh, third plays sixth and fourth plays fifth in each conference.

Teams are re-seeded within their conference after each round and the division winners are always ranked 1-2 within the conference as long as they progress. The champions from each conference play in the OHL Championship Series for the J. Ross Robertson Cup.
Tie Breakers
1. Head To Head
2. Division Record
3. Conference Record
4. If still tied, there will be a single elimination playoff on a neutral map, Classic Art. If Classic Art is someone's home map, we'll use Classic Shapes.
If there is a 3 way tie for 2 spots, there will be a 3 player game, winner advancing, followed by the remaining players playing a single game, winner taking the remaining spot.
The playoffs will be best of 7 series, on a 2-2-1-1-1 format, the higher seed getting home ice advantage.
Barrie Colts - chopsiu, Great Lakes
Belleville Bulls - King Tet, Caribbean Islands
Brampton Battalion - vexx, Malta
Erie Otters - acores2005, Iberia
Guelph Storm - denominator, Australia
Kingston Frontenacs - ogr8cdd, Disc World
Kitchener Rangers - rudolphirvinpoir, Classic Art
London Knights - got tonkaed, Poker Club
Mississauga St. Micheal's Majors - shaggybb, Europe
Niagara IceDogs - goggles paisano, San Fransisco
Oshawa Generals - ga7, NYC
Ottawa 67's - keiths31, Alexander's Empire
Owen Sound Attack - dtellis, American Civil War
Peterborough Petes - mrbang, San Fransisco
Plymouth Whalers - Serbia, British Isles
Saginaw Spirit - BaldAdonis, Arctic
Sarnia Sting - knighthawk, Benelux
Sault Ste. Marie Greyhounds - Gilligan, Imperium Romanum
Sudbury Wolves - HighlanderAttack, Classic Art
Windsor Spitfires - Tripitaka, Alexander's Empire
RESERVES
Godd
DIVISION RACE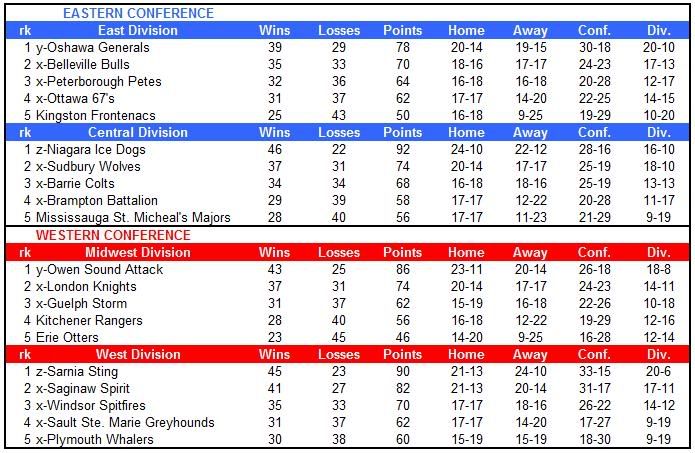 CONFERENCE RACE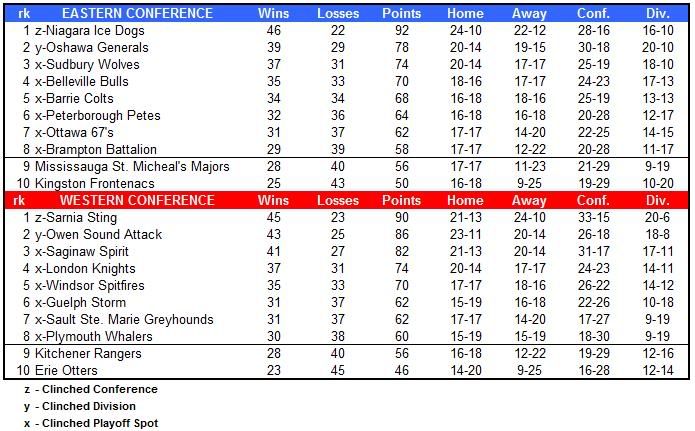 PLAYOFFS - QUARTERFINALS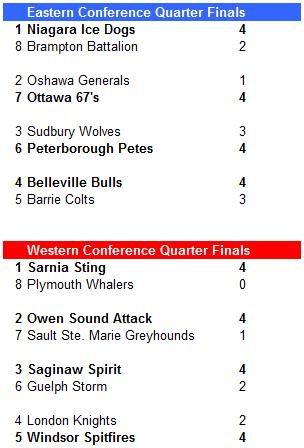 PLAYOFFS - SEMIFINALS
PLAYOFFS - CONFERENCE FINALS
PLAYOFFS - FINALS