European Assassin Tournament
**PREMIUM IS NOT REQUIRED TO PLAY IN THIS TOURNAMENT**
There has been a little bit of clamoring for a new Assassin game tournament around the forum for a little while, so I decided I would throw one out there this evening. The tournament will consist of 64 players and 3 rounds of play.
All games will be 4 player, Assassin, Flat Rate Cards, Unlimited Fortifications.
Games will be played on the following maps:
First Round:
Italy
Second Round:
France
Final Round:
Europe
The winner of each game will be the only player to advance to the next round. It will take 3 wins to win the entire tournament. Short, sweet, and to the point. I will be taking the first 64 players to post in the thread, as well as several reserve players.
The players for each game will be randomly assigned using random.org's list randomizer feature.
No regard will be given to putting higher ranks with higher ranks and lower ranks with lower ranks.
If you sign up, you are willing to pay the price and work for the win.
ALL PLAYERS WILL BE NOTIFIED OF GAME NUMBERS AND PASSWORDS VIA A PM FROM OPTIMUS PRIME.

YOU WILL HAVE 48 HOURS TO JOIN THE GAME

OR RISK BEING REPLACED BY A RESERVE PLAYER.
If you are a non-premium player and you sign up, please save your next available slot for the tournament. If you win your first game you will need to keep that slot open for the next game and so on until the completion of the tournament.
Players:
1. Serbia
2. Tripitaka
3. rallison
4. argos
5. Gozar
6. Optimus Prime
7. TipTop
8. vykingsfan64
9. Ryall55
10. bonobo's son
11. WingsWord
12. thebest101
13. ga7
14. Godd
15. Timminz
16. zwester
17. muy_thaiguy
18. Night Strike
19. insomniacdude
20. C_FOUR
21. oakleyshole
22. Baron Von Cox
23. Thrawn_HCN
24. jim_bob_90
25. dominationnation
26. denkel
27. jennifermarie
28. GreecePwns
29. wolfmaster
30. WalkingShadow
31. fakoman
32. Demon666
33. kingpin01
34. LLC22
35. Syzygy
36. van osch
37. Bandido
38. KiwiTaker
39. BaldAdonis
40. empiros
41. rchan411
42. chopsiu
43. dfp2dep
44. zobots
45. Vader_09
46. Dazoot
47. KidWhiskey
48. Invincible
49. nagerous
50. herus
51. demy7
52. pelato
53. LLLUUUKKKEEE
54. Aerial Attack
55. MarVal
56. barterer2002
57. DracoST
58. silverback111
59. hardcore
60. 2muchstuff
61. abel
62. drake_259
63. Seti_TheGreat
64. B3llal
Reserve Players:
1. Darth Balls (active in tournament)
2. cecko_mk (active in tournament)
3. UnderSeage (active in tournament)
4. AleksandarMaced.*
5. KingPrime
6. fireheart
7. murphy16
8. SalvatoreLuciano*
Games and Results
First Round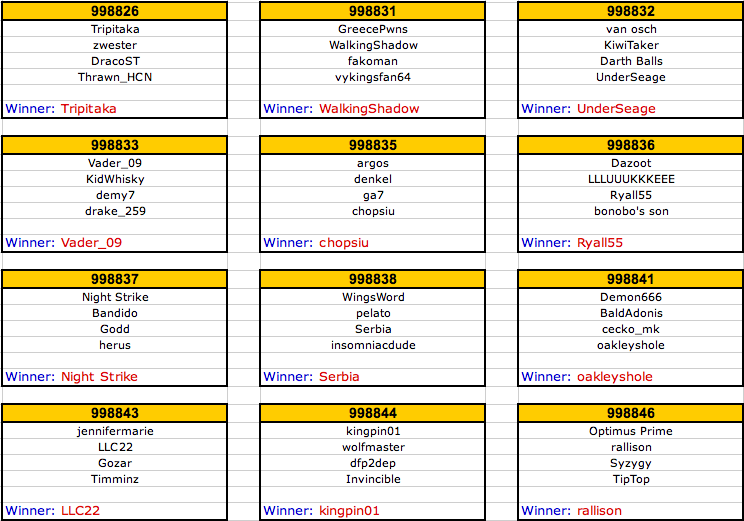 Second Round
Finals