Wow - what a close finish! Despite taking very different paths, both
drunkmonkey
&
dustin800
finished the tournament with a cool $110K in the bank. This is an impressive feat by both players:
drunkmonkey

fended off several players eager to take his money - winning 8 of his 14 Poker games
despite retiring in the Dust Bowl,

dustin800

aggressively took his $60K to the tables and won 6 of 8 to nearly double his wealth.
While both are impressive stories, there can be only one winner in the game of life and - as noted - one's place in the hierarchy holds more water than one's poker prowess. With that,
I'm happy to anoint CCU Alumni

Drunk Monkey

as the first Game of Life winner
. Hearty congratulations.
Please remain seated while we take a quick look at Mr. Monkey's journey.
Drunk Monkey graduated in the top of his class from Conquer Club University. He went on to start his own business in the City. He took his first spouse on a European Honeymoon, but the marriage didn't last. His second honeymoon was to the Caribbean and was a definite success. The happy couple moved to San Francisco and bought a condo where they raised twins. After touring the United States by train, Drunk Monkey retired and moved his family to the Caribbean - but he wasn't finished yet. He used his experience to become an influential businessman in the Caribbean - building and owning several luxurious resorts.
Many thanks to all who joined and participated. Please feel free to post your own "journey" through life here in the tournament thread. I look forward to reading them.
I hope to bring you 2.0 of this tournament (with some of the kinks worked out and some fun additions) after a short break and those of you who managed to reproduce will get the first invites. Keep an eye out!
Updated 9/14
Updated 9/14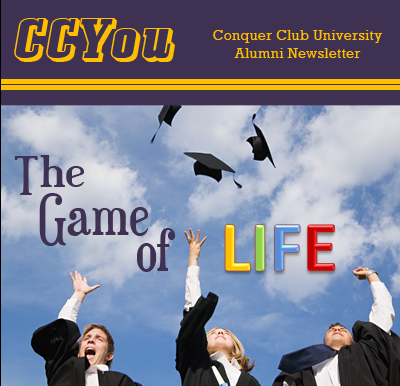 Read CCYou - the Alumni Newsletter to keep up with other CCU Grads >>
Shows where everyone is in the tournament & how much money they have
TO CHALLENGE A RETIRED PLAYER AT POKER
You must:


Have at least $20K in your bank account (10 for betting, 10 for living)*
PM me with the subject line "Poker:

RETIREE'S NAME

" (i.e. Poker: TheForgivenOne).

Please specify which Retiree you are challenging. I won't randomly assign challenges.

You may challenge multiple Retirees, if you send me separate PMs.
In the body of the PM, list your current wealth and level (Marriage, Residence, etc)
When I create the next batch of games, I will send a Poker Club invite to you and the retiree. You will have only one chance to join your game. If
you
miss the invite, you will need to submit another PM and wait til the next batch to try again. If the retireee misses 2 consecutive invites and does not otherwise notify me of an absence, they will forfeit the game and lose the money.
Once your current Poker game with a Retiree has finished, you may send me another PM challenging that same Retiree.
Remember, Poker Club games are Foggy! Any questions?
MAP
KEY
PREMISE
FINE PRINT