Link to most recent scoreboard
(Scoreboards are also updated in Post Two.)
Congratulations Remo Williams for winning the tournament!!!





Congratulations Leehar for winning the GA and being crowned Most Dukasaurish non-Dukasaur!



Congratulations to Kingm, who placed second both in regular points and in Dukapoints, and also qualifies for a prize!

Congratulationt to IanPhull, who very narrowly edged out Fewnix for third place and also qualifies for a prize!

Honourable mention to Fewnix, who came oh! so very close to third place, even

after

needing to drop out of the tournament for medical reasons. Well done!

Congratulations to everyone who overcame their distrust of some of the settings used and had a good tournament after all. (I'm looking at SirSebstar, who so dreaded the freestyle game and ended up winning it!)

Thank you everyone for participating and making this a tournament to remember.
Link to player lists and game lists
Link to Second Chance Lottery pool
Today it is exactly one year since I joined CC! In celebration,
of course
we have to have a tournament! And if we lived in a fair universe, everyone would shower me with gifts, but since I know the universe is a cruel and heartless place, I will shower you with gifts instead: two years of premium are up for grabs!
Freemiums are welcome!
Since I'm giving away premium prizes, I would be delighted to give at least one of them to someone who can't otherwise afford premium. You will only play one game at a time, so as long as you keep one slot available, everything will be fine.
I'm looking for 100 people to experience victory as I first experienced it, to win on five of the first six maps that I won on when I came to CC, and with the same settings, of course! Not all of you will experience victory, but I hope you enjoy the attempt!
GA Medal:

A GA medal has been approved for "the most Dukasaurish non-Dukasaur."
So, let's have a look at the experience ahead of you.

Coming from a long line of Habsburg loyalists, I had to try out the Holy Roman Empire map. It's still one of my favourite maps, not just great to play on but beautiful to look at.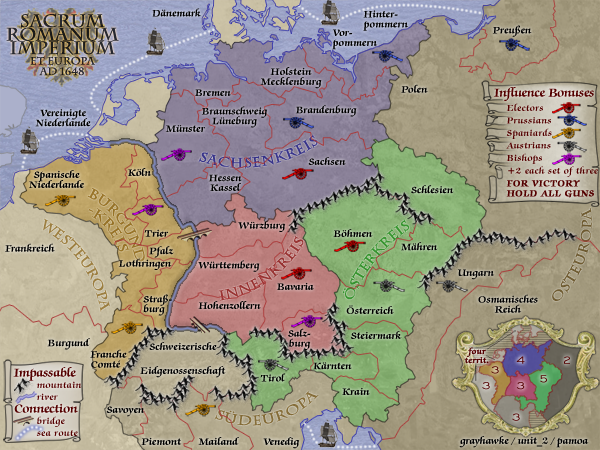 On this map, I scored my first victory:
Game 8012950, against Tammerlane
I see Tammerlane is now a Major. At the time, he was only a Captain, but that was still miles above the raw recruit that I was, so I gained 38 points. If you read the log, you will see that my victory didn't come from any particular brilliance on my part: I got a great drop, while he ran into some tough dice, but at the time none of that mattered. All that mattered to me was that I had won my first game!
Even before I joined the HRE game, I had joined a game on the Ancient Greece map. Historical maps naturally attracted me. I looked at Pelo War first, but it looked pale and washed out, so I chose the Ancient Greece map and its vivid colours. (And good thing I did -- if my first CC game had been on Pelo War, I might have quit in disgust and never come back!)
When Sunny, the Ancient Greece map is pretty simple, but I was dealing with it in Foggy mode. All the hidden troop counts on territories I couldn't see made it seem mysterious and magical. And obviously, no snaps. I think it was a good two or three months before I would switch to Firefox and start using BOB.
So, this was the first game I joined, but it took much longer than the other game, so it was my second victory.
Game 8003331 against greenoaks, zackspack, and others.
This was a five-player game, but two of the players are no longer on CC, so I'm only naming the ones that are still around. The settings were pretty brutal, too: Manual Freestyle Nuclear Chained. Ugh! Yes, those are the settings you will have to win on!
A special appeal to freestyle haters
: Yes, I know freestyle sucks. But please don't reject this tournament based on one phase that has a setting you don't like. Broaden your horizons! Hey, I suck at freestyle (you want to know just
HOW BAD
I suck at it? After a year on CC, I still don't have my freestyle Silver!) but I managed to beat greenoaks, a freestyle master, so anything is possible!
After those first two victories I was hooked and bought premium. Then I joined a whole pile of games, and for a few weeks I did nothing but lose, lose, lose, lose, lose and lose. You know those paranoid dice threads, where people claim that the "good" dice are reserved for premium players? Well, I had the opposite delusion. I thought that the dice of new recruits were artificially boosted, in order to make us think that winning on CC is a piece of cake, and then once you bought premium they took the good dice away!
I did have a couple victories mixed in with all the losses, and one of them was my very first successful team game. It was on the classic map:
Game 8058942 with patrick88 and others,
versus firlands25, panchodue, and others.
(Again, I'm only mentioning the ones that are still around. All the rest from that game are history.)
I won this game! Lol, NOT! I flailed about ineffectively, and so did most of my team-mates, while patrick88 put together a great victory! Patrick88 did all the meaningful work, I collected 22 points (I think the highest ranking person in the game was a corporal). Not a bad deal.

I had already tried playing the Netherlands map on my first day (
Game 8005089
) with unsatisfactory results, so I gave it another shot. It's another beautiful map, of the brightly-coloured variety that I tend to favour, and interesting gameplay as well:
On this map, I scored my first Escalating sweep.
Game 8062311 against Larry46, thunderstrk, rumracer, TheForgivenOne and others.
Man, what a high! It wasn't a perfect sweep (one player had already eliminated another previously) but close enough. Man what a rush! And in the Fog, with no snaps, just reading the log and making intelligent guesses about where people would be. After almost a month of mostly losing, it was an incredible moment.
In the game chat you will notice I thanked the players for participating in my first successful Terminator game. I didn't mention that it was also my first Escalating sweep. It's possible that I didn't even know that term at the time!
On December 20th, one month into my CC career, I had another Escalating sweep. It is immortalized on my wall:
meanwhile, everybody check out

Game 8147358

... from PFC to CFC in one turn.... 266 pts!
As you can see, I was
very
pleased with myself. Egads! 266 points! However, that game was Escalating Terminator, and we've already had an Escalating Terminator in this tourney, and it was also Freestyle, and we've already had a freestyle, so we'll skip over that one and move on. Still, I was quite a happy camper that day!
I've always been fascinated by Malta, its complex history, and its special strategic significance in countless wars over 2400 years, from Classical times to World War Two. I absolutely had to try the Malta map!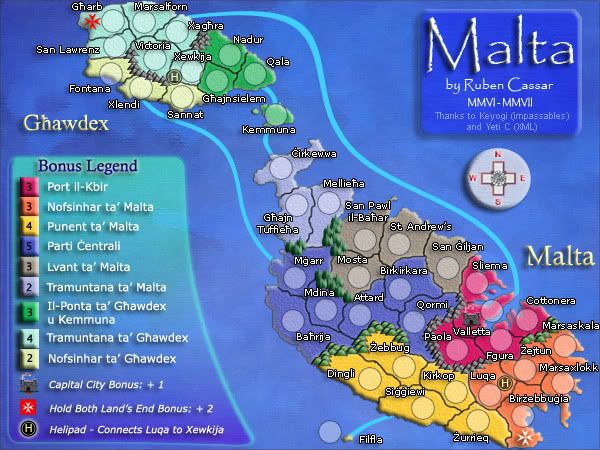 This map produced my first Flat Rate victory, and the first where I used diplomacy.
Game 8055512 against Craig25, metal mickey, Jalm, PhantomEagle, and others.
I laugh now when I read the chat and think about my primitive attempts at diplomacy, my stupid misclicks, and my dice disasters. Somehow, despite all that, I muddled through it and racked up 167 points, enough to get my first stint as a Lieutenant.
Diplomacy is explicitly allowed in this phase of the tournament.
Although it's a fairly big tournament, the actual scoring is pretty simple. You get 3 points if you win a map on the first try. You get either 2 or 1 points on subsequent tries, depending on if it's a "three chances" phase or a "two chances" phase. The maximum possible score is 15, if you won all five maps on your first try. The person with the most points wins.
Ties will be settled by your Dukapoints.
(See the detailed explanation of Dukapoints in the GA Medal instructions at the top.)
I hope you enjoy the journey!