Edit: Rescued by Clive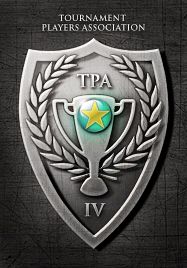 This is a Tournament Players Association Year 4 [TPA4] event, and is governed by its rules, guidelines, and judgments which are detailed here:
viewtopic.php?f=89&t=195573#p4278332
All are welcome to join and participate in the association. You do not need to do anything more than join one or more of the TPA4 events that will be announced on Mondays. Check back on the scoreboard to see how you're doing:

PREMIUM ONLY
-I expect this tournament to finish in 6 months
WHEN SIGNING UP WRITE DOWN FOLLOWING
-team name (pick from the list)
-team players
-home map and settings (no freestyle & speed, other settings are allowed)
-every team has a different home map (first come, first served)
TEAMS
check post 2
SCORING
Games are capped at round 9->goals must be scored within first 9 rounds of the game
Win = 3 points
Draw = 1 point
Loss = 0 points
The outcome of game is defined by number of goals.
Every kill is a goal.
Killing teammate is considered as own goal.
GA Medal
mcshanester29 wrote:A GA medal is approved for the Pichichi Trophy - single player with the most kills during league season

(killing teammates is not included)
TIE
-if the tie is between two clubs, then the tie is broken using the head-to-head goal difference
-If the tie is between more than two clubs, then the tie is broken, using the games the clubs have played against each other:
a) head-to-head points
b) head-to-head goal difference
c) head-to-head goals scored
-If the tie is not broken by the rules above, it is broken using:
a) total goal difference
b) total goals scored
-If the tie is still not broken, it will be resolved with a tie-break match in a neutral stadium. (random,esc,ch,sun)
Table:
https://docs.google.com/spreadsheets/d/ ... X33pYfwdfw
Schedule