See what I did there?

I can't be the first one to make that joke...can I?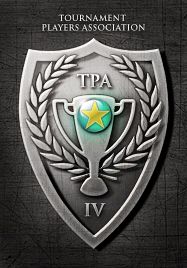 This is a Tournament Players Association Year 4 [TPA4] event, and is governed by its rules, guidelines, and judgments which are detailed here:
https://www.conquerclub.com/forum/viewt ... 3#p4278332
All are welcome to join and participate in the association. You do not need to do anything more than join one or more of the TPA4 events that will be announced on Mondays. Check back on the scoreboard to see how you're doing:

This tournament is
PREMIUM-ONLY
, as you will be playing 4 games at a time until you are eliminated.
This tournament will involve all 4 2-player game types: 1v1, poly 2, poly 3, and poly 4.
HOW IT WORKS:
This tournament will contain 4 "pools" - 1v1, poly 2, poly 3, and poly 4
Each player will start this tournament in all 4 pools.
In each round, you will play four games - 1 1v1, 1 poly 2, 1 poly 3, and 1 poly 4 - against randomly chosen opponents.
All games will be Random map, automatic, sequential, escalating, chained, fog, no trench, 20 round limit.
Each player will be issued 3 invites. Miss three invites, you forfeit that game.
Forfeit 3 games, you are eliminated from the tournament.
1 declined invite = 2 missed invites.
Lose a game and you are eliminated from that game type's pool.
HOWEVER, as long as you are alive in at least one pool, you will continue to play all 4 game types in each round.
This is to prevent the tournament from being reduced to a simple four-bracket format.
IN FACT, the player with the highest winning percentage (across all 4 game types) in games played after being eliminated from the pool for that game type wil receive a GA Medal - the "Bad Parrot Award"!

NOTE: Any loss will eliminate you from the pool for that game type,
even if the player who defeats you has already been eliminated from that pool.
If there is an odd number of players in any pool, one player in that pool will receive a bye for that round.
No player will receive a second bye in any pool until all players in that pool have received their first.
Be eliminated from all 4 pools and you are out of the tournament.
Play will continue until only one player is left alive - that player will be crowned the winner of the tournament.
If you have any questions, please do not hesitate to ask!
Best of luck to all!
sempai