Congratulations

babagonosh

for winning the tournament
and kudos to

Ratrin

for second
and honorable mention to
russde
, and
TheTrueNorth
tied for 3rd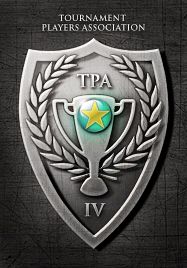 This is a Tournament Players Association Year 4 [TPA4] event, and is governed by its rules, guidelines, and judgments which are detailed here:
https://www.conquerclub.com/forum/viewt ... 3#p4278332
All are welcome to join and participate in the association. You do not need to do anything more than join one or more of the TPA4 events that will be announced on Mondays. Check back on the scoreboard to see how you're doing:

?
?
?
?
?
?
.
Can you play without your regular teammates? Find out here.
This will be a mixed tournament that will help you work on your teammate medal. Signups are individual. I am looking for 48 players (to make the math work). I will use reserves for the beginning round of quads, trips, dubs.
You will play 2 quad games, 3 trips games and 4 doubles games. All will start at once, so sorry premium only. You will be seeded for each of the games by random.org and you will have different teammates for all. (Some might have a game or two with the same person, that's random.) Settings will be Auto, Seq, Flat, Chained, Fog, No Trench, 20 rounds. Terminator games the same.
At the end of these games I will cut to the top 18 by points, and you will play 3 - 6 person terminator games. Scores reset after the cut.
Game load: initially 9 games but they are all teammate games and will run slower. Then for the finals load will be 3 games.
48 hours to pick up your games, or I will replace you, with a reserve for the 1st group of games and with the top non-qualifier for the terminator games. If you are going to drop out, please send me a pm. I won't be upset and it gets things going sooner for everyone else.