Welcome to the May 26th edition of TPA4. I am jdean1, your host. This will be a
TRIPLES
tourney.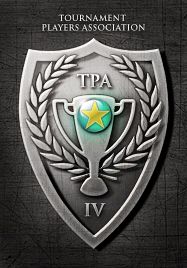 This is a Tournament Players Association Year 4 [TPA4] event, and is governed by its rules, guidelines, and judgments which are detailed here:
viewtopic.php?f=89&t=195573#p4278332
All are welcome to join and participate in the association. You do not need to do anything more than join one or more of the TPA4 events that will be announced on Mondays. Check back on the scoreboard to see how you're doing:
Welcome to the NBA-CC Triples Championships:
Please sign-up for one of twelve slots in this tournament with a team.
NO PARTIAL SIGNUPS
. NOW ACCEPTING partial signups. You may choose any real life NBA team to represent from the top 6 seeds of each conference in the 2014 NBA playoffs:
FIELD WAS REDUCED TO 10, ONE TEAM RANDOMLY SHIFTED
Eastern Conference Format:
Semis:
1. Indiana Pacers-Overdsky, Donche64, and Mishalex
v
Tin Trumpet Enormastitz donkeyman
3. Toronto Raptors-Shoop76, Shaneback, and Electrickshock
v
sempaispellcheck Donelladan djelebert
San Francisco Round:
2. Miami Heat-Tin Trumpet, Enormastitz and donkeyman
4. Chicago Bulls-Aussie02, Ltrain, and Currahee68
5. Brooklyn Nets-Sempai, Donelladan and djelebert
Format: One game of 3 teams and one game of 2 teams, one on the map Classic and one on the map USA. Winning teams advance to Semis. The 3 remaining teams play another game on San Francisco. Winner and 2nd Place also advance to Semis. Each winner of the first game plays a winner of the game on San Fran map using the Classic map again. Conference Finals are played on WWII Poland. Winner of Conference Finals advances to finals.
Western Conference Format:
Teams Available:
Semis:
5. Washington Wizards-Kennys777, nicarus, avi8or
v
kgb007 bpoe004 emanor002
4. Golden State Warriors-TuffyLess, Frank Martel & Bantam
v
Trafalgar Game:
1. San Antonio Spurs-Jim1086, Wizz00, and bpt777
2. Oklahoma City Thunder-mcshanester29, glassyyy and jdean1
3. Portland TrailBlazers-kgb007, bpoe004 and emanor002
Format: One 3 team game and One 2 team game with Western Conference Teams on the map World 2.1. The Winners advance to Semis. The remaining three teams play a game on Trafalgar. The Winner advances to Semis. The remaining two teams play a game on King's Court. The Winner of that advances to Semis. One of the winners of the World 2.1 game and winner of King's Court game play for the Semis on Classic. The two other winners play. Winners advances to play championship game on Peloponnesian War.
Championship: Best of 3 Series on USA West, USA Southeast, and USApocalypse.
Settings: 50 Round Limit, Seq, Esc, Chained, No Spec Gameplay