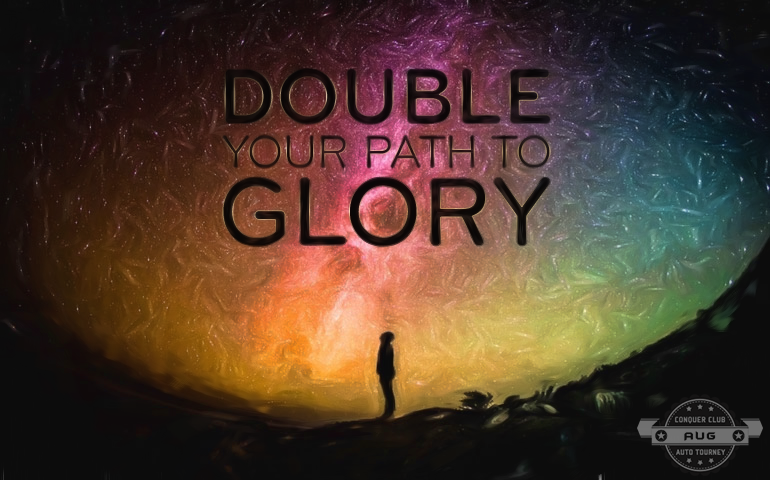 Hi CC fellows, here is the August AT, another great banner from EBConquer by the way



This month I decided to give a shot to the Doubles game type, I know it has been some issue running Auto-Tournament (AT) using this game type, I don't recall if any were made since the last CC Championship, but still, wanted to try.

Remember, this Doubles game type is not 100% proof using the Automate, understand that even do testing were made in the Beta site and that I will have to manually input the players, create the team'up & the games, it may happen to bug, I can only hope it will be smooth & easy



For this reason You will need to register in this thread and not in the Auto-Tournament since I will have to create the Doubles team, Tournament will start as soon as I collected 32 teams!!



Check your Premium expiration date, if you end up losing it during the tournament please consider renewing it as soon as the date comes or do not register if you are not going to come back Premium, this will help the Automate working smooth for everyone!



Tournament Link



Format:



PREMIUM ONLY.
Doubles game type (including multi Dubs games - 4 teams per game).
16 Teams
3 games per Round.
No elimination throughout the tournament.
Escalating/No Spoils/Nuclear, Chained/Adjacent & Sunny/Foggy, 20 Rounds limit for the entire Tournament.



Round 1:


Map: WWII Gazala, Rail USA, WWII Australia
3 Doubles game (2 team per game)
Escalating
Chained
Sunny and/or Foggy
20 Rounds Limit



Round 2:


Map: 4 Star Meats, WWII Ardennes, New Zealand
3 Doubles game (4 teams per game)
Escalating
Chained
Sunny and/or Foggy
20 Rounds Limit



Round 3:


Map: Forbidden City, D-Day: Omaha Beach!, Classic Cities: Sydney
3 Doubles game (2 teams per game)
Nuclear
Adjacent
Sunny and/or Foggy
20 Rounds Limit



Round 4:


Map: Tribal War - Ancient Israel, Rail Africa, NYC
3 Doubles game (4 teams per game)
Nuclear
Adjacent
Sunny and/or Foggy
20 Rounds Limit



Round 5:


Map: WWII Europe, France 2.1, Rorke's Drift
3 Doubles game (2 teams per game)
No Spoils
Parachute
Sunny and/or Foggy



Round 6:


Map: Quad Cities, Vancouver, First Nations Americas
3 Doubles game (4 teams per game)
No Spoils
Parachute
Sunny and/or Foggy



Team list:


Generalissimo - groovysmurf
rousseau72 - hjelp
Tin Trumpet - Enormastitz
aaronvollrath - donkeyman
xroads - davekettering
djelebert - DJENRE
swimmerdude99 - nolefan5311
aad0906 - perkouv
Jeux - RazorHawk
1/2nuts1/2genius - dragon dor
downfall - Lindax
donovan THE DARK - PFC_ID
Bantam - crasp
Mike1962 - errin7
Ruskirump - OSS1943
LiveLoveTeach - Slaylark