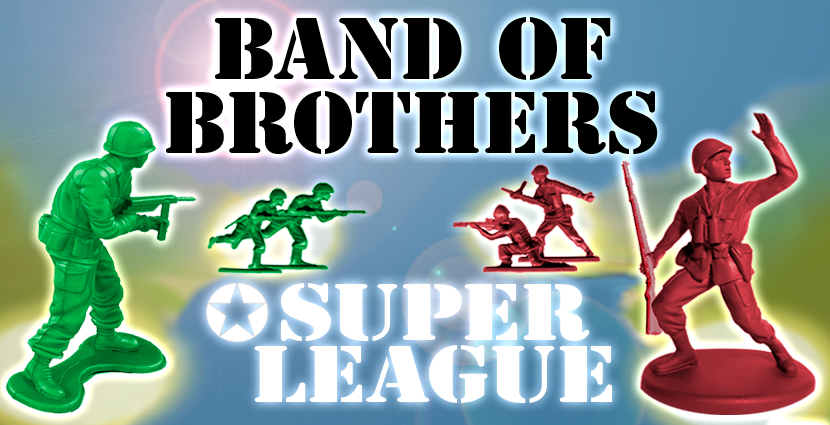 THE RULES
Get in on this
CC Event
TROOPS!
Join this
FLAGSHIP
Tournament.................................
A Full Season lasts
2 MONTHS
A Tournament that will run for
YEARS
.........................................
A Tournament that has slready had
OVER 35,000 (Thirty Five Thousand)
games played in it.............
Currently, their are
240 PLAYERS: 24 Leagues of 10 Players.........
Come Join, work your way through the Divisions to become
CHAMPIONS
of the
RISK Super League
. You are playing for
RISK GLORY
and
PRIZES
!!!!
CC are sponsoring this Tournament, and will pay these prizes EVERY SEASON!!, so it is worth your while to climb your way to the top:
1st: Premier Champion = Gold Medal + 1200 Conquer Credits
2nd: Championship Champion = Silver Medal + 180 Conquer Credits
3rd: League 1 Champions = Bronze Medal + 100 Conquer Credits
But the fun is, are you good enough to make it to the top???
To join, pick your Favourite Map (For 2 Player Games) and Reply to this Thread. You will start in the lower Leagues..............Can you rise to be a Premier League Risk Player?
To give you an idea of what you are in for. Attached are:
:- 'LIVE' Season 4 Leagues - A list of all Season 4 Players with starting Rank, League and Home Map
:- Season 5 Starting Leagues - Work in progress as Season 4 Ends
:- 'LIVE' Season 4 Results
Previous Seasons
CHAMPIONS
can be found here:
-
Season 1,
WINNER: Shoop76
-
Season 2,
WINNER: UKEY
-
Season 3,
WINNER: Shoop76
-
Season 4,
WINNER: Loose Canon
TOURNAMENT FORMAT:
This is a League Format. Each League will have 10 Players. Every Season, 3 will be Promoted and 3 Relegated.
Finish 1st: You get Promoted 3 Leagues
Finish 2nd: You Get Promoted 2 Leagues
Finish 3rd: You Get Promoted 1 League
Finish 4th to 7th: Remain in Current League
Finish 8th: Get relegated 1 League
Finish 9th: Get relegated 2 Leagues
Finish Bottom: Get relegated 3 leagues
***Premier League will have 6 players relegated: Bottom Drops 3 Leagues, 8th and 9th Drop 2, 5th,6th and 7th Drop 1.
***Bottom League will have 6 players promoted: Top Up 3 Leagues, 2nd and 3rd Up 2, 4th,5th and 6th Up 1.
As a NEW SUPER LEAGUE PLAYER, you will start in one of the bottom 4 Leagues. This Tournament will run for years. You have plenty of time to work your way to the TOP!
LEAGUE GAMES:
- You play a HOME and AWAY Match versus every Opponent in your League.
- So that is 18 Match Ups Per Season.
- 4 Games per Match Up.
- 2 Games on a HOME MAP + 2 Games on a Random Map
HOME MATCH:
2 Games on Map of your Choice (Your Home Map)
2 Games on Random Map
You accept Game Invites Last - Can move immediatly taking full advantage of your opponent not getting any snaps!
AWAY MATCH:
2 Games on Your OPPONENTS HOME Map
2 Games On Random Map
You accept Game invites 1st - Your opponent gets to start as soon as they accept game invites.
SCHEDULE:
The Kick Off - 1st Match Set Up of Season - 3 Match Days are set up (12 games)
Match Day 4-Match Day 7 - 1 Match Day (4 games) is set up on a Monday, and 1 on a Thursday
Mid-Season Madness - Match Day 8 - 10 - 3 Match Days are Set Up (12 Games)
Match Day 11 - 15 - 1 Match Day (4 games) is set up on a Monday, and 1 on a Thursday
Match Day 16+17+18 - 3 Match Days are set up to complete the Season (12 games)
SCORING:
This is where it gets really, really good!!!!
4-0 WIN: 3 Points
3-1 WIN: 2 Points
2-2 DRAW: 1 Point
1-3 LOSS: 0 Points
0-4 LOSS: 0 Points
TIE BREAKERS:
1. Points
2. Goal Difference
3. Result between Teams
4. Finish time of all of the previous seasons games.
5. Finish time of all the previous seasons games (excluding games agaiunst each other)
6. Finish Time of All Current Seasons Games
7. Finish Time of All Seasons Games (excluding ones against each other)
SETTINGS:
Players: 2
Auto
Seq
FR
Adj
Fog
***
TO ENTER:
Reply to this post with:
HOME MAP CHOICE
Some Maps ARE EXCLUDED (the slowest 27 Maps on these settings):
1982
All Your Base Are Belong To Us
Antarctica
Baseball
Clandemonium
Conquer Man
Conquer Rome
Das Schloss
District of Alaska
Egypt: Valley Of The Kings
Eurasia
Feudal Epic
Feudal War
Hive
King's Court
King's Court II
Knights
Labyrinth
Monsters
New Zealand
Peloponnesian War
Rail South America
Rorke's Drift
Spanish Armada
Trafalgar
USA 2.1
WWI Gallipoli
ALL SEASONAL & BETA MAPS
JOIN NOW TROOPS!
Team Responsible for Tournament Creation:
Craig25
SoftBelly
Anila8
GeneralFault
#ForThePlayers
#PayTheMan
Previous Seasons League Winners:
SEASON 1:
Premier League winner: shoop76
Championship League winner: Keefie
League 1 winner: ESQuire
League 2 winner: emilywink
League 3 winner: LLC22
League 4 winner: theotherjr
League 5 winner: Mad777
League 6 winner: weaselshane
League 7 winner: big jumbo
League 8 winner: thegroover
League 9 winner: Killerz999
League 10 winner: artillery77
League 11 winner: Derek the Great
League 12 winner: Sir Mr Timothy
League 13 winner: MrBoom
League 14 winner: hmr
League 15 winner: gpowell
League 16 winner: FuegoFuego
League 17 winner: Krull5
League 18 winner: thelord
League 19 winner: unionman
SEASON 2:
Premier League winner: Ukey
Championship League winner: LordMorgoth
League 1 winner: Tin Trumpet
League 2 winner: EspenOvergaard
League 3 winner: greengo
League 4 winner: big jumbo
League 5 winner: Wizz00
League 6 winner: direwolf
League 7 winner: furbiz
League 8 winner: marand
League 9 winner: Bromi12
League 10 winner: allanxo
League 11 winner: TheFanny
League 12 winner: SNARF17WD
League 13 winner: General Marshall
League 14 winner: PROFITS
League 15 winner: orangeblssmspcl
League 16 winner: Bwana
League 17 winner: Djfireside
League 18 winner: Paul Tabinor
League 19 winner: Son!c
League 20 winner: croyd
League 21 winner: General Bax
SEASON 3:
Premier League winner: shoop76
Championship League winner: Loose Canon
League 1 winner: dan the general
League 2 winner: Pajarito
League 3 winner: fuatpanza
League 4 winner: wdraper
League 5 winner: topdawg
League 6 winner: Bromi12
League 7 winner: allanxo
League 8 winner: Killerz999
League 9 winner: Anila8
League 10 winner: hun1
League 11 winner: edretreats
League 12 winner: sportsgod24
League 13 winner: Hippopotamus
League 14 winner: thelord
League 15 winner: Runeldo
League 16 winner: maroshka851
League 17 winner: General Roy
League 18 winner: donciccio
League 19 winner: elswick
League 20 winner: 11mi15
Season 4
Premier- Loose Canon
Championship- Craig25
League 01- sonofabs
League 02- bamage
League 03- Kevi
League 04- allanxo
League 05- Killerz999
League 06- Jamie Vanilla
League 07- Derek the Great
League 08- edretreats
League 09- General Marshall
League 10- hairypies
League 11- steenh
League 12- Runeldo
League 13- maroshka851
League 14- RKCVED
League 15- GeeksAreMyPeeps
League 16- elswick
League 17- Bishyup
League 18- Clanlord Carl
League 19- Matt2007
League 20- pconnolly365
League 21- Chumptastic
League 22- illustown27
BoBSL: HIGHLIGHTS!
With Match Day 04 being set up today, it's time to go to the HIGHLIGHTS!
But before that, today's RESULTS attachment has been filtered onto Match Day 4 if you want to check who you are playing. If you want to look up other Results, it is bang up to date!
HIGHLIGHTS from selected Leagues:
Premier:
This is quickly developing into a 4 way Tussle for the Title involving ESQuire, big jumbo, shoop76 & bamage. LordMorgoth & Devante have yet to get started so could go either way. The rest of us require Points Pronto to avoid a RELGATION DOG-FIGHT!
Championship:
Possibly a 3 way fight at the minute between Pajarito, fuatpanza & Ukey. Early days yet though.
League 01:
4 Players are starting to pull away at the top: mint-murray, joshzam, molespe & allanxo. At the bottom, the 4th and 9th Seeds loenatiek & wdraper look to be struggling.
League 04:
6th Seed direwolf is UNBEATEN after 3 Match Ups. 1x 3 Point Win, 1x 2 Point Win and a Draw puts him on 6 points, 3 points ahead of the field. Only 3 Match Ups down but that is League winning form!
League 06:
mikehayes & General Marshall have daylight between them and the rest of the Runners. Mike looks strong in 1st place though. Over 1000 points HIGHER RANKED than the League average of 1885. This Season he looks to mean business!
League 09:
Unreal! 'Maybe the Real' Runeldo, getting SUPER PROMOTIONS every Season since starting late in the Super League, has recorded 2x 3 Point wins in his 1st 2 Match Ups of Season 5! He looks to be un-stoppable in his rise through the Divisions!
League 10:
On 8 Points, 6 Points in front of his closest rival, 2nd Seed 'Profits look to be going up'...................................After this start if he doesn't get a big PROMOTION he ain't going to be happy!
And a SHOCKER! 1st Seed, 'The Turkish Tiger' maroshka851, 1300 Points HIGHER RANKED than the League Average at the start of the Season, has lost his 1st game. This guy has very high standards, he will be pure gutted!
League 15:
'The Mouth from the South' Clanlord Carl get's off to a winning start. Recording a 4-0 Victory in his 1st Match Up. But, 8th seed jntrble is ahead of him on 5 Points. Can jntrble handle the pressure at the Top???
League 16:
Matt2007 (2nd Seed) takes an early lead in this one. He really wants to get his Super League Challenge sorted Pronto!
League 22:
Is very competitive! 3 Players have already SCUDDED 3 Match Ups and have pulled away at the top. 4th, 1st & 2nd Seeds Pugsl3yPPugf0rd, Dannabis & FUUF dominate the Top of this League!
Todays 'LIVE' Tables and Fixture List are attached here:
Good Luck!