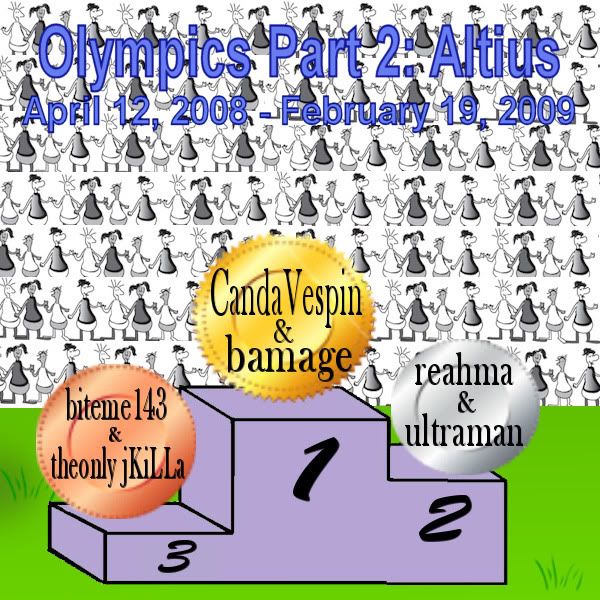 Note about final games. Due to a mistake they were made with Olympics Part 3: Fortius privileges (Game 4231499 & Game 4231500).
Welcome to the tournament that is made in honor of Beijing Summer Olympics!
This tournament will consist of 3 parts that are going to be played not at the same time due to the huge amount of players/athletes that even 1 part needs. I've taken all the sports that are used in Beijing and put them into 3 categories:
Citius
(part 1),
Altius
(part 2) and
Fortius
(part 3). First part is 1v1 games, 2nd part team games and third part 3-8 player games. This tournament's point is not to follow Olympics exactly nor make a copy of those games but to try to do something huge in the spirit of Olympics.
Olympics: Altius
Part 2
*Number of Athletes: 208 (104 teams)*
Sign up period: April 12, 2008 - May 8, 2008
First games are made: May 9th, 2008
***EVERYBODY WITH 2 OPEN SLOTS IS WELCOME***
To this part I've gathered all the events that need team work and co-operation. You must play with your partner and rely on him/her and he/she has to rely on you. I've lost "sub"-events in this part because I felt that looking for 600 or so players would be too much. But all team events are represented in here. I'd like to bring out that each event is also a clicky that leads you to a site about the sports if you are interested in getting more information about certain events.
Check the ending of this post about signing up.
Settings
Game type:
4-player Doubles Sequential
Map:
China
Cards:
Depends on event
Fortifications:
Depends on event
Fog:
Sunny
(No FoW)
Setup
To win the tournament, you must win the Huge bracket (check post 3).
To get to the Huge bracket, you must win your event or a Wild Card.
In Huge bracket, advancing to next round is decided with 2 games out of 3 [2 games played at once]
Winning an event
: Each team plays everybody twice and the most points gathered team wins the event (4 teams per event) [2 games played at once]
Wild Card
: runner-ups are put into groups (4x4+2x5 groups) where they play each other twice and winner of each group advances to Huge bracket [2 games played at once]
POINTS
Winning a game = 1 point. Losing a game = 0 points.
TIEBREAKER
In case of a tie, head to head games will be used. If it's not possible then an extra game will be played. In Huge Bracket, tiebreaker game will be with following settings: Greater China, Seq, No Cards, Chained, Sunny.
List of Events
Legend
Event
(clicky)
Cards
and
Fortifications
When signing up, post following
Your partner's name:
Event for participating:
***MAKE SURE THAT YOUR PARTNER CONFIRMS & AGREES BY POSTING TO THIS THREAD***
If you do not have a partner
but still wish to play in the tournament then let me know and we'll have a list of single players in here who should contact each other and partner up. Otherwise I'll become a matchmaker

Check beginning of post 2 for available partners.
Notes
*Alliances are not allowed.
*I leave myself the right to change rules a bit when needed to make the tournament run smoother.
*Foe list is ignored in this tournament. When you have to play with somebody who is in your foe list then for the time of this tournament, you have to remove him/her. Otherwise you will be removed from the tournament.
*Any questions or problems? Use this thread or PM me.
HUGE BRACKET (FINAL ROUND)
Rounds and results
As following posts are not in any specific order then I decided to make a small index in hope that it will help you a bit