Sir. Ricco's WWII Tournament Series Presents…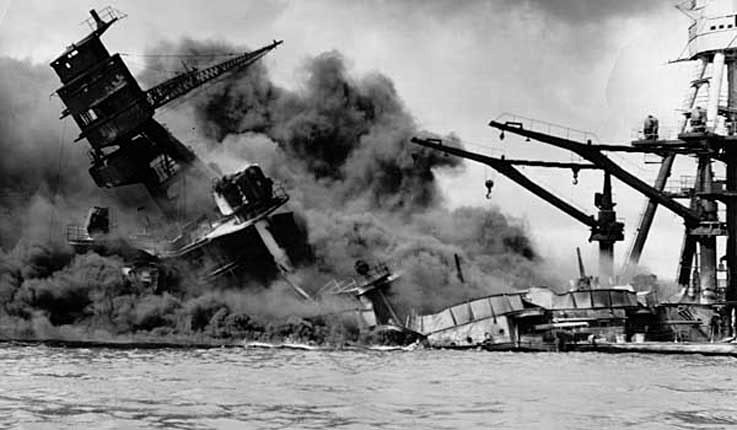 Pearl Harbor – A Day That Will Live in Infamy
Time: December 7, 1941
Location: Pearl Harbor, Hawaii
Story:
The attack on Pearl Harbor was a surprise attack against the United States' naval base at Pearl Harbor, Hawaii by the Japanese navy, on the morning of Sunday, December 7, 1941, resulting in the United States becoming involved in World War II. It was intended as a preventive action to remove the US Pacific Fleet as a factor in the war Japan was about to wage against Britain, the Netherlands, and the United States. Two aerial attack waves, totaling 353 aircraft, launched from six Japanese aircraft carriers, intending to reduce or eliminate United States' military power in the Pacific.

The attack wrecked two U.S. Navy battleships, one minelayer, and two destroyers beyond repair, and destroyed 188 aircraft; personnel losses were 2,388 killed and 1,178 wounded. Damaged warships included three cruisers, a destroyer, and six battleships (one deliberately grounded, later refloated and repaired; two sunk at their berths, later raised, repaired, and eventually restored to Fleet service). Vital fuel storage, shipyard, maintenance, and headquarters facilities were not hit. Japanese losses were minimal, at 29 aircraft and five midget submarines, with 65 servicemen killed or wounded.
Copied From Wikipedia.org
***Note This tournament will only feature "Pearl Harbor"***
Description
Welcome to "Sir. Ricco's WWII Tournament Series" or WWIITS. Their will be several tournaments in this series that feature a WWII map:
WWII Western Front – All Quiet on the Western Front [Winner: killmanic | Runner-up: colson]
WWII Eastern Front - War of Extermination [Winner: MostMackinest | Runner Up: Risky_Stud]
Pearl Harbor – A Day That Will Live in Infamy [Winner: mrbang | Runner Up: R0k0v]
Bamboo Jack – The Death Railway [Battle 3]
WWII Gazala – The Fox Hunt [Battle 1]
Battle For Australia – He's Coming South
D-Day: Omaha Beach! - The Longest Day
WWII Iwo Jima – Flag Raisers
WWII Ardennes Offensive – Battle of the Bugle
Berlin 1961 – Greater Berlin
The winner and runner up of each tournament will be asked to a final tournament, to decide the winner of the "WWII Tournament Series".
Status and Extra Information
This Tournament will only use the Pearl Harbor map

Number of players:

50

Requirements:

You must be Premium

Starting Date:

Once 50 Players have joined.
Game Play
There will be 50 players in this tournament. The 50 players will be divided into 5 divisions with 10 players in each. You will not play anyone outside of your division until you get to the Battle 3. All games will be terminator.
See the rest of the settings below
Battle 1 – Division Preliminaries
First, each division will be split into two 5 player sub divisions (SD). Each SD will play five, 5 player games, all at one time. The top five players in
their
division move on to Battle 2. (See Scoring and Ranks)
Battle 2 – Division Finals
Each division now has five players. Each division will play five, five player games. The top player moves to Battle 3.
Battle 3 – Tournament Finals
The top players from each division will play five, five player games. The top player will be the winner.
Settings
Number of Players: 5
Game Type: Terminator
Play Order: Sequential
Bonus Cards: Escalating
Fortifications: Unlimited
Fog of War: No
Scoring and Ranks
The number of terminations you have will be the amount of kills you have. The player(s) with the most kills will move on in the tournament. If there is a tie the number of deaths, meaning the number of times you have been eliminated will be factored in.
Your rank will be based on the number of kills you have.
Here are the ranks in order from lowest to highest.
Private
Corporal
Sergeant
Lieutenant
Captain
Major
Colonel
Brigadier
General
Field Marshall
Sign Up
Night Strike
MostMackinest
Godd
Lufsen75
Drunk_Idiot
CarrotKhan
Lexitonia5
whitetrash67
LLC22
musteriuz
AtreidesHouse
LordZack72
biscuit boy
sd031091
ralphcptc
lagger-no-1
Wiggin
BaldAdonis
R0k0v
Risky_Stud
erikiscool
mountainbill
mrbang
taxmanjle
dimeat
spidey
Darin44
peanutsdad
blindmatt
Kimi Raikkonen
ultraman
Haggis_McMutton
Aggbock
Marfski
heatz
MEK
UselessTriviaMan
Kilazul
cgblack
bigdaddyslim2
killmanic
dfp2dep
GRAPE APE
brandoncfi
freyme
goggles paisano
smwhitey
Natelya
mrbang
pamoa