It gives me great pleasure in announcing HighlanderAttack as the winner of the 2009 NRL TOURNAMENT LEAGUE.
Congrats HighlanderAttack!
A big thankyou to all who participated especially those who stuck with it from the start. It took almost 2 years but we finished it!
Look out for 2011 NRL TOURNAMENT LEAGUE............... MAYBE?
It's been fun.
Cheers!
THE 2009 NRL TOURNAMENT
The first three weeks are home team advantage, with the grand final being a best of 3. 1 on each home team, then (if required) a Classic, Chained Escalating, to decide the Premiership!
This is a 16 team league, playing everyone once and half the teams twice. You pick a team and we follow the 2009 Australian "National Rugby League" league. Playing 1V1. The full draw can be found here
http://nrl.com/Portals/0/docs/2009_NRL_Draw.pdf
.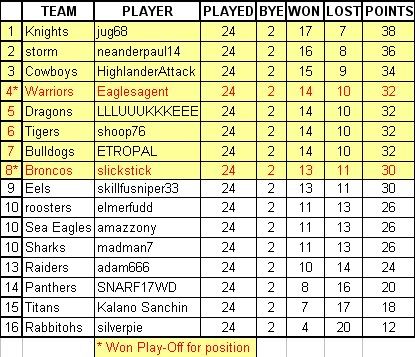 And after 26 rounds, (playing 24 games and 2 byes), if there are any equal spots, they will play in a play-off on the Australian map, and then the top 8 progress through to the finals.