The Grand Standings, and How to Win (click here)
Airline Details (click here)
Maps and List of Games and Individual Route Standings (click here)
Most Recent Post by Tournament Organiser (click here)
This tournament is now FULL. There are no more spots available.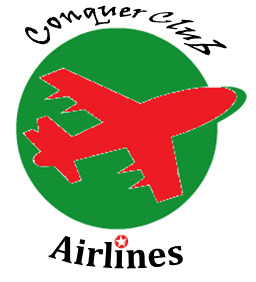 Special thanks to my good friend gummiente, who has helped with the graphics and route design.
Lead your fleet of jets across the globe in WC4J's airline management extravaganza. Plan ahead shrewdly for the summer season and establish flight routes while ensuring minimal expenses. It's a business of notoriously low profit margins; do you have what it takes to survive as a great magnet of the industry and conquer the air?
Requirements to Play
You must be a premium member to join and play in this tournament.
This tournament's structure is more similar to a board game or strategic game, rather than a traditional single-elimination or round-robin tournament. As a result, I am only taking 18 players because I expect these players to have a decent knowledge of the rules and also be willing to engage in private messaging to make tournament decisions, such as starting new airline routes, etc. You will have to do more than just play games. But that's the fun in it!

The Official Rules of Conquer Club Airlines
Random.org will be used when randomness is needed.
The tournament organiser has the final say on all issues connected to tournament and gameplay.
All games will be 1v1 games.
Maps and Settings
Maps (click here)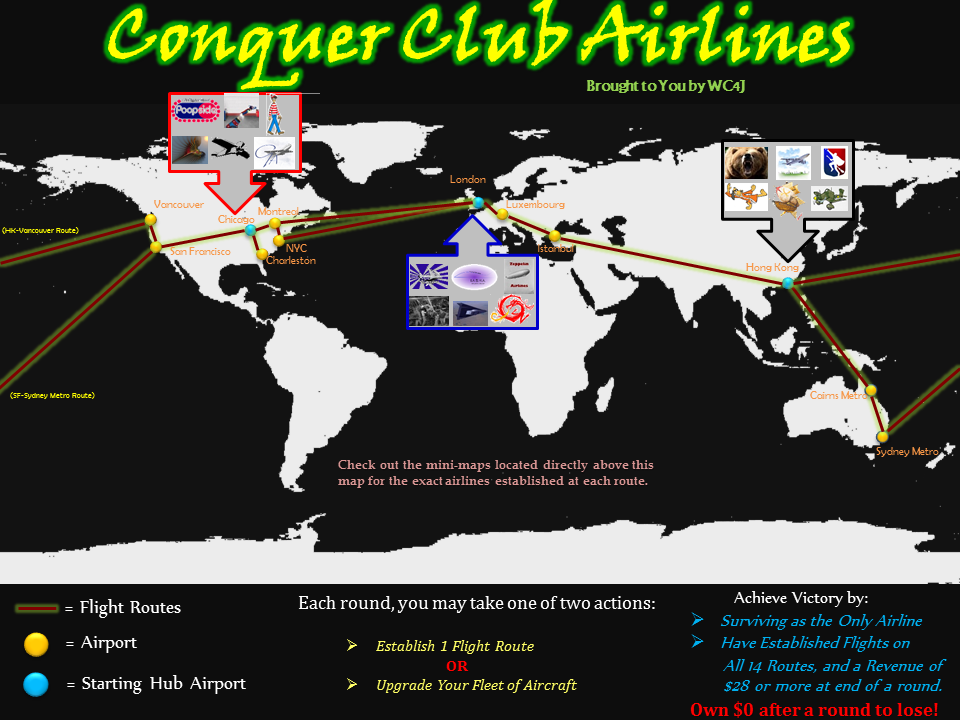 Special thanks to my good friend gummiente, who has helped with the graphics and route design.
Each player represents an airline, and there are two possible victory conditions. The player that first achieves any of the following two is crowned champion of the tournament.
To Win:
Have established flights on all 14 routes at the end of a round, and earn at least

$28 from your routes

($28

revenue

; earnings, not amount of money)

in one round of play

(either the same round you acquire the 14th route, or in a later round).
OR
Be the only airline not bankrupt at the end of a round.
To Lose:
At the end of a round (after round calculations have been made), having $0 (or a negative amount of money) will result in bankruptcy and elimination from the tournament.

In other words, at the end of each round, you must have at least $0.50.

Be irresponsible and not commit to the tournament and fail to show up for games. This also leads to bankruptcy.
An airline that declares bankruptcy will see all its routes removed from the map.
At the Start of the Tournament
Turn Options
Establishing Flight Routes
Game Format
Earning Revenue
Upgrading Your Fleet, and Round-by-Round Expenses
So How Will This Really All Work?
Policy for Players Failing to Join Games
When Joining, Include the Following!
The starting hub airport you wish to start at: either Chicago, Hong Kong, or London.
A unique and appropriate airline logo
(you do not have to design it; a link to a picture will suffice.)
Select one of the color options from below.
Airline Colors
That does it! If you have questions or suggestions on any rule adaptations that would balance play or the numbers, let me know!
Have a great day,
James

Special thanks to my good friend gummiente, who has helped with the graphics and route design.