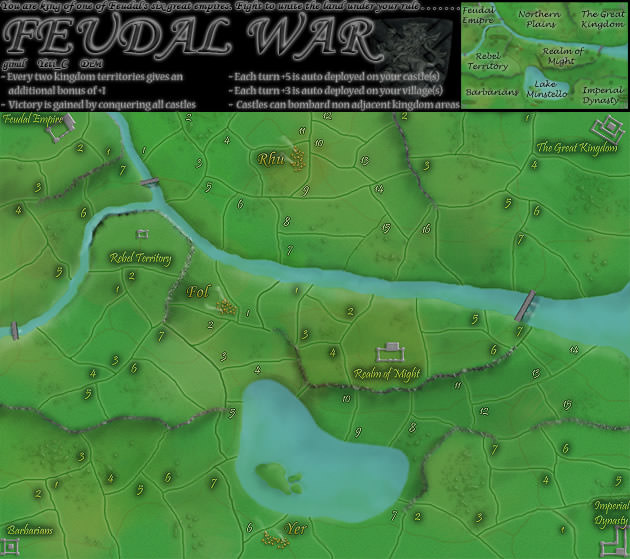 I REALLY want to play a lot of Feudal War games with the best Feudal Warriors that CC has to offer. Therefore, I created this tournament.
This will be a 1vs1 tournament.
In this tournament I will create lots and lots of Feudal War games. People can join as they feel like it. Players can sign up until November 1 and the tournament will last until December 15.
Rules
- The champion will be the player with best percentage of wins [(wins/games)*100%].
- Any player can play as many games as he feels like it. But in order to be able to win the tournament, a player has to have at least 30 games played.
- It is not allowed to have more than 5 games with the same players. If two players play against each other more than 5 times, both of them are from that moment on, unable to be champions of the tournament.
Tiebreakers
After 00:00 CC Time of December 16, if there is more than one player in 1st place:
- The player with most wins is the champion;
- If they have the same amount of wins, there will be a final game among the tied players to decide the champion. If by any chance, that game is not a 1vs1 game, there will be escalating spoils instead of no spoils.
Settings
auto
seq
no spoils
chained
foggy
NO trench
20 round limit
Freemiums can play this tournament.
And I hope all of you have fun!

EDIT: Frox333 wins.