Congratulations to

Team PETRONAS

on their win of the first ever Gasoline Crusades Tournament.
Players for the winning team are: Hknox67, wolfmaster, merz, NormalGuy, taxmanjle and Spawn of Devil.
They played a great tournament and came out victorious!!! STATOIL made a hard run in the last two weeks, but did not quite catch them, they did cut the gap in half though, which is quite impressive.
I want to say thank you to all the players who participated. We actually have one doubles game and one standard game still active, but they do not involve teams that can catch up to the winners.
I will be posting the FINALIZED standings and SCORING BREAKDOWNS as soon as those games are complete. There still may be a little shuffling from 3rd place on down.
GASOLINE CRUSADES
**PREMIUM IS REQUIRED FOR THIS TOURNAMENT**
Welcome to the GASOLINE CRUSADES, an 8 way war between leading gasoline companies from around the world. Each company is desperately trying to become the king of the gasoline world through any means necessary and will do anything to come out of these crusades victorious.
FORMAT:
Each of the 8 teams named after a different Gasoline Conglomerate will consist of
2 doubles teams
,
3 1 v 1 players
and
3 Standard 4-player game players
. The doubles teams will be divided into an upper and a lower division according to their combined score at the time registration is complete. The 1 v 1 players will be divided into three divisions by score as will the 3 standard game players. Once the divisions have been determined gameplay will begin for all players.
When a player signs up for a specific team they may play in all three categories if they wish. For example: Optimus Prime can play as a doubles team with his partner and also sign up to play in the 1 v 1 games and in the standard games.
This is to allow the teams to fill more quickly and for a handful of players to have a shot at glory, especially if they can recruit their friends to be on their team.
Each Gasoline Conglomerate is assigned a specific "Home" map which those players will play on for their home games (See next post). All doubles games will be flat rate and unlimited settings, 1 v 1 games will be flat rate and chained settings and the standard games will be flat rate unlimited settings throughout the entire tournament.
As players complete their games they will earn points according to the scoring tables seen below. The team with the most points at the conclusion of all games will be crowned the winner of the Gasoline Crusades.
GAMEPLAY:
Every doubles team will play one home game and one away game against the other seven doubles teams in their respective division for a total of 14 games for the tournament. The upper division doubles will play games amongst themselves, and so will the lower division doubles. There will not be games between divisions. The same format will be used for all three divisions of 1 v 1 players.
Doubles teams and 1 v 1 players will be given several games to join at the beginning of each week.
The players who sign up to play in the standard 4 player games
will only be playing in four total games for the entire tournament
. This is because these games will take far longer to complete than the others.
All four games will start at the same time
however, and the opponents will be randomly chosen from the specific division using random.org. The division breakdown will follow the same format as the other games. By looking at the scoring tables it is clear that winning a standard game in this tournament is very beneficial to the team as the point value is much higher.
SCORING:

Bonus points are earned if games are completed in 8 rounds or less. Bonus points only are awarded to the winning team.
STANDINGS:
SCORING BREAKDOWN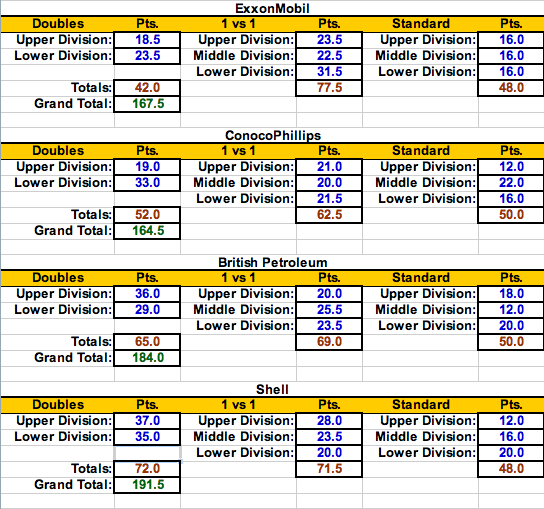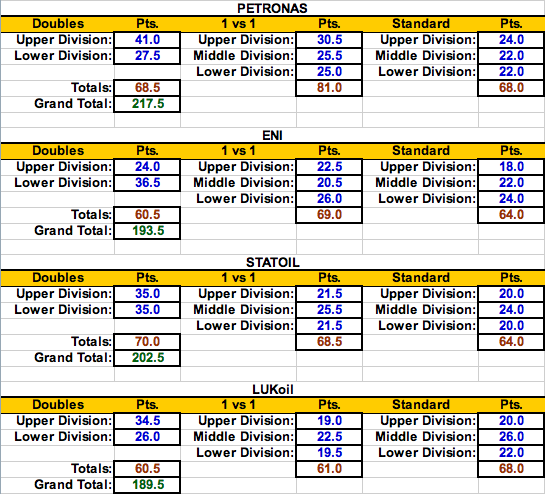 My father has worked in the oil world for his entire life, and so I just could not resist creating a tournament using this theme. As far as I can tell this might be the first of a kind in merging three separate game formats into the same tournament. I hope that all who sign up will enjoy themselves throughout the entire process.

If anyone has any questions feel free to either post them in the thread or send me a PM and I will answer as soon as possible. I will check the thread regularly (several times each day) and provide updates to the players lists as well as answers to all questions.

**PREMIUM IS REQUIRED FOR THIS TOURNAMENT**