NFL DOUBLES TOURNAMENT [OFFICIAL REDO]
I have decided to
resurrect
the NFL Doubles Tournament that jsmith72 did not have the chance to complete. I felt that it was a good idea that just needed a little extra push out of the door.
Here is the situation:
There are a few slots that need to be filled before we can get underway again. They can be seen below as empty spots in the team listings. All the other slots have been confirmed as full by the teams that were originally in the tournament.
We will be starting play again from Week 3 of the 2007 NFL Season schedule. Two weeks of the schedule had already been completed at the time the tournament was let loose and I feel it is fair to let the teams continuing to keep their record they fairly earned.

You will notice that the rankings are listed below for each team (even the ones without players at the moment). If you sign up to fill one of the blank spots
you will be inheriting that teams record whether it is good or bad.
I plan on starting a new week of the season every Sunday or Monday as we have several non-premium players in the tournament still that wish to continue playing for their teams. I will be keeping an updated standings chart in the second post along with all other pertinent updates and information as the season rolls along.
There will be some weeks where your team MAY NOT HAVE A GAME DUE TO THE BYE WEEK SYSTEM IN THE NFL SCHEDULE. I will be adhering to that system in order to have everyone finish as close to the same time as possible and to make organizing the playoffs a little easier on me.
The playoff format will follow exactly the same as the NFL League does. The top seeds will receive a bye for the first week of the playoffs and so on.

If you would like to sign up for one of the open team slots simply list the team you would like to sign up for, the two players, and your home map preferences. ALL GAMES WILL BE SEQUENTIAL. No Freestyle, sorry. I don't like freestyle. PLAY WILL BEGIN AS SOON AS ALL TEAMS ARE FILLED.
If there are any other questions please PM Optimus Prime or post them in the thread. I'll stay on top of it.
PLAYOFF SCHEDULE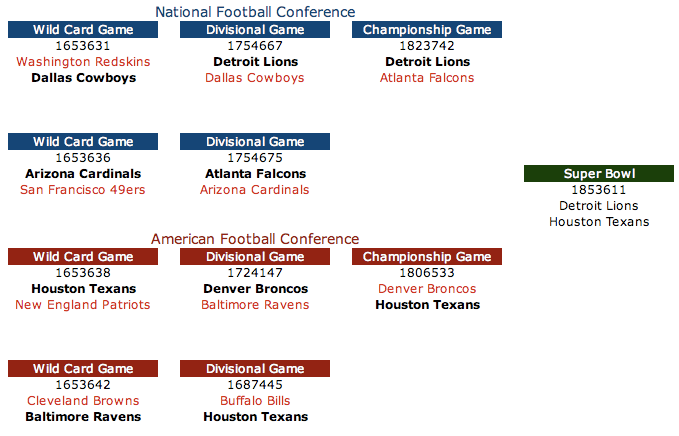 Players listed in
red
are non-premium players so please be patient if they do not join games immediately.