SUPER POINT GRABBERS TOURNAMENT
This tournament is the big brother of the original
Point Grabbers Series
. It will feature 32 players divided into two separate 16-player brackets by score. Within each bracket the players will be seeded by their score at the time the tournament is deemed full and ready to begin.
The games for this tournament will be
1 vs 1, Sequential, Flat Rate Cards, and Chained Fortifications
. I realize the the No Cards setting was used for Point Grabbers V, but all of the others have been Flat Rate, so that is what I am going with for this one.
The winners of each of the two brackets will face off in a best-of-three series to determine the Super Point Grabbers Champion.

Bracket A
: Top 16 players by score.
Bracket B:
Bottom 16 players by score.
Maps by round are as follows:
First Round:
Ireland
Second Round:
Phillippines
Third Round:
WWII Eastern Front
Finals:
Global Warming
Best-of-Three Series:
British Isles
Bracket A: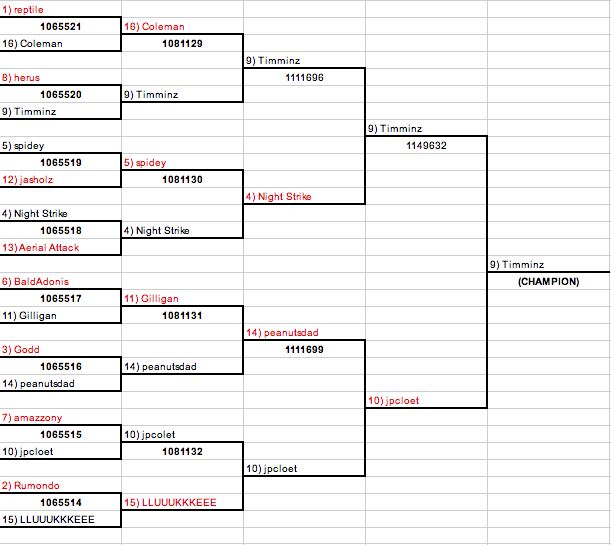 Bracket B: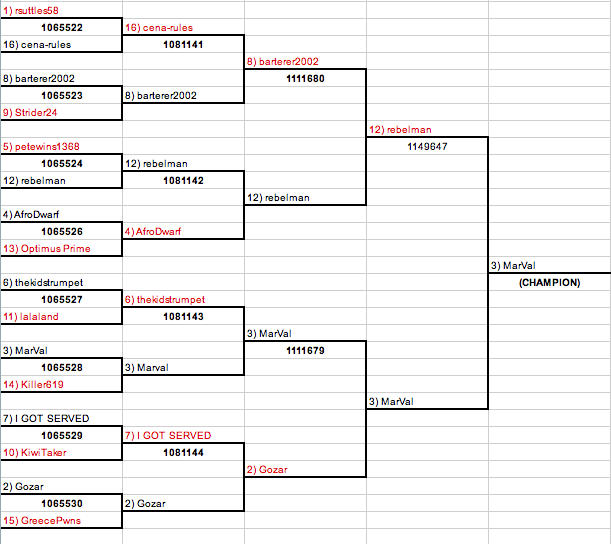 Best-of-Three Series
Timminz
vs.
MarVal
Games: 1196189, 1196193 (Game 3 if needed)
Timminz is the CHAMPION!