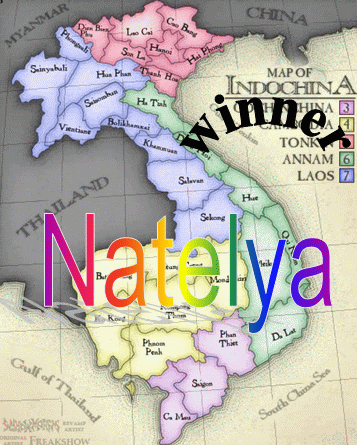 Termination: Indochina
Part VI
***Opened for premium members***
Tournament will start at the first or second week of September
There's been awhile since I started new (Terminator) tournament(s) so I think it's time to get another one started. I'll be moving on with my Termination series, with 3 tournaments finished and 2 ending really soon, there are plenty of maps left to use. I've decided to have Indochina as next because it's another simple map, quite small so games won't take forever to finish and it's a really nice looking map. Territory names might be a bit confusing but playing carefully and making sure of your moves will surely give you some kills

Setup
*There will be 3 divisions.
*Each division has 12 players.
*Best 2 (highest score) from each division will advance to Final Termination (aka final 5 games) and the person who gets most points from those games is the winner of the tournament -
Indochina Terminator
.
*Divisions will be put together according to players' points (points are checked an hour up to a few days before first games are made).
*All games are made with the List Randomizer of random.org
Settings
Map:
Indochina
Players per game:
6
Play Order:
Sequential
Cards:
Escalating
Fortifications:
Unlimited
FoW:
no (aka sunny)
Number of games: 3 games per week,
overall 12 games
(+5 final games)
Games are made on Sundays/Mondays
Points
Terminating a player = 1 point
Tiebreaker
In case of a tie, a 5 game series will be played.
It's fairly simple tournament but if I missed something or you have any questions then PM me or post to this thread.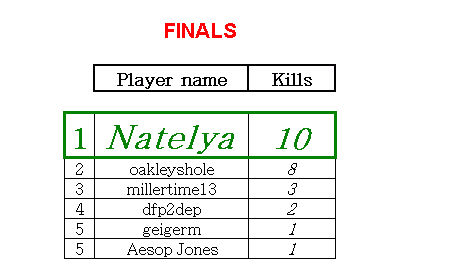 Clickies to previous Termination tournaments:
Termination: Classic
[winner: hotspur]
Termination: Portugal
[winner: BaldAdonis]
Termination: Doodle Earth
[winner: Steelhorse]
Termination: Scotland
[winner: White Moose]
Termination: Duck & Cover
[winner: militant]