this is an entry to the Create a Fantasy/Sci-Fi Tournament contest:
http://www.conquerclub.com/forum/viewtopic.php?f=1&t=158277#p3470802
DRUG WARS 2040 (64 players required)
This is 2040. The North American confederation of trade is witnessing a deep institutional crisis. Law and order are not maintained. Drug lords have managed to rise their influence and become true political powers.
Former USA and Canada have split up in series of smaller independent confederations with their own rules. You have now to chose your side: will you be a mafia goon or a law inforcer?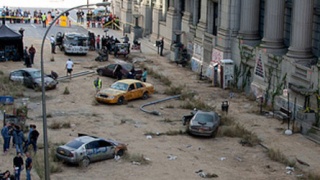 Chose your faction (mafia or police) and make your character advance in new adventures. Start with an assassin mission for mafia, a terminator mission for police and then team up in some dubs games! (only 4 rounds to reach the final!)
MAFIA FACTIONS (17/32)
round 1 for mafia:
You will all start as a small gang of convicts rotting in jail. But don't worry; your local drug lord has enough influence to get you out of there. You will just have to prove your skills and do a little favor. You will be assigned a gang target that has been snitching to reduce their time in sin-sin.This will just reduce their time in this world. Information is key, and you will only see what is going on where some of your men will be posted. Your local druglord will be watching. if you fail to kill your first target, you will be given a last chance. Yes, some druglords are merciful! once.
first chance: supermax: prison riot; 4 players Assassin; foggy; flat rate; sequential; chained
second chance: supermax: prison riot; 3 players Assassin; foggy; flat rate; sequential; chained
round 2 for mafia:
Right, you just proved you could be kind of useful your local druglord. After pulling some strings, you are now out of jail. A big drug operation is now in place. Your gang will be teaming up with the other gang coming out of the same prison. Your warlord needs firepower. Unfortunately, police intel have been informed of the operation and is there waiting for you. You are assigned to leave NO SURVIVORS. Watch out! you don't know where they are coming from!
operation drug wars; 4 players dubs; foggy; flat rate; sequential; chained
Double win
round 3 for mafia:
If you are still reading this, it means you managed to kill all the filthy cops from this part of town; well done!Just keep the drugs, the money and the weapons for yourself.
You now need to control the whole city. now you are ambitious, and you know that by controlling the city, you will be able to take down your boss... and become THE local warlord with the gang that helped you get there with all its priviledges!Who is controlling the other side of town? will you be fighting other scums with the same intentions, or some other police elite troops?
chicago or montreal or NYC or vancouver; 4 players dubs; foggy; flat rate; sequential; chained
Double win
POLICE SQUADS (14/32)
round1 for police:
You have a high sense of honour and have decided to sacrifice your life for your country and fight the corruption that has lead your country to where it is. You start in a secret police academy aiming to create an elite corpse to restore the north american confederation. Now we need to find the best in our volunteers! do you have what it takes to join the elite force? You will be playing lazer quest with some plastic guns on a training field recreating early 20th's century chicago, during the prohibition. You will be facing 3 other students of your police academy. You will be earning points for each student you eliminate, and lose points if you get eliminated (students will be grouped with other students with a similar rank).
The top 16 students from the 8 training grounds with the best points will qualify
. the rest will be judged not good enough to join the elite corpse.
This is not about being the last man standing!
prohibition chicago; 4 players terminator; foggy; flat rate; sequential; chained
2 games, scores will be summed up
round2 for police:
You have just sent a letter to your mum so she can be proud you are now an elite police officer fighting drug lords and corruption! But you have already been assigned a mission a partner and a town to serve in! The druglord is organising a drugtrade, and it seems like they have quite some firepower.. Luckily, you will not go there with your plastic lazer gun, but some proper elite law enforcer artillery, and a segway! now don't go and disapoint your mum getting killed. Also, your partner is your new best friend and you will never let each other down.
operation drug wars; 4 players dubs; foggy; flat rate; sequential; chained
Double win
round3 for police:
If you have survived, please send your mum another letter, she is really worried about you. and have some beers to celebrate with your partner! You guys have been given more men, you have more power, and you know now that god is leading your actions, that's why you are victorious. You are the hand of god; and only you can bring back the peace in north america. god tells you now that you have to take control of the whole city to bring your own values. If you have to fight scums, then you have no moral issues about this. If the other part of town has been taken back by another police squad; well you know they are corrupt and that satan is leading their actions. kill them!!!! and say hi to your mum.
chicago or montreal or NYC or vancouver; 4 players dubs; foggy; flat rate; sequential; chained
Double win
ROUND 4, final round for all:
You have all made it this far! wether you are mafia or police, you now control a city and an entire region. You are with your partner one of the 4 remaining teams, and the bonds that you have with your partner are real. You live next door, your wives are friends, your son will mary his daughter. You guys still want to control the whole continent and a continental battle royale is being organized between the remaining police chiefs/warlords.
who will control north america and rebuild The North American Confederation of Trade?
Win 2 battles to win the war!! All kind of diplomacy and alliance are permitted between teams for each battle (canadians vs americans, cops vs scums..); but in the end, only one will be victorious!!
fractured america; 8 players dubs; foggy; flat rate; sequential; chained
Double win
Will Good triumph over Evil?
Players entry (please mention if you want to be cop or scum, and for scum your prefered hometown)
Mafia Prisonners:
East Side Chicago Prison (4spots):zissou2, grifftron
West Side Chicago Prison (4spots):douitashimashite, CinnamonThunda,
East Side Montreal Prison (4spots): smegal69, thehippo8
West Side Montreal Prison (4spots):TaylorChamp, pretender77
East Side Vancouver Prison (4spots): Leverpuller, Dunn Deegan
West Side Vancouver Prison (4spots): buster582, 300spartans
East Side NYC Prison (4spots): traffic133, danfrank, blindman30
West Side NYC Prison (4spots):dorsettrob, kosako
Police Academy (training grounds groups will be defined by ranks once we have all cops):
denominator, betiko, evertonian, therev1957, jordy2425 , jgordon1111, doomyoshi, chewie1, TheBarbarian, samborski, codierose, zissou2, hopalong, Dukasaur
Training grounds A (4 spots):
Training grounds B (4 spots):
Training grounds C (4 spots):
Training grounds D (4 spots):
Training grounds E (4 spots):
Training grounds F (4 spots):
Training grounds G (4 spots):
Training grounds H (4 spots):