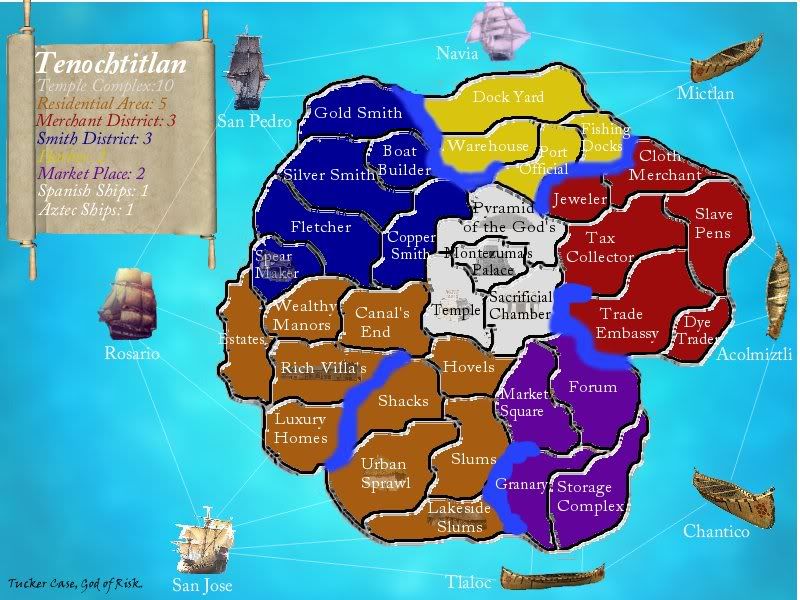 Tenochtitlan was the capital of the Aztec empire. The city was inhabited by 200,000 people, or possibly more, and was built out in the middle of a lake somewhere close to modern day Mexico City. The invading Spaniards, under the leadership of Cortez sacked the city, and destroyed it completely. Pretty cool, huh? Now it's your turn to try to do the same.
A quick note first, I used the ocean background that Freakshow suggested to Marvaddin for his new map. Marvaddin did use it in combination with another ocean to create a new ocean entirely, and I think it's far enough apart for there not to be a problem. I asked freakshow about it in PM, but didn't want to wait for a reply to start hearing opinions. So at this point it could change.
Now on to notes about this map:
- The temple complex is the heart of the city, and reflects it with it's very high bonus. I really wanted to simulate the feeling of a real city battle, or a siege. The temple complex will be hotly contested, and I feel it won't be easy for anyone to capture, but because of such a high bonus everyone will need to give it their attention, to stop rivals from gaining it. I think it could make for interesting game play.
- The two continents made up of ships are pretty much worthless as continents go. No one can succeed by trying to control the ships as a main base of support. The ships are only intended to support your troops on shore. If you look at the links, controlling some of the ships will shorten the number of countries you need to hold for each continent. I really don't like the idea of someone being able to build a powerful base outside of the city, but it still adds some dynamic elements, and also directs the fighting inward.
- The names I used on the map were intended to give it a more familiar feeling. I didn't want to randomly look up a lot of Aztec words, and annoy everyone, including me, to death. The only Aztec words I used were for the canoes, because I was stumped about what to name canoes.
- The map isn't finished, but how it's laid out now is how I want the game to play. So comment, or try to convince me otherwise.