Your sword has had quite a workout today, mowing down the undead minions summoned by the evil sorcerer Draknor to guard his fortress. According to Belegruin, your closest friend and an expert spellcaster, this is the last room before you reach Draknor's lair. While little Garrick -- hired against your better judgement for his quick reflexes and nimble fingers -- checks the final door for traps, you sit back to rest and let the party's healer tend to your wounds.
"Hold it!" shouts Garrick, "It's a trap!"
"Then disable it and pick the lock," you answer wearily. "That's what you're here for."
"No, it's not on the door. It's the whole room. Look at the floor!"
All of you look down. The floor tiles are covered with strange sigils. They mean nothing to you, but Belegruin clearly recognizes them.
"The munchkin is right," he says. "This is a teleportation circle with glyphs of warding around the edges... we're trapped here. This enchantment is too powerful for me to break."
Just then, a deep, maniacal laughter echoes through the chamber. "
You thought you might defeat

me

, adventurers? I am

DRAKNOR

, the greatest wizard who ever lived! Now you will go where all the others who sought to infiltrate my fortress were sent: into my dungeon maze, a labyrinth of magical portals from which there is no escape! I may consider releasing you, but only if you first prove yourself by conquering the entire dungeon and everything in it...
"
Then there is a blinding flash of light. When you can see again, your friends are gone, and your surroundings seem to have changed: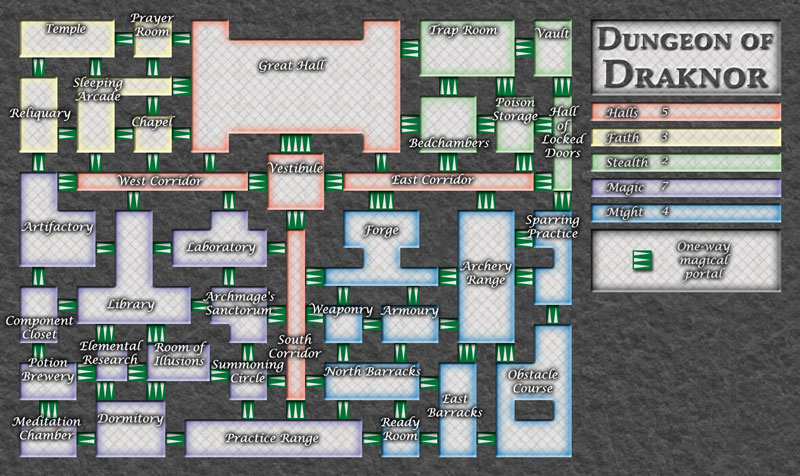 So one thing I haven't used yet in any of my maps is one-way borders. Inspired largely by rocksolid's Chariot Races, I present my take on the concept of a map where all the connections are one-way only. It's got thirty-six countries divided into five continents. Its theme is the fantasy role-playing genre, as typified by Dungeons and Dragons.
My apologies to kevinc for swiping his very cool coloration style. I plan to add a few decorations to this map and to tweak a few things in the legend and captions, but otherwise, I'm actually pretty pleased with how it looks right now. As usual, constructive criticism is more than welcome.
(Note that the fact that you can't get from the South Corridor to the Vestibule without going through another continent is intentional: it's part of why the Halls have such a high bonus.)
Let the wailing and gnashing of teeth commence...