Ok, dont kill me yet, Im not the best one in then artistic part, but Im not this bad too...
The main goal of this first release is discuss playability...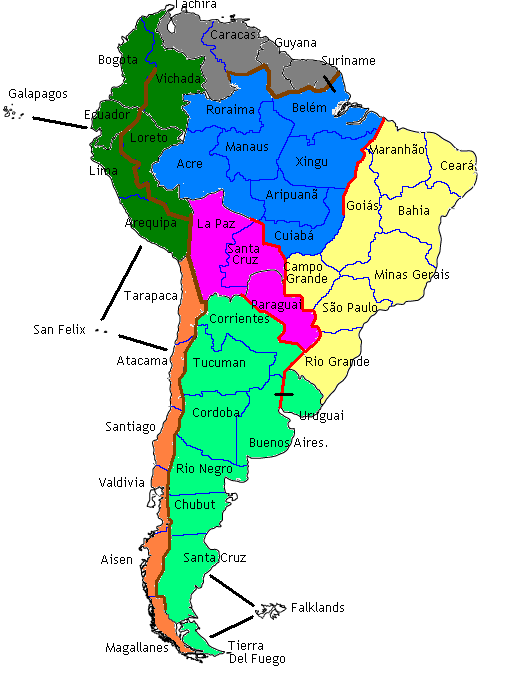 Well, I know... terrible colours, no background, the names are bad positioned, and the font sucks too. In fact, I only put the names to make the discussion easier. The brown and red borders are unpassable. Brown are mountains, Andes and Guyanas Highlands, and red are rivers (they would be blue, but I was using blue for borders, and I was too lazy).
Im thinking about continents names, and I accept suggestions. For now, I considering:
Blue: Brazilian Amazon, or Amazon Basin
Yellow: Eastern Brazil, or Brazilian Coast, or Brazilian Highlands / Shield...
Gray: Guyanas, or Guyanas Highlands... hmm, maybe Venezuela, but I dislike it
Drak green: Northern Andes... I think there is an economical group with these countries, but it would be strange.
Pink: El Chaco
Light green: Argentina, or La Plata
Orange: Chile, for sure
You can see a useful map here:
http://i44.photobucket.com/albums/f44/M ... amera3.gif
Well, I dont need someone:
To tell me I spelled Uruguay and Paraguay wrong (in English), thats the Portuguese form, but because I forgot it.
To tell me there are 2 territories with same name, lol. I will correct that.
I would like some good opinions about this:
- Currently 46 countries, if I didnt miscount. I can remove one, the logical one is San Felix, its there just to make Chile a bit less linear, and add another border. But I would prefer another choice... or maybe it will continue with 46, or add 2 more, etc... ideas?
- Andes create a great linear area to its west... we can create some passages... maybe some one way routes... I was thinking about one from Corrientes to Tarapaca. Well, or maybe we can create a new thing... I was thinking about a paratroopers battalion that can attack positons 2 countries away... Like, if its in La Paz, for example, it can attack any position it could reach with 2 moves, so possible targets include Vichada, Roraima, Rio Grande... It would be a great advantage... maybe a -1 bonus?
- The mountains and the river in Brazil are a bit accurate, you can check here:
http://i44.photobucket.com/albums/f44/M ... amera3.png
But, the rivers around Paraguay are not... I even gave a piece of Argentina lands to Paraguay... Maybe I should maintain that river to the North, but remove te one to the South... if I do this, the "continent" will have 3 countries and 2 borders... but we can still give it a bonus of 2, because La Paz will possibly to be a very important country to strategy...
- Any other playability things...