Brought to you by the

Community Team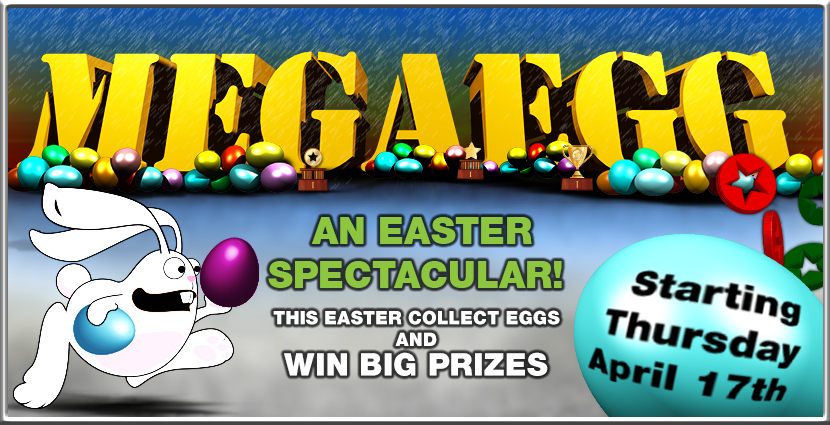 M - E - G - A - E - G - G
The Easter Bunny is hip-hopping its way towards Conquer Club with an unparalleled monster truck full of eggs.
There will be Tank Eggs, Bomb Eggs, Gift Eggs, Greek Eggs & Space Eggs. You will find eggs on the home page, eggs in games, eggs in tournaments, eggs on the forum, hidden eggs, secret eggs, magic eggs, mystical eggs, eggs in your head, and eggs inside eggs inside eggs.
The Space Egg

The Gift Egg

The Greek Egg

The Bomb Egg

The Tank Egg

Your Easter Goal will be to score 200 Bunny Points. Each Egg is worth 1 Bunny Point, however
you will need 40 Eggs of each type
to score any points and get into the

MEGAEGG FINALE - A Red Star Spectacular

tournament to win a Red Star and a bunch of other great prizes.
MEGAEGG Scoreboard
Also, we have the following Prizes for scoring Bunny Points:

General Achievement: Anyone that gets 200 Bunny Points will get a General Achievement medal

Challenge Achievement: Anyone that gets 400 Bunny Points will get a Challenge Achievement medal

Green Star: The player that collects the most Bunny Points will win a Green Star. [In the case of a tie Blue Stars will be won by each tied player].
Notes:
Eggs can be collected (as below) from 2014-04-17 12:00:00 to 2014-04-21 23:59:59 CCT. Exceptions:


Easter Egg Design Speggtacular winners will receive their Eggs before the event starts.
The Grand Debate will start before the start time of the event.
Any ongoing event speed tournaments at the end of the event will reward Eggs after the end time has passed.

Eggs can be used to enter either of the Tournaments: "MEGAEGG FINALE - A Red Star Spectacular" and "Bunny Droppings"
Unused Eggs will disappear soon after the event has completed (with the exception of Eggs won from the above-mentioned tournaments)
Where did the Bunny leave its eggs...
MEGAEGG: An Easter Egg Design Speggtacular
Design inventory items for MEGAEGG:
viewtopic.php?f=1&t=203740
We got some great submissions to the first activity of MEGAEGG! Congrats to
EBConquer
,
dakky21
,
jonofperu
and
Hannibal 19
for creating the Eggs that you will collect during this event.
Games!
Starting and Winning Games will reward players with Eggs in the following descending order of likelihood:
Easter Map (only available for duration of event!)
Regular Games (the more players the higher your chances)
Non-event Tourney Games (highly reduced chance)
Bot Games (very low chance, Bots don't believe in Bunnies or Eggs)
Bunny Hopper Featured Games
A new concept, Featured Games will appear in the Event banner on My Games. They will be first in first served and have highly increased Egg Drop Rates.
Bunny Hopper Tournament
Join the Bunny Hopper Tournament for a Tank Egg Bonus. Any wins in Featured Games will count for this tourney.
Bunny Hopper Tournament Is Open For Business
Battle Royales
Test your luck in Easter-themed Speed Battle Royales running throughout the event with highly chocolatey Egg drop rates.
Wild Egg Rides
Speed AutoTournaments will run throughout the day, with Eggs for prizes. Check out each tournament for a listing on what types of Eggs it carries.
Conquer Gods
The Conquer Gods saw a white, furry, ferret like creature, manically hopping along one of Conquer Club's many trails to nowhere, dropping an assorted array of about 1 gazillion Eggs all over the place. If you are lucky they might share... but will you get the type of Egg you want?
Hoppy Hour
During certain times, perhaps due to ingesting some type of illicit bunny juice, the Bunny gets a jolt of manic energy and eggs begin to literally explode from every pore in his body. During Hoppy Hour, Eggs will be dropping out of the sky at a vastly increased rate.
Upcoming Hoppy Hours:
Saturday, 12:00:00 - 12:59:59 CCT
Saturday, 18:00:00 - 18:59:59 CCT
Saturday, 23:00:00 - 23:59:59 CCT
Sunday, 03:00:00 - 03:59:59 CCT
Sunday, 09:00:00 - 09:59:59 CCT
Sunday, 12:00:00 - 12:59:59 CCT
Sunday, 15:00:00 - 15:59:59 CCT
Sunday, 22:00:00 - 22:59:59 CCT
Monday, 04:00:00 - 04:59:59 CCT
Monday, 14:00:00 - 14:59:59 CCT
Monday, 23:00:00 - 23:59:59 CCT
Br'er Dukasaur's Obscure Trivia Time
Answer some trivia questions on CC's Facebook page, score some more eggs. For complete rules, check out
Dukasaur's post
on page 3 of this thread.
Easter Hunt
Go on a madcap hunt for hidden Easter themed imagery around the website. This activity will win you Present Eggs. Follow the action and pick up clues in live chat throughout the easter period.
Easter Captions
Score Space Eggs by putting words with pictures in our ongoing Easter Captions in live chat.
Grand Debate: Is the Easter Bunny Legit?
Foist your finest pedantry and most extravagant wit onto the forums, win Greek Eggs, and resolve once and for all that most perplexing philosophical question... Is Da Bunny The Real Deal? (Not "is he real", we already know the answer to that, c'mon now, he is right there on our home page.).
DUE TO EXCESSIVE COOLNESS, THIS EVENT IS OPEN NOW! Join in the
First Ever Official Off Topics Debate Contest
.
Hidden Bunny Camera
Unlock the Secret hidden bunny cameras around the website to find out what "EB" does when he is chillaxing at home, or perhaps after a brewski or two down at the Lair. You can win Bomb Eggs in this activity, but you will need to get your thinking caps on. Yeah, so you'll need to start searching the garage for where the heck that Thinking Cap is. Fortunately, searching skills will also be handy here!
Go here for the Hidden Bunny Camera Activity
MEGAEGG FINALE - A Red Star Spectacular
The grand finale of MEGAEGG
, collect your Eggs and get in the running for a Red Star and other prizes!
Bunny Droppings
Last chance to drop your eggs, and snaffle a consolation green star.
-------------------------------------
Final Results
After almost 5,000 games played on the Easter Map, and a whole lot of fun collecting eggs site-wide in all our activities, the final results are in.
Firstly, Congratulations to the 32 players that got into
MEGAEGG FINALE - A Red Star Spectacular
! Good luck to everyone in winning the Red Star.
Also, congratulations to:
Bunny Points Leader and Green Star winner: Royal Panda

Challenge Achievement Winners: Royal Panda, Arya, Hannibal 19
General Achievement Winners:

Royal Panda
Arya
Hannibal 19
gbd88
plurple
pindary
KraphtOne
ThatDogFenton
Jdsizzleslice
TheQuietOne
MudPuppy
agentcom
Gabriel13
Domination_44
osman76
TheCrown
georgizhukov
NoSurvivors
Roofless
timmy1
Great-Ollie
KingOfGods
dakky21
Von Kaiser
xroads
apprich
Koganosi
hwhrhett
bpt777
loenatiek
General Bax
King Zvonimir
kahunah
sdh
bigWham
Prizes will be issued soon.