Tired of having to click on a game link to see its settings (map name, play type, spoils, etc.) and players?
Here's a script to show a popup with game settings and player info next to game links in the forum and your inbox:
https://github.com/sherkaner/addons-for ... nk.user.js
The popup displays when you mouse over a link, and hides itself when you move your mouse away.
User Guide
Game Link User Guide
v 1.5.0 (2012/05/10):
- Replaced Fog of War (Yes, No) with Special Gameplay (None, Fog, Trench, Fog Trench) [ender516]
v 1.3.1 (4/17):
- Added Round # to popup display
v 1.3 (11/29):
- Updated to work correctly with site updates
v 1.2 (10/4):
- Display player rank info
- Include on preview messages in your inbox
- Fixed a bug that caused Players label to not display correctly in Assassin and Terminator games
v 1.1:
- Player info: the popup shows details about players in the game, empty spots, and eliminated players
- Inbox: the script now applies to game links in the forums and in your inbox
And here's what it looks like in action!
In the forums: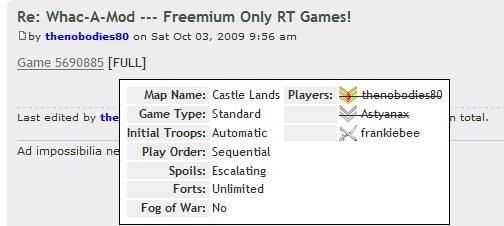 In your inbox: