New update, not much has changed but I'm hoping to push this along after my hiatus or whatever:
Large:
Small: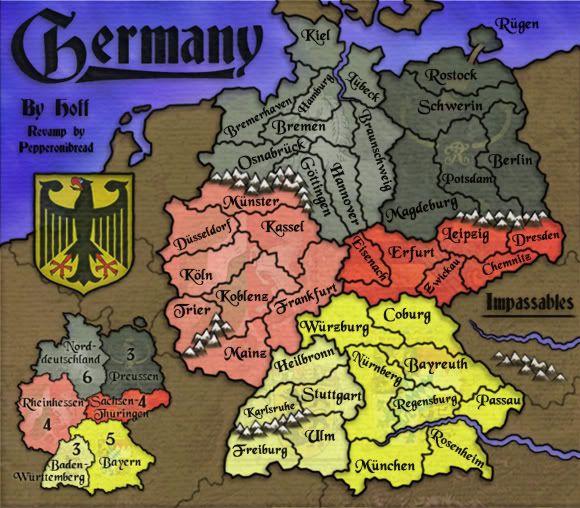 Large 88's XML Test:
Small 88's XML Test: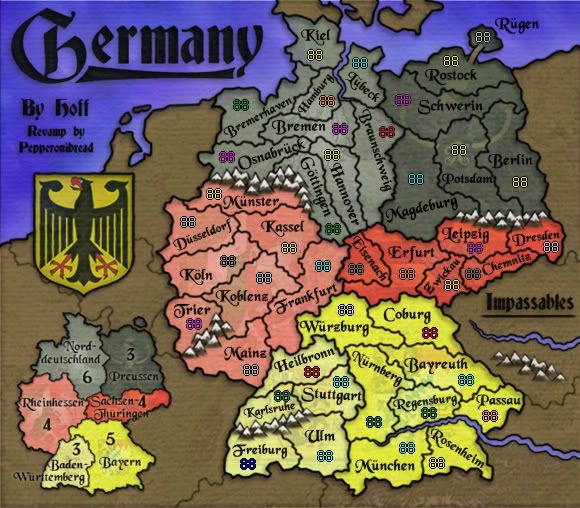 Large 888's XML Test:
Small 888's XML Test: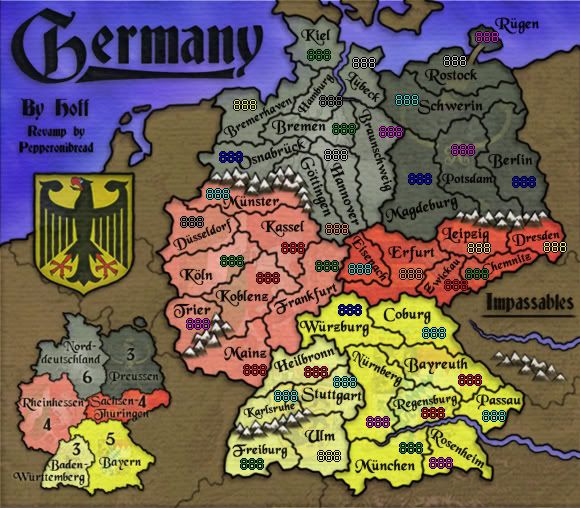 XML Link:
http://h1.ripway.com/pepperonibread/Germany.xml
Changes:
-Added all necessary umlauts to the XML file - thank you oaktown and yeti.
MrBenn wrote:Nice work pep

I think it was mentioned before about adding an additional mountain to each mountain range that overlaps the border of Germany itself, to reinforce the fact that you can't sneak round the edges of them

As far as XML work goes, I cannot stress how important it is going to be to keep the territories in the same order as in the original XML file. To this end, it would be helpful if you could put together a single master list that shows all the territory names and how the new ones map onto the old ones.
-Sorry I never responded to this one. I did push the mountains around a bit more in this update I think, but this is as far as I'd like to move them. The aesthetics are sort of screwed up if the mountains go over the outer black line, as the layering of the map works better if the line lies "over" other parts of the map. And it with no excess space between the mountains and the border, it's honestly unlikely that anyone would mistake these areas to be something besides impassable.
-mibi mentioned the overall texture of the map, and I tried out a couple of other options prior to posting this update. Stuff like parchment is really too rough for this map, so I decided to stick with the canvas pattern. I'd venture to say that there isn't really a distinctly "German" texture anyway, and the current texture fits well for what I have been going for graphics-wise.
-I nudged around some army numbers as per killing's request. Some triple digits (especially on the small map) still clip the names, but to fix the problem entirely I'd need to push the more important double digits pretty far off center. All these changes are in the updated XML I posted above.
To do:
-Fix 88's, if any are off-center or misplaced.
-Comments?