It's about time to bring something cute and girlish to these forums

So, here it is - doggies, kitties, teddies, mousies, bunnies. All pink and fluffy and soft and

CUTE

! And we'll try to figure out which one of them is

CUTEST

.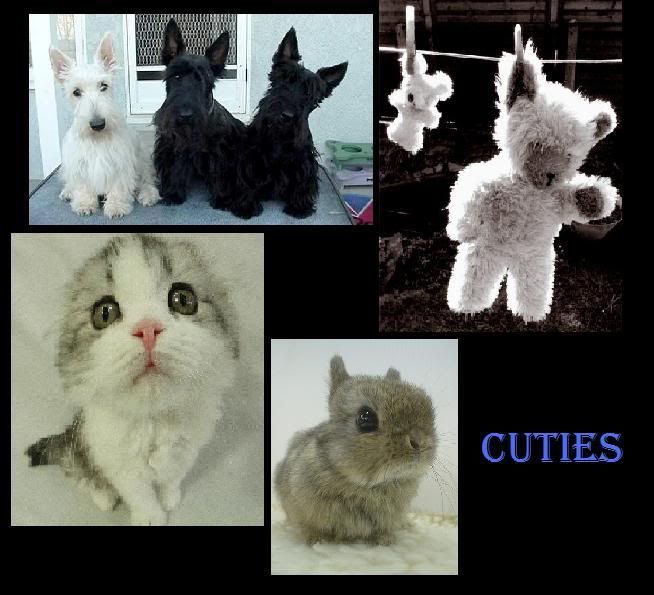 ***EVERYBODY WITH 2 SLOTS ARE WELCOME***
Settings
Number of players: 5
Play Order: Sequential
Cards: Flat Rate
Fortification: Chained
Weather: Sunny
Map: Classic
Format
At the beginning there are 5 groups – one for each animal – who play 5 games (2 at once). Person with most points (scoring below) is named cutest of his group and he qualifies to Round 2. In there those 5 advanced will play another 5 games and the person with highest score is winner of the tournament. He/she will be announced as
Cutest ...
.
Scoring
1st place – 5
2nd place – 4
3rd place – 3
4th place – 2
5th place – 1
FULL
Doggies
Gilligan
Risktaker17
soulreaver
barterer2002
War Dog
FULL
Kitties
jperkins
Sir. Ricco
acores2005
cougfan82
Kotaro
FULL
Teddies
Lufsen75
happy2seeyou
amazzony
lord voldemort
Luxurious
FULL
Mousies
Natewolfman
Rallyraider
simor
netspyman
graulenst
FULL
Bunnies
jennifermarie
Optimus Prime
KidWhisky
MrMoody
Skittles!
Reserves
1. oakleyshole
2. ultraman
3. Mr. General