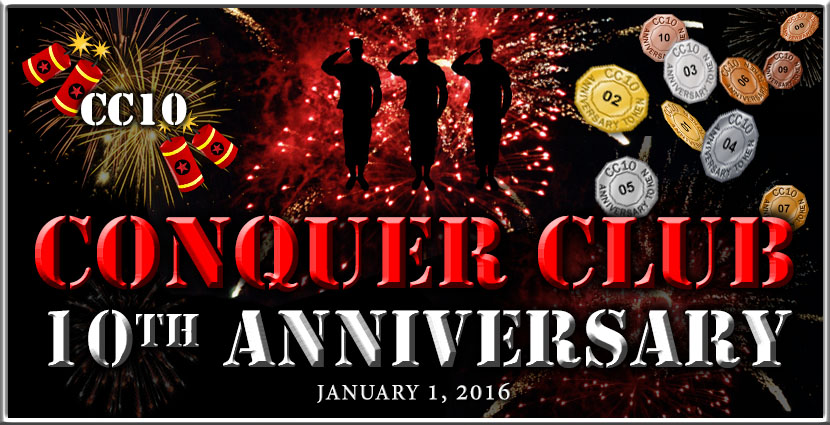 On January 1st, CC is turning 10! And for our 10th birthday we are putting on quite a party!
CC10 Scoreboard Page
There will a series of 10 Super Royales that will open on each day from Jan 1 to Jan 10. Each Super Royale is entered via a CC10 Token that corresponds to its date. CC01 Token gains entry to the Super Royale opening on January 1, etc.










Unless otherwise specified each Super Royale is 24Hr, Freestyle, Escalating, Sunny, no special features. Below is the schedule of Super Royales. There will be only 1 of each, so they will in First In First Served.
CC10 Finale
The Winner of each Royale will receive a CC10 Cake, which allows entry to the
CC10 Finale
.

If there are less than 10 winners, or a Cake winner does not enter the Finale by a certain time (Jan 15), additional Cakes will be issued based on the number of CC10 tokens owned.
The CC10 Finale will be one winner takes all game on the Classic map using default settings (Standard Escalating).
CC10 Prizes
First prize is granted to the winner of the CC10 Finale, and second to tenth prizes are grants to the losing finalists. Remaining prizes will get issued based on finish order on the CC10 Scoreboard.

First Prize: $100 Amazon + Red Star + 2500 Credits + CA
2ND-10TH: Blue Star + 250 Credits + CA


11TH-30TH:

CA


31ST-50TH:

GA

How to get CC10 Tokens?

CC10 Tokens can be obtained in the following ways:
Christmas Event Games played in the Christmas Event, particularly on the Christmas map, will have a chance of dropping CC10 tokens.
Decade In Review Games qualifying for our Decade In Review (January Challenge) will also have a chance of dropping CC10 Tokens
Whac-A-Mod A Whac-A-Mod event will run simultaneous with CC10. Aside from its own prizes all Whac-A-Mod games will have a chance of dropping CC10 Tokens.

CC10 Speed Battle Royales

CC10 will be hosting the usual fiesta of Anniversary Speed Battle Royales throughout the event

CC10 Scavenger Hunt

Join in the most devilishly cunning CC Scavenger hunt ever devised!

CC10 Chat Fiesta

Ongoing activities in Live Chat, such as Chat Lotto, will issue CC10 Tokens, Whac-A-Mod invites and more.

CC10 Mafia

A special Mafia game will issue CC10 Tokens for participation

CC10 Forum Bash

To encourage community participation this activity encourages people show their CC love on the forum. Anyone that posts in the Conquer Club Discussion section of the forum will receive a Token.

Conquer Gods

The Conquer Gods are pleased and may bestow CC10 Tokens upon you if you sacrifice some nice juicy stars to them

CC Store

Tokens may be purchased for credits at the CC Store
More details below on some of these.
Christmas Event
Christmas Event Scoreboard Page
Running Dec 22-28, the Christmas Event will use the same "7 Days of Conquer Club" theming as last year. It will also use Gift and Stocking items, with the same scoring structure, however with a much simplified process for obtaining items.
Decade In Review
Decade In Review Scoreboard Page
Credit for this idea to Dukasaur! To be run by the Community Department.
Running parallel to CC10 (and as the January Challenge) will be the Decade In Review. This is a series of 10 Tournaments, each celebrating a year of CC by involving features that were released at or around that year. Each Tournament requires a corresponding CC10 Token to enter. As with CC10, 1 new Tournament will be released each day.
Each Tournament issues Gold, Silver and Bronze Challenge Tokens for placing in the tournament. These will score on the January Challenge: Decade In Review scoreboard.
Decade In Review Prizes
Decade In Review will have a regular prize structure for a Monthly Challenge, but with some additional bonus prizes: Red Star for the winner, and a Green Star for second place.

The Conquer Cup (2011) Tournament will have Amazon gift certificate prize(s).

Any game that starts in this event will also have a chance of dropping CC10 Tokens.
Whac-A-Mod
Praise be to Razorvich for taking the lead on the anniversary Whac-A-Mod.
And to the brassy mods that dare to pop their mangy heads out of their mole-holes.... watch out!
Whac-A-Mod
info thread.
Whac-A-Mod Scoreboard Page
CC10 Chat Event
Idea credit: Razorvich. To be run by the Chat Department.
An event in Live Chat will issue CC10 Tokens. Details TBA.
CC10 Mafia
Idea credit: Streaker & dakky21.
A special Mafia game will issue CC10 Tokens for participation. Go
here
to get in on the mafia action.
CC10 Forum Bash
Idea credit: IcePack.
Players will be entered in a CC10 Token lottery for various acts of forum participation.
See here for more details.