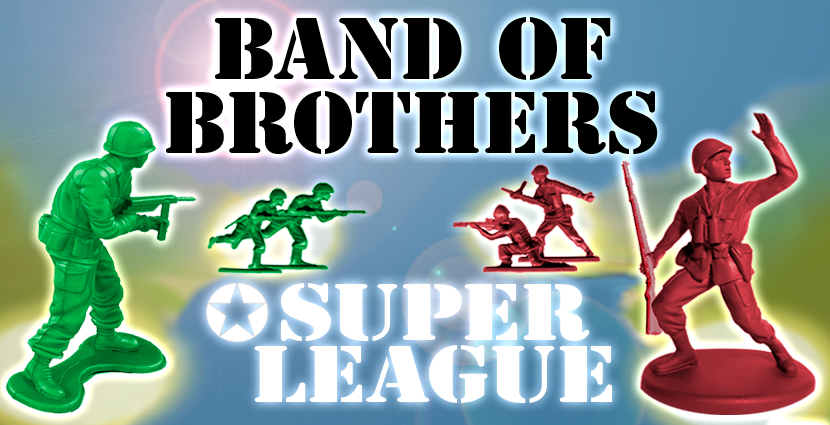 Season 9 is Ongoing. For 'LIVE' Season 9 League Tables and Results go here (Note, Page has 4 Tabs)
:
https://docs.google.com/spreadsheets/d/1p8NopcJwcy-F9pm4s6YuMPE148DDpYBs5tCda26gC_g/edit?usp=sharing
Season 10: To Join the Super League, Join Here:
https://www.conquerclub.com/forum/viewtopic.php?t=238378
THE RULES
Get in on this
CC Event
TROOPS!
Join this
FLAGSHIP
Tournament.................................
A Full Season lasts
2 MONTHS
A Tournament that will run for
YEARS
.........................................
A Tournament that has already had
OVER 70,000 (Seventy Thousand)
games played in it.............
Currently, their are
260 PLAYERS: 26 Leagues of 10 Players.........
Come Join, work your way through the Divisions to become
CHAMPIONS
of the
RISK Super League
. You are playing for
RISK GLORY
and
PRIZES
!!!!
CC are sponsoring this Event, and will pay these prizes EVERY SEASON!!, so it is worth your while to climb your way to the top:
1st: Premier Champion =

+ 1200 Conquer Credits
2nd: Championship Champion =

+ 180 Conquer Credits
3rd: League 1 Champions =

+ 100 Conquer Credits
But the fun is, are you good enough to make it to the top???
To join, pick your Favourite Map (For 2 Player Games) and Reply to this Thread. You will start in the lower Leagues..............Can you rise to be a Premier League Risk Player?
To give you an idea of what you are in for. Follow the link below for 'LIVE' League Tables and Results from Season 8. NOTE, there are 4 tabs on the page:
https://docs.google.com/spreadsheets/d/1p8NopcJwcy-F9pm4s6YuMPE148DDpYBs5tCda26gC_g/edit?usp=sharing
To get your name added to the starters for Season 9, just reply on this forum with your HOME MAP choice!
***NOTE: Some Maps are BANNED, SEE BELOW. Pick a HOME MAP that IS NOT on the list.
Previous Seasons
CHAMPIONS
are below:
-
Season 1,
WINNER: Shoop76
-
Season 2,
WINNER: UKEY
-
Season 3,
WINNER: Shoop76
-
Season 4,
WINNER: Loose Canon
-
Season 5,
WINNER: big jumbo
-
Season 6,
WINNER: Pajarito
-
Season 7,
WINNER: Tin Trumpet
-
Season 8,
WINNER: Mass Miracle
TOURNAMENT FORMAT:
This is a League Format. Each League will have 10 Players. Every Season, 3 will be Promoted and 3 Relegated.
Finish 1st: You get Promoted 3 Leagues
Finish 2nd: You Get Promoted 2 Leagues
Finish 3rd: You Get Promoted 1 League
Finish 4th to 7th: Remain in Current League
Finish 8th: Get relegated 1 League
Finish 9th: Get relegated 2 Leagues
Finish Bottom: Get relegated 3 leagues
***Premier League will have 6 players relegated: Bottom Drops 3 Leagues, 8th and 9th Drop 2, 5th,6th and 7th Drop 1.
As a NEW SUPER LEAGUE PLAYER, you will start in one of the bottom 4 Leagues. This Tournament will run for years. You have plenty of time to work your way to the TOP!
LEAGUE GAMES:
- You play a HOME and AWAY Match versus every Opponent in your League.
- So that is 18 Match Ups Per Season.
- 4 Games per Match Up.
- 2 Games on a HOME MAP + 2 Games on a Random Map
HOME MATCH:
- You are the Green Army for HOME games.
- 2 Games on Map of your Choice (Your Home Map)
- 2 Games on Random Map
- You accept Game Invites Last - Can move immediatly taking full advantage of your opponent not getting any snaps!
AWAY MATCH:
- You are the Red Army for AWAY games.
- 2 Games on Your OPPONENTS HOME Map
- 2 Games On Random Map
- You accept Game invites 1st - Your opponent gets to start as soon as they accept game invites.
SCHEDULE:
The Kick Off - 1st Match Set Up of Season - 3 Match Days are set up (12 games)
Match Day 4-Match Day 7 - 1 Match Day (4 games) is set up on a Monday, and 1 on a Thursday
Mid-Season Madness - Match Day 8 - 10 - 3 Match Days are Set Up (12 Games)
Match Day 11 - 15 - 1 Match Day (4 games) is set up on a Monday, and 1 on a Thursday
Match Day 16+17+18 - 3 Match Days are set up to complete the Season (12 games)
MatchWeekId
Due
1 M01
01 September 2022
2 M02
01 September 2022
3 M03
01 September 2022
4 M04
05 September 2022
5 M05
08 September 2022
6 M06
12 September 2022
7 M07
15 September 2022
8 M08
19 September 2022
9 M09
19 September 2022
10 M10
19 September 2022
11 M11
22 September 2022
12 M12
26 September 2022
13 M13
29 September 2022
14 M14
03 October 2022
15 M15
06 October 2022
16 M16
10 October 2022
17 M17
10 October 2022
18 M18
10 October 2022
SCORING:
This is where it gets really, really good!!!!
4-0 WIN: 3 Points
3-1 WIN: 2 Points
2-2 DRAW: 1 Point
1-3 LOSS: 0 Points
0-4 LOSS: 0 Points
TIE BREAKERS:
1. Points
2. Goal Difference
3. Result between Teams
4. Finish time of all of the previous seasons games.
5. Finish time of all the previous seasons games (excluding games agaiunst each other)
SETTINGS:
Players: 2
Auto
Seq
FR
Adj
Fog
REST SEASONS:
Each Season lasts 2 months. You are commited to playing 4 out of 6 Seasons in a Calendar Year. So, for 2 Seasons every year you can take a Rest Season where you hold your League position and do not need to play.
***
TO ENTER:
Reply to this post with:
HOME MAP CHOICE
Some Maps ARE EXCLUDED (the slowest Maps on these settings with an average round time of over 12 Rounds):
1982
2011 World Cup
Antarctica
Baseball
Clandemonium
Conquer Man
Conquer Rome
Das Schloss
District of Alaska
Eurasia
Feudal Epic
Feudal War
Hive
King's Court
King's Court II
Knights
Labyrinth
Monsters
New Zealand
Peloponnesian War
Rail South America
Rorke's Drift
Spanish Armada
Trafalgar
USA 2.1
WWI Gallipoli
ALL SEASONAL & BETA MAPS
JOIN NOW TROOPS!
Team Responsible for Tournament Creation:
Craig25
SoftBelly
Anila8
Bilbo1_OC
#ForThePlayers
#PayTheMan
Previous Seasons League Winners:
-----------------------------------------------------------------------------------------------------------------------------------------------------------------------------------------------------
BoBSL: Match Day 13
4,815 Games have been Scudded in Season 9 of the Super League already.
593 Super League Games are in progress.
440 Match Day 13 Games will be set up by Anila8 at some point later today.
Until then, let's have a quick look at some Leagues. The Premier to start then other Leagues where someone is destroying the field!:
Premier League Average Rank: 2459 Runners: 10 Prize: 1200 Cr
In the race to be the Season 9 Super League Champion, It looks like a 2 Player Showdown between maroshka851 'The Knife' and 'Me' Craig25. But, the pressure from 'The Knife' is incessant! Both players are on 17 Points after 11 Match Ups, but maroshka holds a slight Goal Difference advantage, being on +12 compared to My +10. And in Match Day 12, he looks to have his games wrapped up against 'Uyu' uyumaykimaw (In serious contention for a MOON DOOR finish, currently in 9th) while I struggle versus Gurada who currently sits in 6th position in the Super League. It's not over till the fat lady sings, but, I can hear her warming up back stage right now. With there being a 5 Point Gap back to the 3rd placed ESQuire, it's hard to see anbody else being able to stop 'The Knife' this Season!
League 03 Average Rank: 2073 Runners: 10
There looked to be hope earlier on in the Season when 'The Stoat' weaselshane replied to 'The Mouth' Clanlord Carl's trash talk. But since then, it's went quite and Carl has been doing his talking over the board. He's opend up a 6 point gap at the Top, Shane has dropped to 3rd and it looks to be all over bar the trash talk!
League 10 Average Rank: 1878 Runners: 10
'Lord of your Ring' Bilbo1_OC looks to be home and hosed already. 21 Points after 11 Match Ups and 8 points clear he looks like he will be gracing Super League 07 next Season.
League 12 Average Rank: 1711 Runners: 9
A late starter in the Super League, 2nd Seed in League 12 gubarretto has been flying under the radar. He only has a League 15 Title to his name, but, The Super League 12 Title is surely going to follow. 22 Points after 10 Match Ups, 10 Points clear at the top. I reckon we need to start paying closer attention to this Guy. Bookmakers are paying out on him being the Champ in League 12 already and we ain't even started Match Day 13 yet!. A destruction of a Super League like this one cannot be ignored!
League 16 Average Rank: 1650 Runners: 9
Avi8or 'is flying'. Another late starter, fresh from winning League 19 last Season, He is 6 points clear after 8 Match Ups. This will complete a '2 Timer' for the 1st Seed and he will ease himself into League 13 next Season.
And that is the Leagues that look to be over already this Season!
Okay Troops, watch out for those Match Day 13 Invites later on.
Also, The Super League Event Page at the top of your 'Central Command' has been updated. So for anybody that wants to look at the latest 'LIVE' League Tables that doesn't have the link in their Bookmarks, can just go there and click on the Scoreboard Link. And also, if you know anybody who would love the Super League, just direct them there so they can sign up for next Season!
Good Luck!